Last Updated on September 1, 2022
GOP Rep. Elise Stefanik is listed as a member of the shadowy World Economic Forum on the group's website, in a profile that is accompanied by a glowing biography. Stefanik is a lifelong GOP insider who started working with the Bush Administration shortly after graduating from Harvard and replaced Liz Cheney when she was ousted as GOP Conference Chair.
"Congresswoman Elise Stefanik proudly represents New York's 21st District in the House of Representatives," her World Economic Forum profile and accompanying biography read. "She was elected by her freshman peers in the 114th Congress to serve as the Freshman Representative on the Policy Committee."
The profile does not appear to have been updated since the election of AOC, breaking Stefanik's record as the youngest woman ever elected to Congress, and reports that Stefanik is "proudly the youngest woman ever elected to Congress in United States history."
Thereafter, the profile explains her deep ties to the GOP establishment, as if to build up her "street cred" within the World Economic Forum's globalist community.
"In 2012, Elise served as Director of Vice Presidential Debate Prep to Paul Ryan. From 2006-2009, Elise served in the West Wing of the White House as part of President George W. Bush's Domestic Policy Council Staff and in the Chief of Staff's office," the bio explains. "She graduated with honors from Harvard University."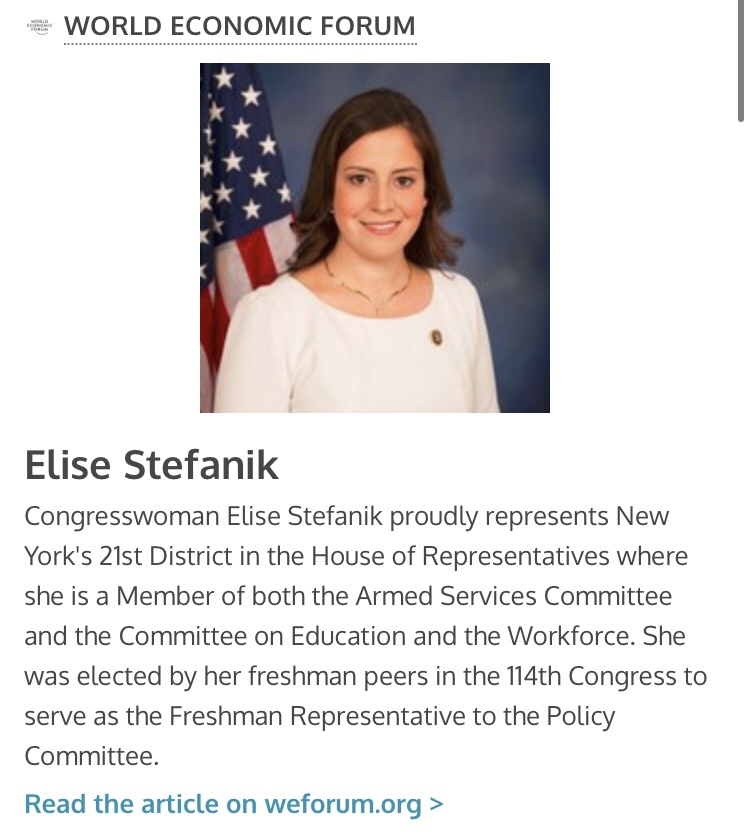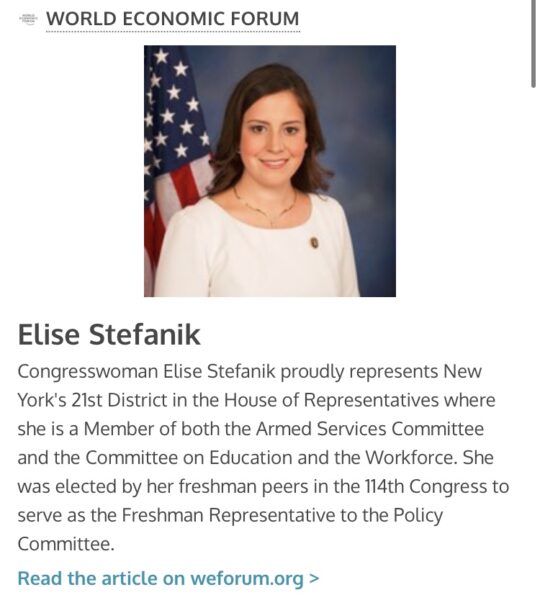 Though she was elected in 2014 as a "moderate" and has supported far-left legislation like the so-called "Equality Act," which would open girls' restrooms to men nationwide, corporate media has dubbed Rep. Stefanik a right-wing conservative. Unfortunately, her political history and WEF associations indicate otherwise.
Led by Klaus Schwab, the billionaire son of a major Third Reich Industrialist, the World Economic Forum has gained extreme influence over governments around the world and is accused of engineering the recent collapse of Sri Lanka. According to their own public plans, the WEF says that they intend to "capture" various offices in government to expand and consolidate their influence over the globe.
The WEF has promoted population control to the tune of exterminating billions of people. Recently, top WEF advisor Yuval Harari made headlines for announcing that the global elite "don't need the vast majority of the population" to be alive and said that most humans are only needed for the data they produce. In an interview, Harari boasted that soon, people will wear "biometric sensors" at all times, allowing the CCP and Big Tech to monitor every breath they take.
Despite the right-wing image of Stefanik that corporate media, the GOP establishment, and the Representative herself have cultivated, she was rated as the "13th most bipartisan member" of the 116th Congress, which ran from 2019-2020.
During that period, Democrats came to DC with their most extreme agenda in history, pushing COVID lockdowns plus BLM and LGBT marxism, while trying to throw President Trump out of office or in prison on a daily basis.
Recently, Stefanik has been floated as a potential replacement for House Minority Leader Kevin McCarthy should conservatives within the GOP expel him from leadership as they did Liz Cheney. If Republicans take the House in November's midterms, Stefanik has been touted by talking heads and partisan insiders as a choice for Speaker in lieu of McCarthy, seemingly as part of an effort to avoid having a Freedom Caucus member or similarly aligned conservative make a strong run for the position.
Much like McCarthy has done through his Congressional Leadership Fund political machine, Stefanik has supported establishment candidates in their primary battles vs. America First conservatives throughout the midterm primary season, using her Elevate PAC to exclusively endorse female candidates for office.
Stefanik's aid to GOP establishment candidates isn't entirely reserved for women, though. Just recently, she injected herself into New York's 22nd District GOP Primary by personally endorsing Steve Wells. Wells, a longtime political insider who donated tens of thousands of dollars to Democrat Andrew Cuomo, was the chosen successor of outgoing Trump impeachment voter John Katko, to whom wells was also a major donor.
Stefanik's links to both the George W. Bush Administration and to the international, globalist world order bear a resemblance to those of Richard Grenell, another longtime political insider who has suddenly been dubbed a right-winger and touted by the media as a potential Trump 2024 VP pick.
Recently, National File reported on Grenell's extensive ties to the globalist Humpty Dumpty Institute, a "think tank" led by Jeffrey Epstein's brother with close links to the Chinese Communist Party.