Last Updated on February 23, 2022
Virginia Attorney General Jason Miyares claims that fired Deputy Attorney General Monique Miles resigned, yet he is refusing to produce a resignation letter. Miles fell victim to cancel culture following a Washington Post hit piece on her pro-election integrity Facebook posts. The AG's office now claims that they "parted ways" over Miles' alleged lack of "transparency" in her initial interviews, a charge she has steadfastly denied. AG Miyares also refuses to back up his claim.
Former Deputy Attorney General Monique Miles was fired on February 10th, the same day that a Washington Post hit piece was published profiling several anti-election fraud Facebook posts made by Miles, including one in which she referred to peaceful January 6th demonstrators as "patriots." Initial media reports on Miles' termination blamed her firing on The Washington Post's hit piece, though the Republican-led Attorney General's office quickly began to claim that Miles had in fact resigned on her own accord, as a result of "transparency" issues in her initial interviews.
Miles has repeatedly denied both the AG's resignation and transparency claims, telling National File that the issues of January 6th and the 2020 Election never came up during the three interviews she had for her Deputy AG role and that the transparency issue was only raised after the office caught flack for firing her, instead of standing by her, following The Washington Post's hit piece.
Miles also says that she was told during the termination meeting with the AG's Chief of Staff D.J. Jordan and Chief Deputy Attorney General Charles "Chuck" Slemp III, that she was being terminated due to The Washington Post's story. The Facebook posts were "too nuclear," they told Miles.
"Chuck said this was a heartbreaking decision for them, that I was doing a great job and my staff really liked me, but they saw no other option than to ask for my resignation to avoid the January 6th controversy for me, for the AG, and for the office," Miles told National File. "I told them they had other options and asked them to reconsider. I was told I could take the rest of the day off to process and then come back and get my things from the office after hours the next day, and I did just that. Then, after I left the building, I found out that they reported to the media that I had resigned."
"At no time did I submit a resignation," says Miles. "Prior to leaving the office after the termination meeting, D.J. asked me to leave my badge, ID, and computer on my desk."
At 4:11 PM, Miles texted Klarke Kilgore, D.J. Jordan, Charles Slemp, and AG Miyares, telling them that she had thought about their offer, but would not resign. The text of that message is quoted below:
"Guys, I've had some time to think about your offer for me to resign. I have done nothing wrong. The comments I made were as a private citizen and not as a public employee as the 2020 election and Jan 6th info was developing. The views I expressed in those posts were views now held by a large majority of republicans and many independent. 125 congresspeople in a Supreme Court brief also expressed their concerns re: election integrity. Every elected official is tested by the liberal establishment speaking through organs like the Washington Post to determine if the elected official will stand by their convictions or fold under pressure from the lib media. Once an elected official folds, then the MSM is incentivized to bring charges of all sorts to everyone to indirectly or directly harm the AG. When the public understands that an elected official stands with his employee who is under liberal media attack their estimation of the elected official grows. When elected officials do not have their employees' back in the face of lib media attacks, the voter base sees that and judges the elected official. Therefore resigning under pressure would not protect the AG but would evidence great weakness and jeopardize his agenda and office and all the people who work for him. 79% of republicans, 58% of independents and 41% of democrats believe that cheating affected the outcome of the 2020 election based on the December 23,2021 Rasmussen poll. All I can see is the downside of the plan you propose. I urge you to reconsider the consequences of the action you suggest."
Despite never tendering her resignation, at 5:31 PM, Miles received an e-mail from Chief Deputy Attorney General Charles H. Slemp III, thanking her for her supposed "resignation" from the position of Deputy Attorney General, a copy of which has been obtained by National File. There was no copy of a resignation letter attached to Slemp's communication and it stated no reason for the termination of Ms. Miles' employment. Just moments later, at 5:42 PM, Miles responded to Slemp, stating that she had not resigned.
"Later, at 6 PM that evening, I spoke to Chuck with reference to the resignation claim that was reported in the media and he said that there was a misunderstanding and told me I had two options: resign or be terminated," Miles told National File. "I told him I needed more time to process and couldn't give him an answer. He then informed me that my employment with the AG's office was officially terminated. I later learned that he had a deadline to get back to a reporter for the Newsmax story that ran that evening and that was the first time they made the claim that I had 'lacked transparency in the initial interviews.'"
Further bolstering Miles' claim that she was fired over The Washington Post's hit piece is the fact that she was asked via text message by Chief of Staff D.J. Jordan to vacate her office by 1:00 PM on February 10th, the same time that Washington Post reporter Justin Jouvenal had said in writing that he would break his story on Miles' Facebook posts.
As Miles told National File, she never tendered her resignation to the Attorney General's office. At the time of her termination, Miles says it was her understanding that she was being fired over the old Facebook posts and that Miyares did so to placate the far-left Washington Post, especially in light of her being told that the "nuclear" January 6th posts presented "a very very serious crisis."
The reasoning behind Miles' firing appears even more clear after reading a statement from the Attorney General's office made shortly following her termination. AG's office spokesperson Victoria LaCivita virtue signaled to members of the media, assuring them that Jason Miyares believes Joe Biden is the legitimate winner of the 2020 Presidential Election and that he has already made his obligatory denunciation of January 6th demonstrators.
"The Attorney General has been very clear – Joe Biden won the election and he has condemned the January 6 attacks," LaCivita was quoted as saying after Miles' firing, further pointing to her dismissal being the result of The Washington Post's hit piece and her views on the 2020 election and January 6th.
Read Charles Slemp's letter to Monique Miles, falsely claiming that she had resigned, below: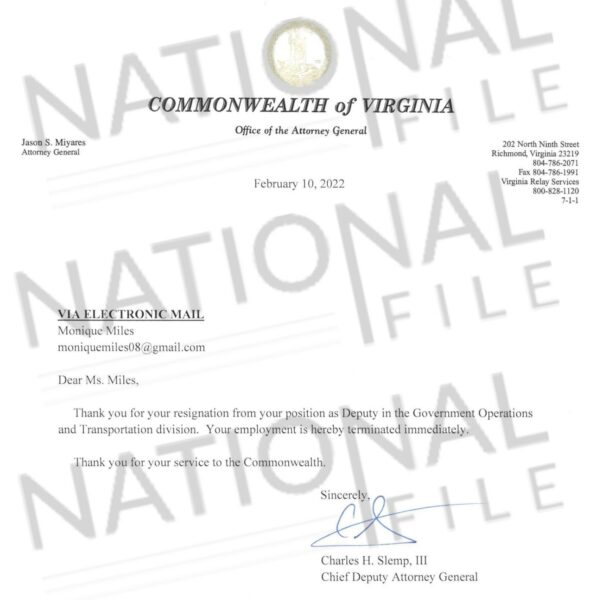 National File reached out to all of the aforementioned members of the Virginia Attorney General's office, including Attorney General Miyares, in an attempt to ask them for proof that Miles had resigned from her position. No members of the Virginia Attorney General's office responded to National File's inquiry. The office also neglected to respond when asked by National File whether or not The Washington Post dictates personnel policy on behalf of Republican Attorney General Jason Miyares.
While the Attorney General's reasons and methods for Miles' termination seem to change depending on who the audience is, Miles has maintained from early on that she was indeed fired by the AG's office for expressing her views on the 2020 Election and January 6th prior to assuming her role as Deputy Attorney General.
"I didn't resign. I was terminated," Miles tweeted at 11:58 PM on the night of her firing.
I didn't resign. I was terminated.

— Monique Miles (@MMStillSpeaks) February 11, 2022