Last Updated on February 22, 2022
The new Trump-backed Twitter alternative "TRUTH Social" slapped a "sensitive material" warning on a post from Stew Peters on Tuesday. "This content may not be suitable for all audiences" reads a notice that users must acknowledge before viewing Peters' post. The new social media platform, which has been billed as a "free speech alternative" to Twitter, launched on Monday.
"I'm ALREADY being censored on Truth Social. Want to know what I said?" Peters wrote in a Gab post. "I said, 'The people in our government responsible for allowing our kids to be killed with these dangerous Covid shots, should be put on trial and executed.' Free Speech isn't free." The post was slapped with a warning label from Truth Social but left undisturbed by Gab and Telegram.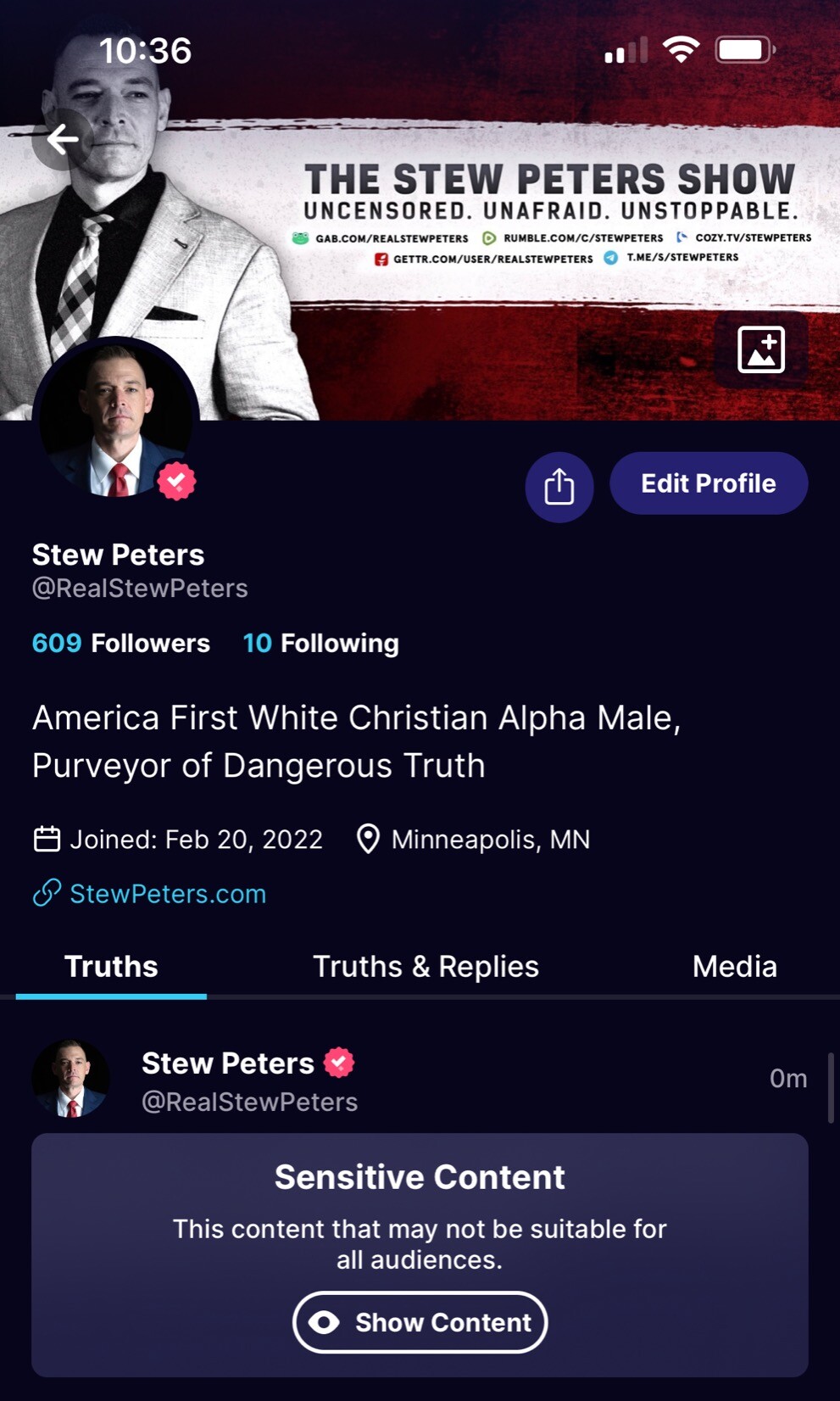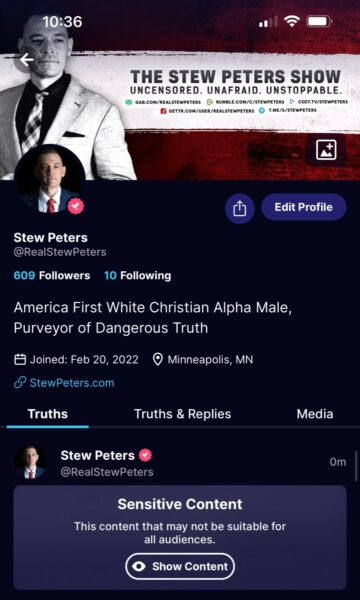 Peters has been banned from multiple big tech platforms over the last several weeks, including Spotify. Most recently, iHeartRadio dropped an entire radio station, Mojo Radio 5-0, over its refusal to drop the Stew Peters Show. Executives from the podcasting giant provided no reasoning for the ban, saying only that Peters was a source of "dangerous misinformation."
As for TRUTH Social, Trump has described the new venture as "censorship free." However, the platform must abide by Apple's content policies or risk being kicked off the marketplace. The app store prohibits "objectionable content," including content that "encourages violence."
In addition to Apple's policies, TRUTH Social's terms of service include numerous ban-worthy violations. Users are prohibited from attempting to "trick" or "mislead" other users, violating anyone's "privacy or publicity rights," or posting messages that "depict violence" or include messages related to "sexual fetishes," "sugar babies" or "sexually suggestive" phrases. Users are also forbidden from posting anything "false," "indecent," "misleading," "profane," "obscene," "filthy" or "otherwise objectionable."
The platform's launch has been marred by numerous technical difficulties, including a 13-hour outage. A waitlist to join TRUTH Social currently stands at 300,000 users.