Last Updated on November 2, 2022
Ye, the iconoclastic musician and fashion mogul formally known as Kanye West, published an Instagram post on Sunday which expressed support of Herschel Walker's pro-life platform in his race against incumbent Democratic Georgia Senator Raphael Warnock.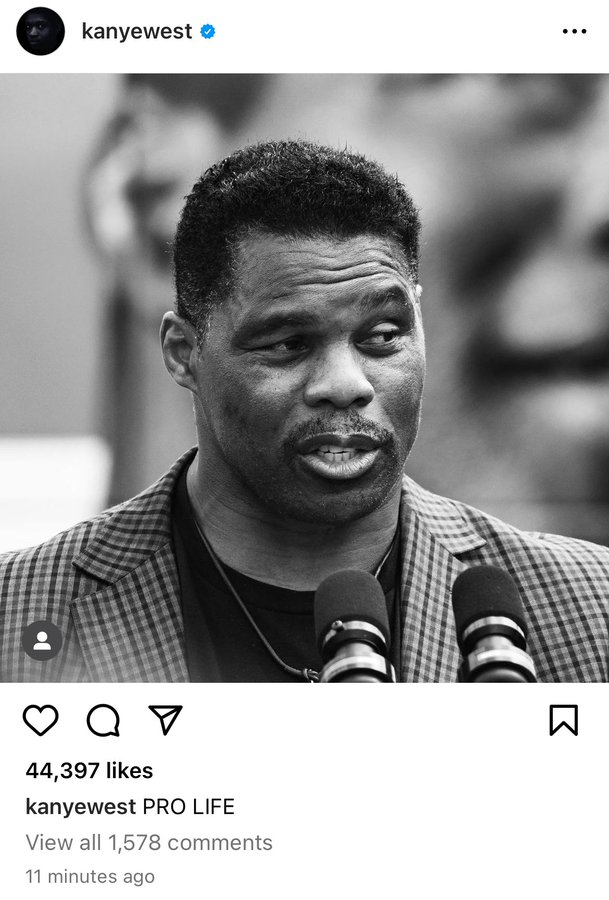 "Pro Life," Ye stated in all caps in the caption of the photo he posted of Georgia Bulldog legend, Herschel Walker.
The political issue of abortion has been a hot-button topic nationwide ever since the reversal of Roe v. Wade, the issue is one of the sharpest dividers between Walker and his opponents, Raphael Warnock (D-GA) and Chase Oliver, a libertarian candidate.
The hip-hop legend from Chicago has been heavily censored and made a victim of cancel culture after he made controversial comments about media ownerships and narratives. In addition to the cancellation of numerous stadium shows, Ye West has lost billions-of-dollars' worth of endorsement deals with Adidas, Vogue and Balenciaga, among others. JP Morgan Chase also closed a bank account belonging to West.
"People said to me multiple times 'Visit the Holocaust Museum.' I said visit our holocaust museum. It's called Planned Parenthood. 6 million Jews died in the Holocaust and I am sorry for your losses. 20 million Blacks died [due] to abortion and Planned Parenthood was made by Margaret Sanger with the real KKK as population control," Ye said. "Margaret Sanger is a [eugenicist] and it's working today."
"If you go to Apple right now, go to Apple Music; let's load up the top 10 songs. I guarantee you, they're promoting black serial killing. The Red Media is making money off of blacks being serial killers to each other. Also misogynistic," Ye said. pic.twitter.com/e9U5IYPMlX

— Addy Adds (@OneAddyAdds) November 2, 2022
"The number one cause of death for black people in America is abortion. The most dangerous place for a black man today, or a black baby, a black woman, is in their mother's stomach. And that is a programming that is pushed through, I've got a new word for 2024, The Red Media," the Grammy-winning musician stated.
Walker recently extended his lead over Warnock to three points, according to a recent poll from Insider Advantage.