Last Updated on December 6, 2022
A Richmond, Virginia restaurant is publicly boasting of refusing service to Christians at the behest of its LGBT staff members, having canceled a private event scheduled by a conservative, faith-based group, claiming that Christianity makes homosexuals and abortion fans feel "unsafe."
Richmond, Virginia's Metzger Bar and Butchery restaurant, is publicly boasting in an Instagram message of its anti-Christian business practices, after canceling a reservation made by the conservative, faith-based Virginia Family Foundation. The cancellation came when homosexual Metzger staff members learned that the group supports traditional marriage, and believes that babies are people.
"Metzger Bar and Butchery has always prided itself on being an inclusive environment for people to dine in," the Instagram statement from Metzger's Bar and Butchery reads.
"In eight years of service we have very rarely refused service to anyone who wished to dine with us," the statement goes on, before launching into a political tirade about homosexuality, abortion, and refusing service to Christian diners.
"Recently we refused service to a group that had booked an event with us after the owners of Metzger found out it was a group of donors to a political organization that seeks to deprive women and LGBTQ+ persons of their basic human rights in Virginia. We have always refused service to anyone for making our staff uncomfortable or unsafe and this was the driving force behind our decision. Many of our staff are women and/or members of the LGBTQ+ community. All of our staff are people with rights who deserve dignity and a safe work environment. We respect our staff's established rights as humans and strive to create a work environment where they can do their jobs with dignity, comfort, and safety."
Read the Anti-Christian Instagram Post Below: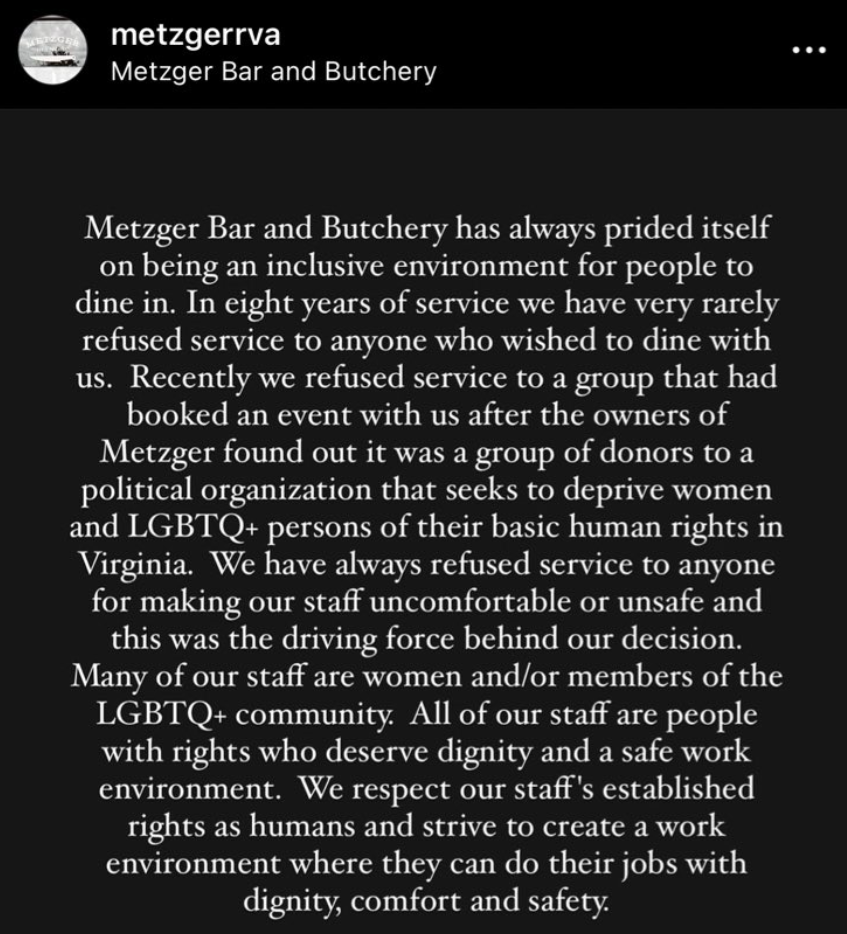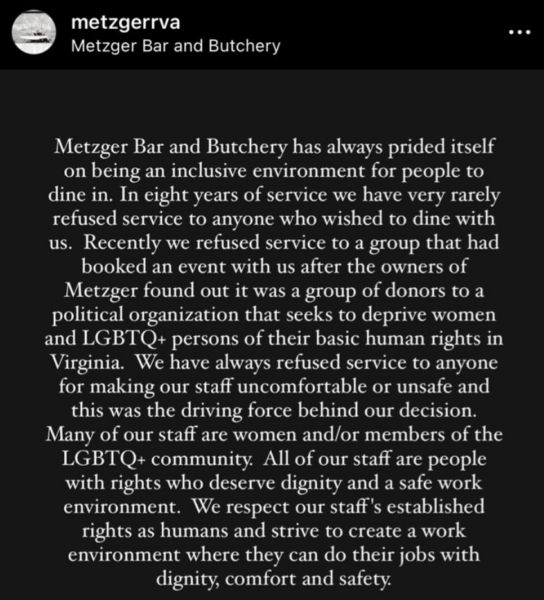 "One of the restaurant's owners called our team to cancel the event," Victoria Cobb, the Virginia Family Foundation's president, wrote in a blog post titled "We've Been Canceled," explaining the discrimination incident.
"Welcome to the 21st century," Cobb's post went on. "Where people who likely consider themselves 'progressives' attempt to recreate an environment from the 1950s and early 60s, when people were denied food service due to their race."
Amidst a massive flood of negative press and web postings, Yelp has taken steps to protect the reputation of the anti-Christian Metzger's Bar and Butchery, blocking the website's users from leaving reviews on the restaurant's page.
Far from the first instance of anti-Christian, anti-conservative, or anti-American discrimination to be covered by National File, discriminating against people of faith, especially white people of faith, has become a common practice among the increasingly radical left-wing of American politics.
In Richmond, where Metzger's Bar and Grill is located, the city has spent the better part of the last three years under siege by left-wing extremists, who in one instance, set fire to a home with a child inside, then blocked emergency vehicles as they desperately tried to reach the scene.