Last Updated on December 7, 2022
Authorities at the far-left University of Virginia have finally admitted that a black woman attacked the school's black affairs office, after spending months covering up the race of their suspect. UVA has become notorious for refusing to list racial descriptions of minority suspects, even leading police on a chase for a white man after a black mass shooter killed three on school grounds.
The rock-throwing incident at UVA's Office of African American Affairs took place in August of this year, and instantly triggered left-wing hysteria and claims that white racists were running amuck through Charlottesville, Virginia. It also led to multiple public statements from school officials and "civil rights" organizations, implying that a hate crime had taken place, by way of two broken windows.
Now, months after the incident, it has been learned that a black woman named Zaynab Bintabdul-Hadijakien is the lead suspect, and police say she likely carried out the attack as a form of retribution against the office's psychological services department.
She was arrested after surveillance footage pointed the authorities to a "black woman in a head scarf," who was responsible for the rock-throwing act of vandalism.
The revelation that Zaynab Bintabdul-Hadijakien is the lead suspect came after a long cover-up period, during which the local chapter of the NAACP issued a public statement, accusing racists of trying to "knock down the empire and strength that The Office of African American Affairs has created."
"Amid these challenging times, we stand by OAAA, we stand together, and we stand in power," the NAACP's statement read.
Such cover-ups of the racial identities of crime suspects have become commonplace at UVA, a far-left university that's long been criticized by students and the local community for its failure to release accurate racial descriptions of minority suspects, particularly black suspects.
The rock-throwing case was no different, and the school actively covered-up the assailant's identity.
After initially fanning the flames of racial hysteria, UVA issued a public statement to report that "the perpetrator was a student who was known to OAAA officials and who was motivated by factors unrelated to racial bias."
Still, they concealed the assailant's identity, claiming that they "unable to divulge" it.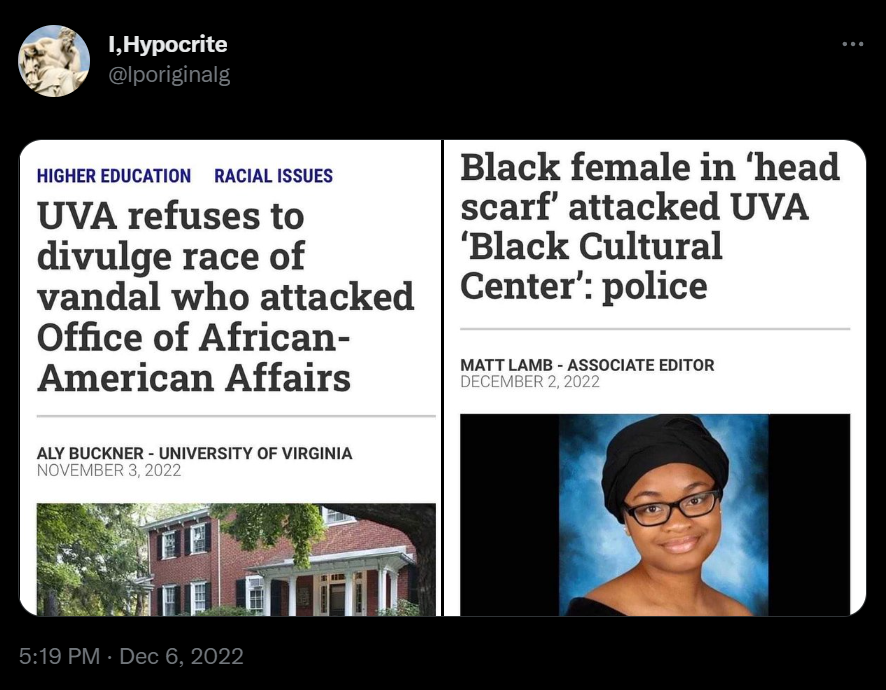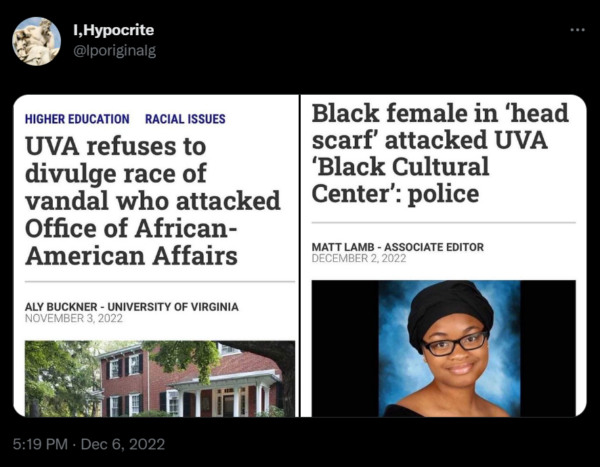 The revelation that law enforcement and school officials at UVA concealed the racial identity of their African American Affairs attack suspect comes just weeks after another instance at the school, in which the university and local media blamed a gay white YouTuber, by name, for a mass shooting committed by a black ex-football player.
What's more, is that in the aftermath of the shooting, it's been learned that those in command at UVA failed in their duty to protect their students, ignoring multiple complaints about the shooter's conduct, and even ignoring a gun crime conviction that preceded the mass shooting, which killed 3.
Despite the school's longtime anti-gun political stances, the mass shooter was found to be storing multiple firearms in his dorm room, a "gun-free zone."
Reportedly, UVA faculty donates to Democrat candidates by a margin of 20-1.