House Freedom Caucus Vice Chairman, Rep. Jim Jordan (R-OH) parroted Kevin McCarthy's talking points during a recent interview with Breitbart, saying that he's "concerned" that RINOs and Democrats will join forces to install a speaker of their own if conservatives don't fall in line behind FTX-funded McCarthy.
"I'm very, I'm concerned about that. I don't think it's likely, but I am concerned about it," Rep. Jim Jordan told Breitbart's Matt Boyle in a Saturday interview, parroting Kevin McCarthy's talking points around the Speaker of the House race.
McCarthy, who's already dubbed himself "speaker-elect" despite not having the 218 votes he needs to take the gavel, plus his supporters, have spent the weeks following the "Pink Trickle" midterms of 2022, cooking up scenarios in which McCarthy gets to cling to his power, and be elected Speaker of the House on January 3rd.
This is despite massive opposition from conservatives, like Freedom Caucus Rep. Andy Biggs, who's officially announced a challenge to McCarthy's speakership campaign.
Oddly, considering Kevin McCarthy's name is synonymous with the GOP establishment for millions of conservative voters, Jim Jordan and Breitbart News acted like he's an outsider, during their Saturday interview, and in the headline that spun off it.
"Jim Jordan 'Concerned' By Threat Of Democrats, Moderate Republicans Electing Establishment Speaker," Breitbart's headline reads.
Oddly, the headline denotes that Kevin McCarthy isn't a member of the GOP establishment, despite his long run in GOP leadership, during which he's cozied up to Big Tech with the likes of deposed RINOs Eric Cantor and Paul Ryan.
This year, McCarthy used FTX mega-donor money to crush America First conservatives in the 2022 midterms, before the multi-billion dollar crypto exchange was found to be a massive fraud, with suspected links to Ukrainian money laundering and political oligarchs the world over.
Not only did McCarthy's sabotage operation protect RINO incumbents, but it handed seats over to Democrats on a silver platter, in a naked effort to avoid too much conservative influence in the new Congress, which would stymy McCarthy's speakership bid, and his "Pelosi-lite" legislative agenda.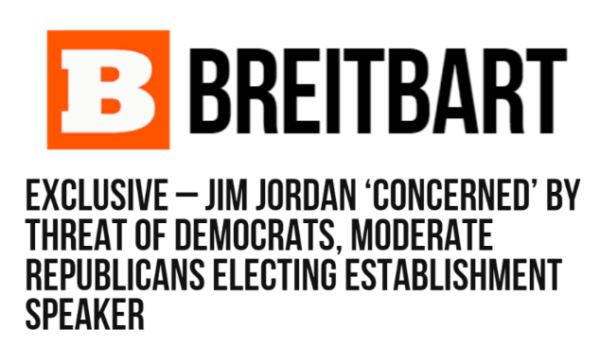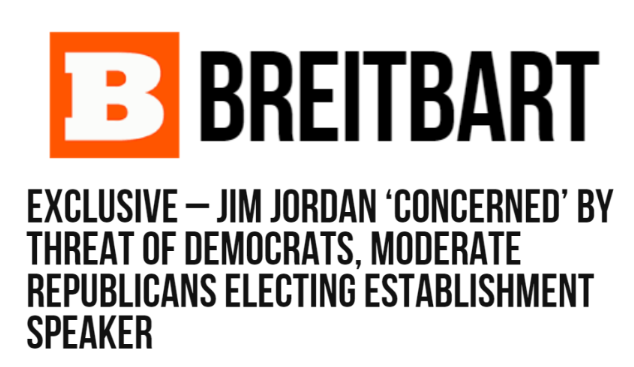 The latest pro-McCarthy story from Breitbart picks up where a previous one left off, featuring the likes of Freedom Caucus Rep. Marjorie Taylor Greene, parroting the same talking points as Jordan while backs Kevin McCarthy for Speaker of the House.
Despite MTG's longtime fundraising claim that she will introduce articles of impeachment against Joe Biden when Republicans take control of the House, Kevin McCarthy, MTG's speaker of choice, has already promised NOT to impeach Biden.
Regardless, Jim Jordan told Breitbart on Saturday that "Leader McCarthy has been very supportive of our efforts to get to the … facts, to get to the truth, and get that information to the American people," when it comes to the criminal misdeeds of Joe Biden and the anti-MAGA, uni-party establishment.