Last Updated on February 15, 2023
Fairfax County Public Schools in Northern Virginia are refusing to protect a young white boy who was strangled and beaten by a black girl on his school bus, as other black students cheered her on. According to the boy's mother, the family has already taken out multiple protective orders against the bully, but the district has done nothing to protect the young boy.
Disturbing video footage of the attack has been made available on Twitter and other social media platforms and shows the black girl hitting and strangling the middle school-age white boy, as other students cheer her on and the bus continues rolling down the road. The attack went unchallenged by the bus driver and other students. Eventually, a passive warning is issued for students to stay in their seats, but the attack continues.
Watch video footage of the attack below:
https://twitter.com/NoVA_Campaigns/status/1625440347248631809
Further details about the situation surrounding the bus strangling attack were made available in a blog post from the victim's mother, who identifies herself as Taylor Brock, of Fort Belvoir, Virginia.
"On January 23, 2023, my son was assaulted and strangled on the school bus by another student," Brock's blog post reads. "I learned about the altercation when my son came home crying with red marks on his neck," her post goes on, before revealing that "the girl who harmed my son this day was also the same one who stole a toy from him months prior to which the school said they would 'take care of it.'"
"I was sent this video from another student which made me realize how severe and traumatic this event was for my son and also learned that the video was actually the SECOND time she attacked and strangled him," Brock revealed in the post.
Brock reveals in her post that despite taking out TWO protective orders against the bully, Fairfax County Public Schools have refused to act in her son's protection, and have continuously allowed the girl to violate the protective orders, which say she can't come within 50 feet of the boy, a frequent target of her violent bullying.
"This wasn't two kids fighting," Brock wrote in her blog post. "This was one child continuing to attack and strangle another student. Not once did my son retaliate against her and he suffered emotional and physical trauma for it. The school was able to pull bus camera footage to show that she did indeed go back to my son's seat twice. The school said they couldn't tell me what action would be taken against the girl but that they would take care of it."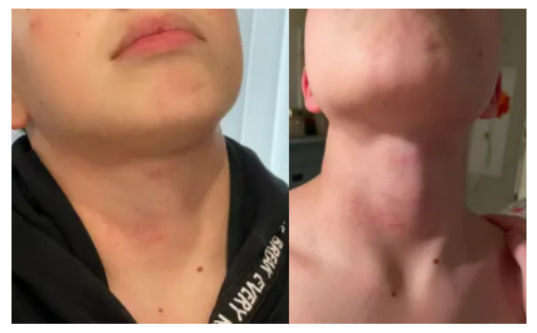 Fairfax County Public Schools, a district wrought with left-wing policies that have been massively opposed by parents and community members, has refused to discuss their failure to protect the strangulation victim from his attacker, despite the existence of multiple legally-binding protective orders.
The attack on the young boy and the district's refusal to act is just the latest mark against Fairfax County Public Schools where, as National File reported last year, a pedophile was allowed to continue working, as he awaited imprisonment on charges of soliciting a minor, only to be arrested again for yet another sex-related crime.