Last Updated on February 15, 2023
Former South Carolina Governor and newly-announced 2024 GOP presidential candidate, Nikki Haley, has a long history of collaborating with the uni-party establishment and their corporate overlords while throwing support to the radical left. Here are 10 of the top reasons why South Carolinians and others should say "no" to Nikki Haley in 2024.
1) Nikki Haley is owned by Democrats and Wall Street elites:
Nikki Haley's non-profit gets massive donations from Democrat donors, America Last RINOs, and the globalist financial establishment. According to tax documents previously obtained by Politico, Stand for America Inc, Haley's non-profit, received more than $1 million from Democrat donors out of New Jersey while also bringing in donations from the wife of GOP establishment darling Glenn Youngkin, and failed Pennsylvania Senate candidate David McCormick, the former hedge fund manager.
She's also counted vulture capitalist GOP donor Paul Singer, and the late Sheldon Adelson among her non-profit benefactors.
2) Nikki Haley hates President Trump:
Nikki Haley publicly despises President Trump and joined Democrats in calling for him to never run for President again in 2021, shortly after the January 6th demonstrations against election fraud, which have now been largely exposed as a false flag operation for anti-Trump political gain, that cost American lives.
"We need to acknowledge he let us down," Nikki Haley told Politico. "He went down a path he shouldn't have, and we shouldn't have followed him, and we shouldn't have listened to him. And we can't let that ever happen again."
3) Nikki Haley hires swampy staff members:
When Nikki Haley formed her Stand for America PAC to launch her 2024 campaign, she hired a GOP establishment insider to lead the operation. Haley tapped former National Republican Senatorial Committee (NRSC) political director Betsey Ankney, who's been touted as a leading figure in the establishment effort to strip the GOP of everything Trump and MAGA-related.
4) Haley's Never Trump Super PAC worked against GOP incumbents:
Nikki Haley's Never Trump Super PAC worked to get GOP incumbents bounced from office, for being too conservative, and too America First. Haley's PAC was "laser-focused" on the 2022 mid-terms, immediately before she announced her 2024 campaign, and she used it as an instrument to attack non-establishment Republicans and fill Congress back up with corporate-backed candidates.
5) Nikki Haley joined Ben Shapiro in pushing the Bubba Wallace NASCAR noose hoax:


6) Nikki Haley joined violent BLM'ers in calling for the drug-induced death of George Floyd to be made "personal and painful for everyone.":

7) Nikki Haley hangs out with Deep State conspirator John Brennan:
In 2019, Nikki Haley posted a photo on Twitter, alongside Deep State Trump-hater John Brennan, Bush acolyte Condoleeza Rice, and left-wing NBA Commissioner Adam Silver, among others.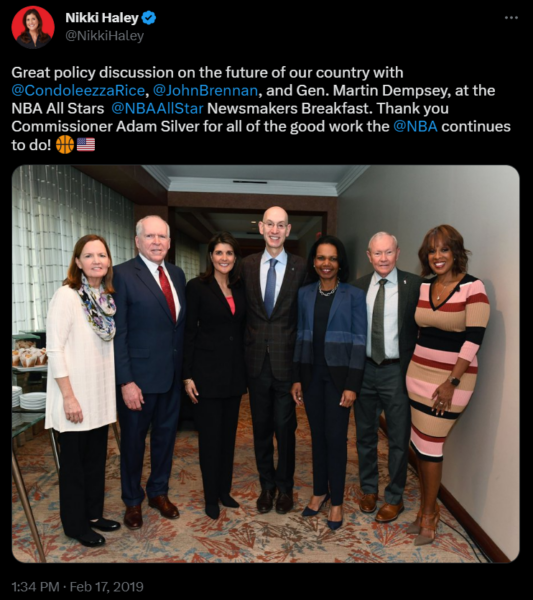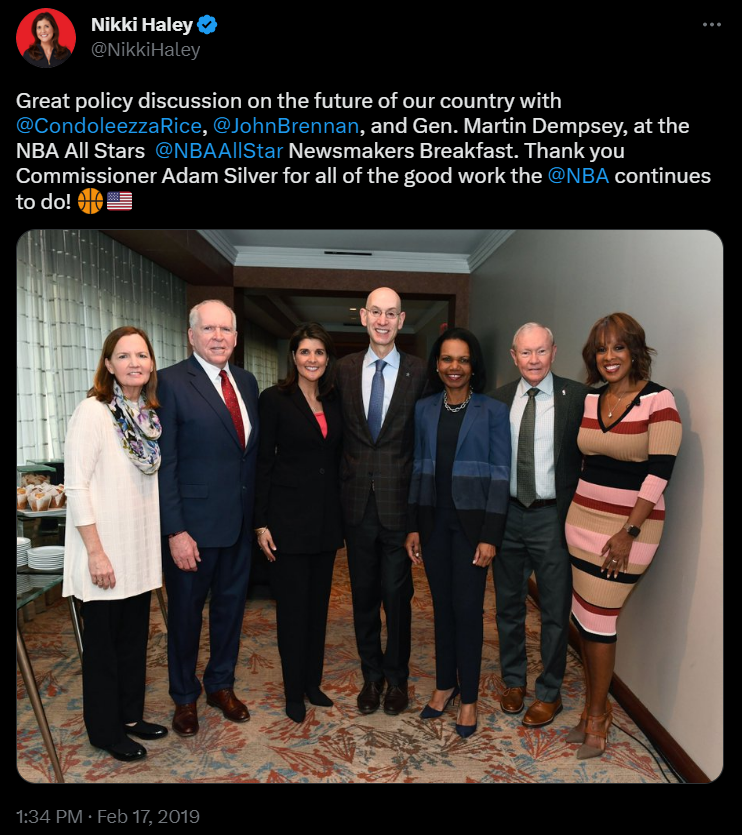 8) Nikki Haley told young conservatives to stand down and act like wimps, to appease to left:
"Raise your hand if you've ever posted anything online to quote-unquote 'own the libs,'" Nikki Haley told attendees of a 2018 TPUSA summit. "I know that it's fun and that it can feel good, but step back and think about what you're accomplishing when you do this — are you persuading anyone? Who are you persuading? We've all been guilty of it at some point or another, but this kind of speech isn't leadership — it's the exact opposite."
9) When turncoat Jim Mattis was plotting an anti-Trump presidential run, Nikki Haley was tested as a running mate:
Nikki Haley, along with Dan Crenshaw, was tapped as a potential running mate for General Jim Mattis, a former Trump hire who turned on the 45th President and briefly considered challenging him for the 2020 GOP nomination, until he failed to garner any actual support.
10) Nikki Haley is one of Klaus Schwab's Young Global Leaders:
In 2011, Nikki Haley was named one of Klaus Schwab's Young Global Leaders, an appointment lauded by the Indian press of her parents' homeland. After linking up with Schwab, Haley went on to spearhead the left-wing anti-history movement, ripping down the Confederate Flag that flew outside of South Carolina's State Capitol, at the behest of Black Lives Matter, the NCAA, and corporate interests.