Last Updated on February 14, 2022
Conor McGregor has called for the Republic of Ireland to leave the European Union over new COVID restrictions. On Friday evening, Irish Prime Minister Michael Martin imposed a series of new measures, citing the threat of the Omicron variant.
Under the new measures, nightclubs will be closed between December 7 – January 9 while other businesses will be subject to increased social distancing guidelines. "The potential for a very serious crisis is obvious," Martin said.
McGregor has voiced his displeasure with the Irish government's handling of the pandemic on numerous occasions. The UFC superstar recently called out the prime minister in a series of tweets, many of which were later deleted.
"We are almost three years into this. We have came together time and time again! Gone above and beyond what has been asked of us!" read one of the tweets. "Yet all we have gotten back is hypocritical address after hypocritical address! The audacity! I am ashamed of my nations government at this time." (READ MORE: Conor McGregor Keeps Claymore Sword His Ancestors Used to Repel Invaders As 'Reminder' Of Family Lineage)
On Friday, McGregor took things a step further in calling for Ireland to leave the European Union. "It is time to talk about leaving the European Union," McGregor wrote in a tweet. To be at this level of vaccination % yet going backwards, and attempting now to talk mandating…Laughable…Shame on you all in current power…EU lackeys." he wrote in another. The tweets were later deleted after having been live for about four hours or so.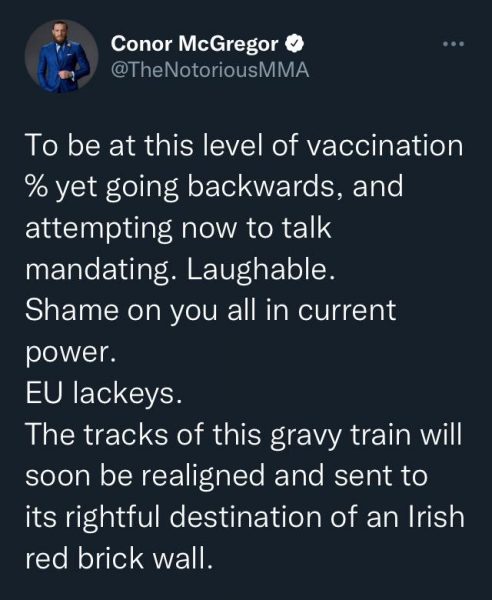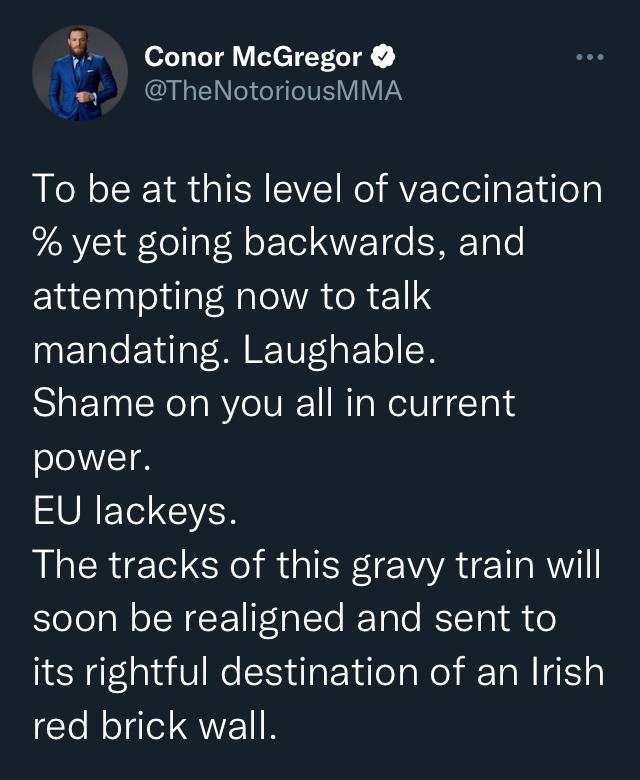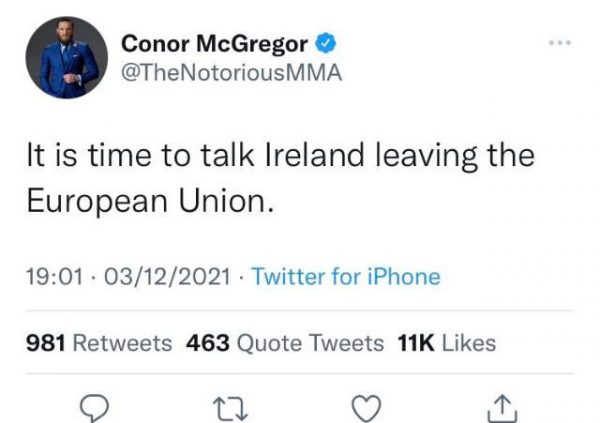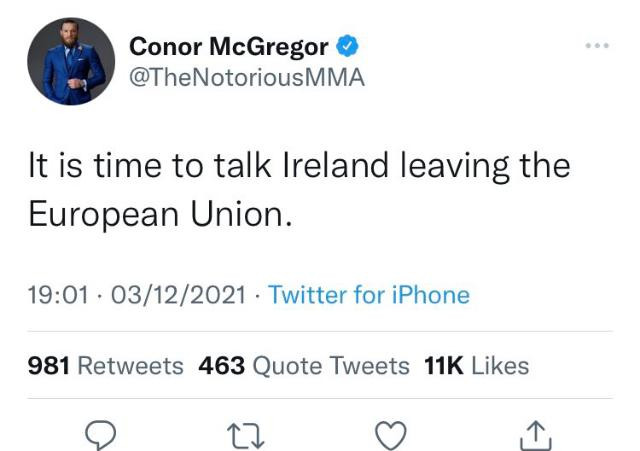 Several EU countries have responded to the Omicron variant with draconian measures. Austria and Germany recently imposed lockdowns for the unvaccinated population while moving towards compulsory vaccination for all citizens. (READ MORE: Conor McGregor Praises Trump on Twitter, Trump Congratulates McGregor on Huge UFC Win)
In other bloc-countries, such as Italy, vaccination papers are required for entry to numerous buildings. Vaccination is also heavily tied to employment status in several EU countries.