Last Updated on November 18, 2021
Earlier this year the Biden White House took the historic step of uploading pictures of Press Secretary Jen Psaki's feet to the image hosting and sharing website Flickr, leading at least one pundit to question whether the "feet pics" were meant to help stabilize Joe Biden's rapidly declining popularity.
On June 3 of this year, a photo titled P20210603CS-0674 was uploaded to the official Flickr account used by the White House. It was not immediately clear what the image portrayed judging solely from the image itself, as it simply features two vascular feet wearing high heels that are attached to a matching set of freckled legs, all owned by a person wearing a green or teal dress.
The description for the feet picture reveals, however, that the podiatric image portrays "Press Secretary Jen Psaki" holding "a Press Briefing on Thursday, June 3, 2021, in the James S. Brady White House Press Briefing Room." The image is credited to White House photographer Cameron Smith.
The full image, in all of its glory, is available here: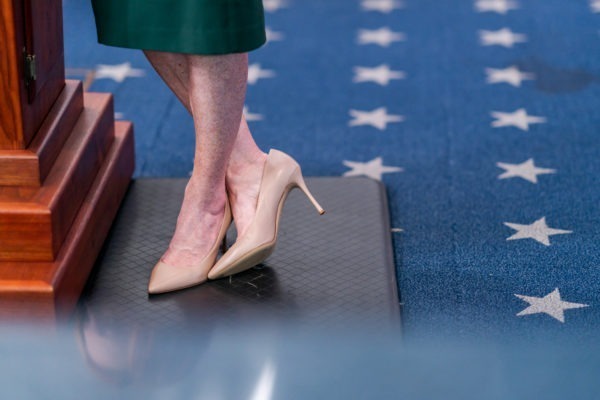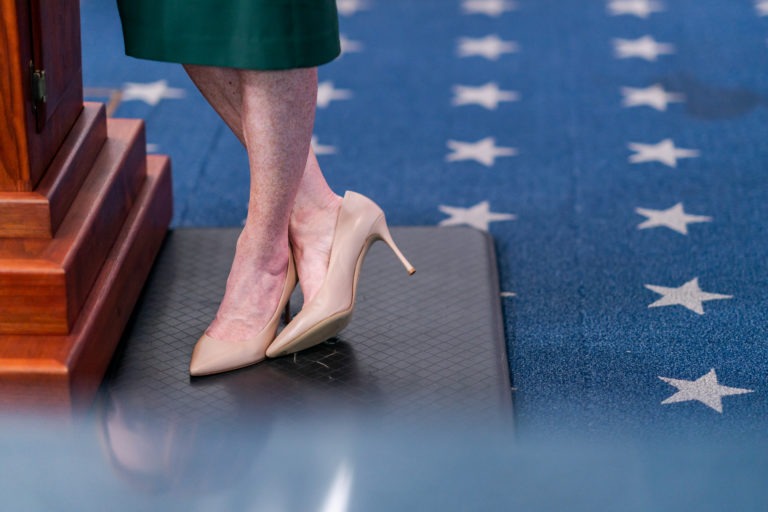 Pundit Benjamin Braddock discovered the image and posted it to Twitter. "Desperate to reverse Biden's approval ratings slide," wrote Braddock, "the White House has now started posting Jen Psaki feet pics."
Desperate to reverse Biden's approval ratings slide, the White House has now started posting Jen Psaki feet pics pic.twitter.com/28OqtS02Pq

— Dr. Benjamin Braddock (@GraduatedBen) November 18, 2021
If Braddock's suggestion that the feet photograph was meant to attract those with a certain proclivity and thus improve Biden's failing approval ratings is true, the effort would seem unsuccessful. Many replied with displays of revulsion:
Reminds me of Nudar from Futurama pic.twitter.com/wasnVjfZfp

— Grim (@sommelierkun) November 18, 2021
Repulsive pic.twitter.com/RNKxzKWUvj

— BasedMaterialism (@MonasAcephalica) November 18, 2021
Still, the image has resurfaced at a time when the majority of Americans disapprove of Joe Biden's abysmal job performance, and at a time when 50% of Americans do not believe Biden is in "good health" and 48% of Americans believe that Biden is not "mentally fit" to be President of the United States:
Out of 1,998 registered voters surveyed by Politico last week, 50% of voters did not think that Joe Biden is "in good health," with 48% of voters also believing that Biden is not "mentally fit." Compared to a poll from October 2020 when the questions were last asked, Biden has seen a huge decline, with a 29 point shift and 21 point shift away from him being mentally healthy and mentally fit respectively.
In what would not come to as a surprise to anyone, the responses to the poll follow a general partisan split, with 87% of supporters of President Trump believing Biden is not in good health, while 71% of Biden voters believing the opposite. However, with Independent voters, 54% believe Biden is not in good health and 47% think he is not mentally fit, compared to 31% and 42% who disagree respectively. This is a big shift from before the election, when independents believed Biden was more mentally fit and healthier than his opponent.