Last Updated on November 18, 2021
In text messages retrieved from Hunter Biden's laptop and obtained by National File, Joe Biden told his son that he had "absolutely no hesitancy" in helping resolve a dispute with a business partner for an amount Hunter described as between $800,000 and over $1 million.
In a text conversation between Hunter Biden and his father Joe dated March 5 2019, Hunter lamented to Joe that he was "supposed to be paid yesterday," but that "Eric is holding the check in one of MY accounts that only he has access to as leverage to have me agree to some demand he has."
It is unclear why Hunter does not have access to an account that was seemingly his at the time. Joe Biden then offered to pay the dentist bill for Hunter's daughter Maisy, and said that Hunter "need not" pay him back.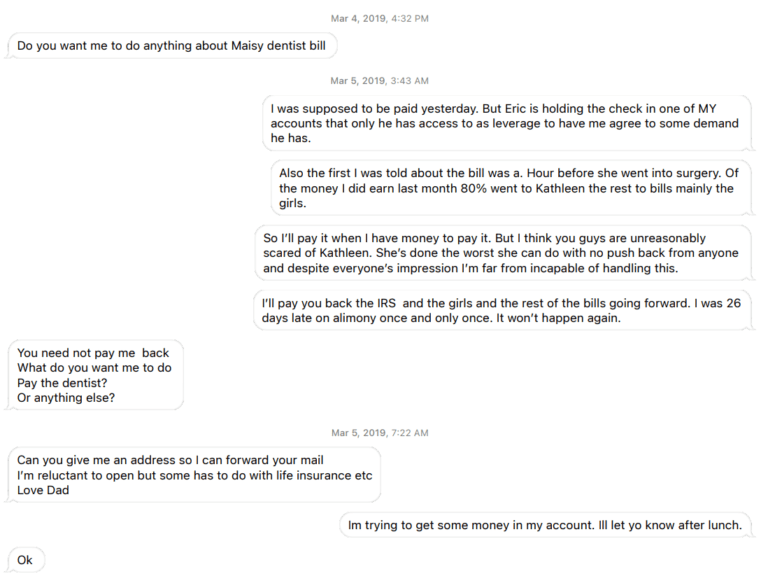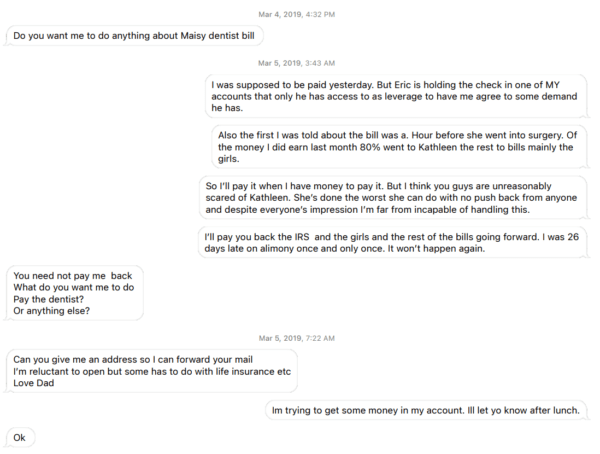 The next day, Hunter texted his father Biden a diatribe about a business dispute he was having with the aforementioned Eric, telling Joe that Eric is "holding without any right my checks from investments that somehow went to his address until I agree to give him 100% equity in a business that I own 100% of and fired him from 2.5 years ago."
"He knows that i can't sue him because I can't wait that long for the money without creating much bigger problems," Hunter continued. "He's been doing this to me for three years and not a single person except George and Jeff Cooper know it's a lie. George just proved that the agreement Eric said I signed was actually my e-signature that I never placed on any document."
"That's been the cornerstone of any argument Eric had. He obviously was able to convince everyone that I've wronged him while he holds over $800,000 of mine totally without any merit," he added, saying that over three years it added up to over $1 million. "Can I help with Eric. I have absolutely no hesitancy," Joe texted back. "Let me help if you think i can. Love dad."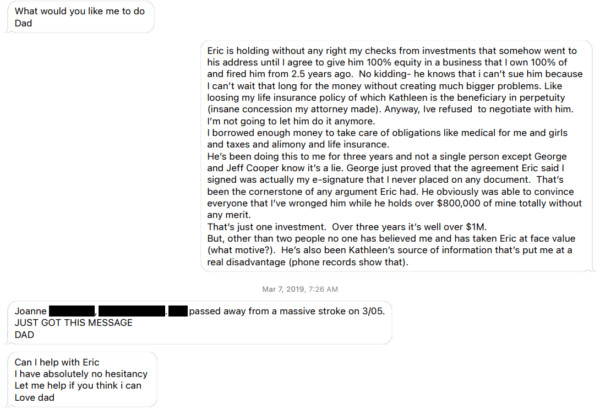 National File believes "Eric" is likely Eric Schwerin, Hunter Biden's business partner at the Rosemont Seneca Partners consultancy group, where Schwerin acted as president. Hunter and Schwerin were founders of the group, along with Christopher Heinz, the stepson of John Kerry, Barack Obama's Secretary of State, and Devon Archer, who sat on the board of Burisma, the Ukrainian energy company where Hunter was a paid board member before resigning in April 2019, just before Joe announced his presidential run.
According to emails obtained from Hunter's laptop and published by the Daily Mail, Schwerin was "intimately" involved in Joe's affairs before the dispute with the younger Biden. From The Daily Mail:
[Emails show] Schwerin was working on Joe's taxes, discussing the father and son paying each other's household bills, and even fielding requests for a book deal for the then-vice president, as well as managing the donation of Joe's senate papers to the University of Delaware…

In yet more evidence of the deep commercial relationship between Hunter's firm and the VP's office during Joe's tenure, Rosemont Seneca received special favors from the White House while Joe was in office, including dozens of tickets to exclusive 1600 Pennsylvania Avenue events and private tours for Rosemont Seneca clients or associates.

And when an aide to Senator Robert Menendez requested VP Biden host the U.S.-Spain Council's 2010 annual meeting at his official Naval Observatory residence in Washington DC, they contacted Schwerin rather than Joe's White House office.
Previously published texts by National File also include Hunter describing he feels "very alone" in dealing with issues regarding his ex wife and children, the suspicious deaths of rich business partners, the arrest of foreign high-profile clients in Communist China, and his suspected involvement in business dealings in Russia "with Vladimir Putin directly."
National File has over 800 pages of previously unreleased Hunter Biden text messages and intends to publish more in the coming days. In this article and in future coverage of the Hunter Biden text messages, National File has preserved typos and other original language from the text messages to preserve authenticity. National File has retracted and will retract sensitive information as necessary.
National File confirmed the authenticity of the text messages using multiple methods and with assistance from the Marco Polo research group.