Last Updated on December 3, 2022
Russian Prime Minister Dimitry Medvedev slammed the "Kiev Satanists" and "Christ-sellers" after Ukrainian President Volodymyr Zelensky took a page from the Bolshevik playbook, announcing a ban on the Ukrainian Orthodox Church and government-sponsored crackdowns against the faithful, who Zelensky claims can't be trusted, because scripture isn't under the control of the Ukrainian government.
The "Kiev Satanists have reached the canonical Ukrainian Orthodox Church," Russian Prime Minister Dimitry Medvedev, who along with President Vladimir Putin, has been outspoken in his support of the faith community, said in a statement, responding to the ban announcement.
"Church property is being taken away. Clerics and parishioners are beaten," said Medvedev, who was raised in the secular Soviet Union before being baptized into the Russian Orthodox Church at age 23.
The Ukrainians, who Medvedev calls "Little Russians," are "not distinguished by the strength of faith," his statement went on.
"They prayed only for loot," he said of Zelensky and his predecessors, who've taken in tens of billions of dollars in "foreign aid" from the US and other Western powers.
"The current Ukrainian authorities have openly become enemies of Christ and the Orthodox faith. This is how the whole Christian world should treat them."
"And of course, the Kiev Christ-sellers should remember the words of Scripture," Medvedev wrote in closing, before quoting from Ezekiel 7:9.
"And my eye will not spare you, and I will not have mercy. I will repay you according to your ways, and your abominations will be with you; and you will know that I am the Lord, the chastiser."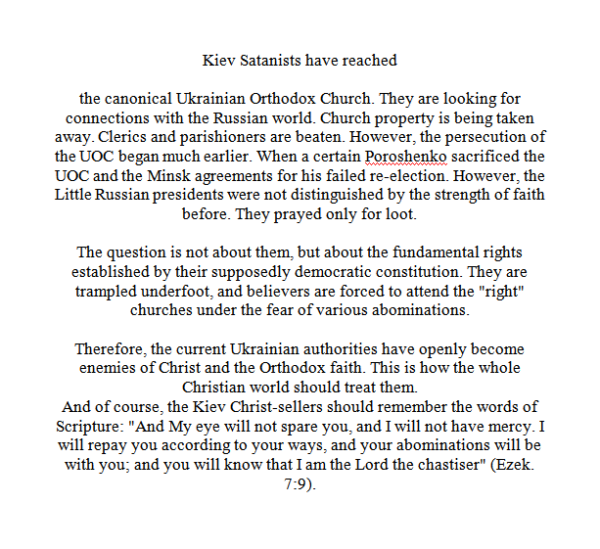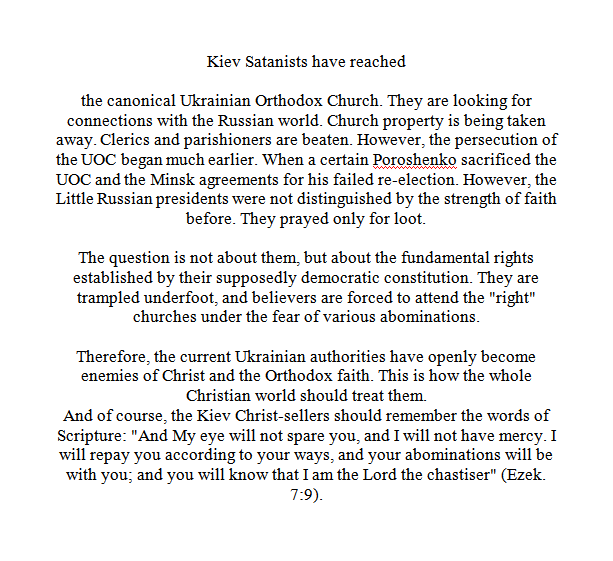 Zelensky's move to outlaw the Ukrainian Orthodox Church is just the latest Bolshevik crackdown implemented by the Ukrainian president, who's been hailed by globalist world leaders after leading similar attacks on news stations and political parties at odds with his agenda.
Now, much like media outlets, the only churches allowed to operate in Ukraine will do so with the express consent and direct control of the Zelensky government.
Though President Zelensky is Jewish, members of the Ukrainian Orthodox Church make up a 52% majority of the Ukrainian nation.
Zelensky claims this majority is a threat to national security and could be influenced by Russia, another nation with a strong Orthodox Christian tradition.
There, the Putin government has brought Christianity back into the public fold, after Soviet Communists spent the better part of a century using the same playbook as Zelensky to destroy the church and make the state the new God.
"It is necessary to create such conditions in which any figures dependent on the aggressor country will not be able to manipulate Ukrainians and weaken Ukraine from within," Zelensky said in a public address, announcing his crackdown on Orthodox Christians.
Watch Zelensky's Anti-Christian Announcement Below:
https://twitter.com/AZgeopolitics/status/1598649833216036864