Last Updated on October 26, 2022
Arizona Rep. Paul Gosar sent a letter to Russian President Vladimir Putin and Ukrainian President Volodymyr Zelensky, inviting them to Phoenix, Arizona to engage in peace talks, away from globalist war hawks and other influences with a vested interest in triggering World War 3.
"I'm writing to each of you, or your delegates, with an invitation to come to Phoenix, Arizona to engage in peace talks," Gosar (R-AZ-4), who's been an outspoken voice for peace, wrote in his letter to the Eastern European leaders.
Upfront about not being a government diplomat, Gosar told the men that he's "seen enough death and destruction" and as a result, feels "compelled to act" in the name of peace when no one else will.
As Gosar noted, not only have thousands of civilians died and countless been displaced but there are increasing concerns about nuclear consequences.
All the while, Western political and pop culture figures have openly advocated for NATO to take military action against Russia.
"A pathway to peace is long overdue and I write to offer a means to pursue this important goal," Gosar's letter reads. "Unfortunately, many statements and actions by global political and military leaders are averse to achieving peace."
"Inasmuch, as a non-combatant peace activist, I have a recognized right, pursuant to the United Nations Peacemaker program, to seek mediation through local efforts."
If Putin and Zelensky take him up on his offer, Gosar wrote that he expects the U.N. to hold up their end of the Peacemaker program and "set up the framework for peace talks."
"Peace must prevail but does not currently seem to be an option. Therefore, I'm inviting you both to Phoenix, Arizona, where we can begin conversations to de-escalate nuclear tensions, terminate the war, and end the death and destruction plaguing both your nations," wrote Rep. Gosar.
Citing Arizona's location in the American Southwest, Gosar wrote that Phoenix is both "far enough away from the conflict, and away from the entities that are currently urging more war, to be a productive location."
Read the Congressman's full letter below: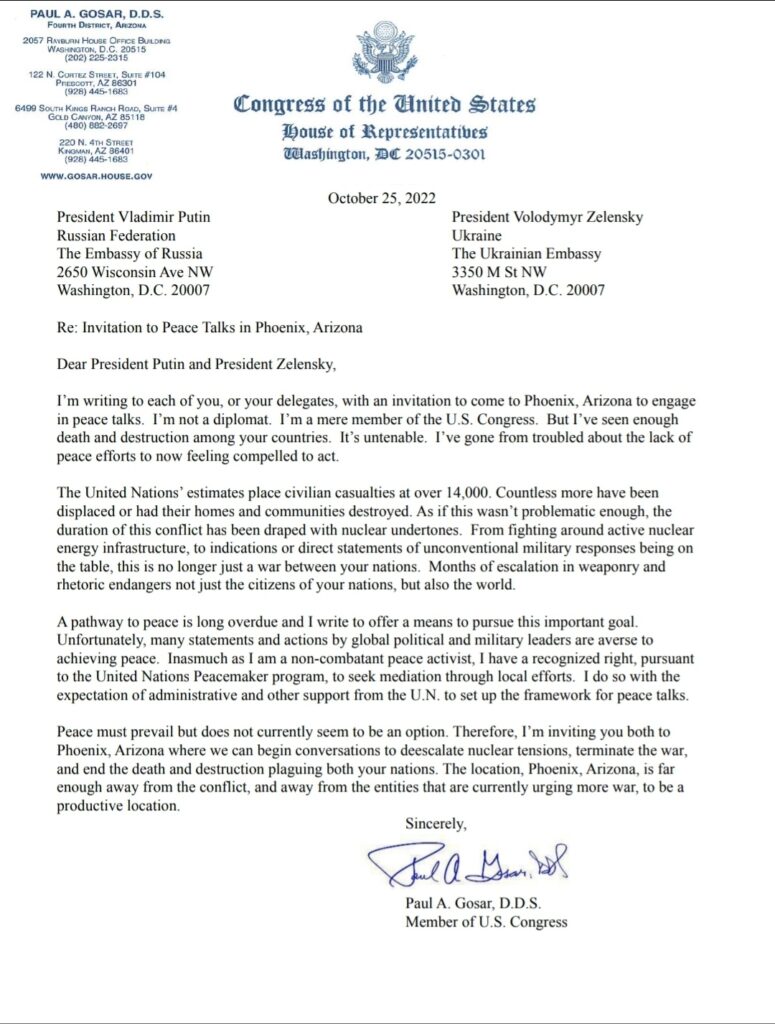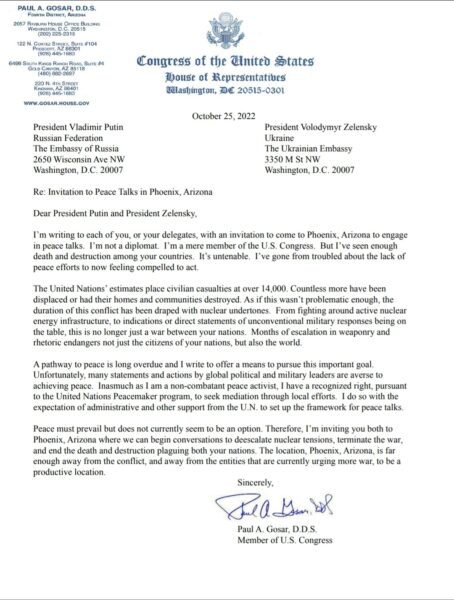 Rep. Gosar's letter to Presidents Putin and Zelensky comes as combat actions in Ukraine reach new heights and as Western political and media figures continue to call for NATO to launch a full-scale war with Russia.
It also flies in the face of the positions of GOP war hawk leadership.
Just recently, Senate Minority Leader Mitch McConnell (R-KY) said in a press release that pro-war Democrats aren't doing enough for Ukraine in their fight against Russia. After the mid-terms, McConnell says that a GOP-controlled legislature will send even more cash and guns to Ukraine, at an even faster pace.