Last Updated on October 17, 2022
Claims from the United Nations of Viagra-fueled assaults by Russian soldiers against Ukrainian women don't bode well for Vladimir Putin, considering the same globalist "observers" made the same accusations against the soldiers of assassinated ex-Libyan leader Muammar Gaddafi.
Corporate media headlines across the Western World have blared red-alert news in recent days, accusing Russian President Vladimir Putin of employing mass rape as a weapon of war in Ukraine. The stories all link back to the word of a lone United Nations official though, who claims that Putin is supplying his men with Viagra, to allow for as many rapes as possible.
Pramila Patten, the U.N.'s "special representative on sexual violence in conflict," is claiming that issuing Viagra to Russian troops and instructing them to engage in the mass rape of Ukrainian women – and even little boys and grown men – is part of Vladimir Putin's "military strategy."
While Patten's claims have been parroted by anti-Russia corporate media outlets all over the world in the past 24 hours, no one else seems to actually corroborate them.
What's more, is that by Patten's own admission, she is claiming to cite a total of 100 rapes that have been reported to her since the beginning of the current Russo-Ukrainian conflict 8 months ago. This hardly points to a "military strategy" of mass rape – let alone to Putin issuing Viagra to his soldiers for the purpose of rape.
Nevertheless, corporate media outlets have run with the story, much like they did over a decade ago when the same accusations were made against assassinated Libyan leader Muammar Gaddafi.
Gaddafi was deposed by the same "humanitarian" power structure that now seeks to depose Putin, and it left a terrorist state in his wake, where black sub-Saharan Africans are sold on the streets in slave auctions.
Obama U.N. official Susan Rice claimed in 2011, along with other U.N. war hawks, that the Viagra-fueled mass rape of women in Gaddafi's war-torn Libya was cause for U.S. military intervention. The accusation was never verified and is now derided as a government-produced conspiracy theory that was meant to goad the West into taking out Gaddafi.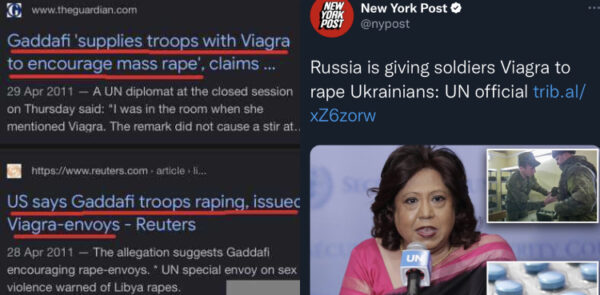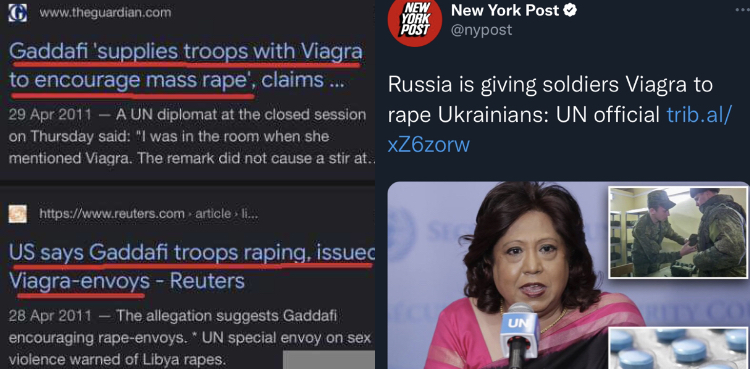 Beyond the comparisons to recycled conspiracy theories, those parroting the Viagra accusations against Putin have seemingly failed to take into account that the majority of Russian soldiers in the Ukrainian combat zone are positioned in areas where ethnic Russians and Russian sympathizers make up a super-majority of residents.
The residents of the Donbas region, where fighting has gone on since the Soros-sponsored Ukrainian revolution of 2014, recently voted by over 90% to join Russia. The Donbas makes up roughly 15% of Ukrainian-claimed territory and despite its ethnic Russian make-up, was partitioned to Ukraine after the collapse of the USSR.
The entire geopolitical situation around the Donbas, where most of the fighting has gone on, would make the use of mass rape as a weapon of war even more unlikely.
The accusations of mass rape and Viagra prescriptions against Russian soldiers and their leaders appear to be just the latest chapter of what has been dubbed the biggest propaganda campaign in world history, as American and Western political figures on both sides of the aisle push for war with Russia.
Some, like Sean Hannity, are even calling for the assassination of Vladimir Putin. In one episode of his radio show,  Hannity claimed that those who invade another country "forfeit their right to live."
Amazingly, Hannity seemed to have forgotten about his own ravenous support for the U.S.-led invasion of Iraq.
See how Ukraine's Volodymyr Zelensky, who was an actor before he was president, uses propaganda to fool the world into believing he's a tough war-time leader:
This is how the impressive #Zelensky speeches are produced. Lots of green screens and hi-tech editing. #Hollywood is helping out. All that technology to make things appear real; impressive #Propaganda . We could not do it better ourselves. #UkraineRussianWar #Ukraine #NATO #fun pic.twitter.com/Nq3I9UGSca

— Su-57 5th Gen Fighter (@5thSu) October 12, 2022