Last Updated on December 20, 2022
President Trump held nothing back in a series of posts he made to Truth Social, following the announcement from Nancy Pelosi's "unselect" J6 committee that they'd unconstitutionally "referred" President Trump to Biden's DOJ for prosecution, with the express purpose of stopping his 2024 run.
"These folks don't get it that when they come after me, people who love freedom rally around me," President Trump wrote in a statement on the J6 committee's DOJ referral, which he posted to Truth Social.
"It strengthens me," President Trump went on. "What doesn't kill me makes me stronger. Americans know that I pushed for 20,000 troops to prevent violence on Jan 6, and that I went on television and told everyone to go home," President Trump explained, before calling out the FBI's political motivations by dubbing them the "DBI."
"The people understand that the Democratic Bureau of Investigation, the DBI, are out to keep me from running for president because they know I'll win and that this whole business of prosecuting me is just like impeachment was – a partisan attempt to sideline me and the Republican Party."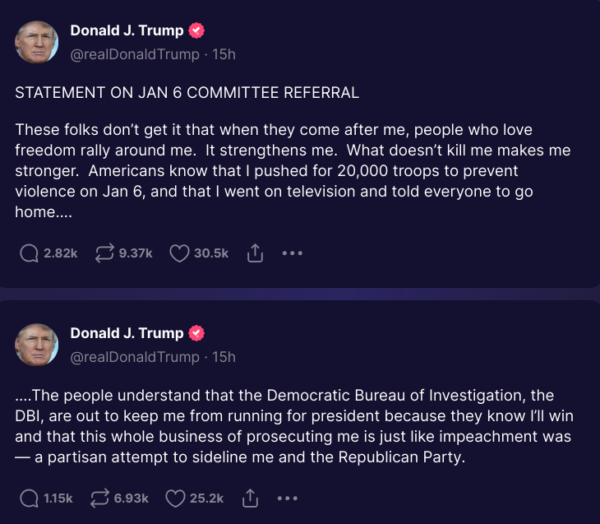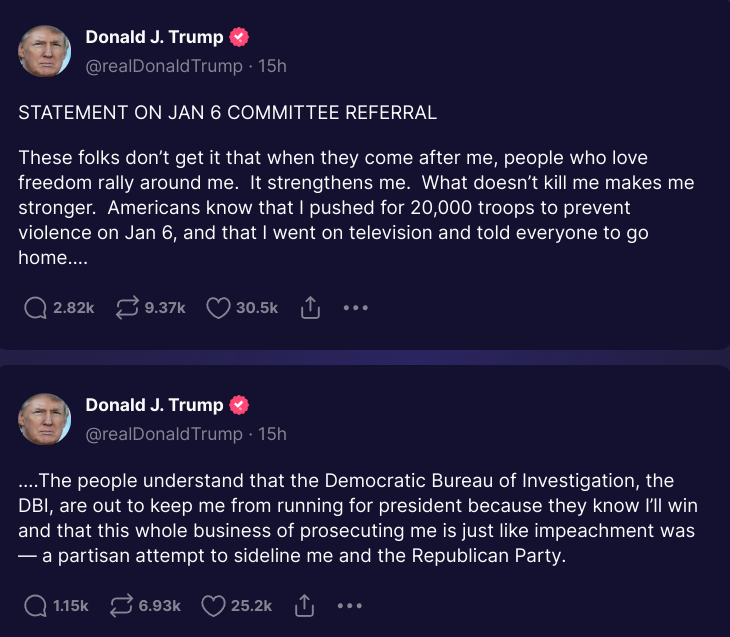 "I see where the Unselect Committee, using the Democrats' favorite weapon, DISINFORMATION, is trying to make the case that I didn't really believe I won the election," President Trump wrote in a later statement, still skewering Pelosi's hyper-partisan J6 committee.
"This is a total LIE," he continued. "I never thought, for even a moment, that the Presidential Election of 2020 was not Rigged & Stolen, and my conviction became even stronger as time went by."
"I was 100% right!" President Trump declared, before taking another swipe at the "cheaters, insurrectionists, communists…and RINOs" on the "unselect committee."
"They are long-seated Swamp Creatures, and are bad news for the USA," President Trump wrote, before reminding the American People just how long the deep state uni-party has been trying to shut down the pro-Trump, America First political movement.
"Remember very early on when Obama, Biden, Holder, and Comey were SPYING ON MY CAMPAIGN? I wonder if their handpicked Special "Prosecutor," Jack Smith, knew what was going on?"