Last Updated on December 20, 2022
Georgia Congresswoman Marjorie Taylor Greene is getting blasted by her Instagram followers over her support of GOP establishment leader Kevin McCarthy for Speaker of the House.
Georgia Rep. Marjorie Taylor Greene (MTG) posted a link to a lengthy Twitter thread to Instagram, explaining her support of Kevin McCarthy for Speaker of the House. This support comes despite the GOP establishment leader's failure to secure a convincing majority, deliberate sabotage of conservative candidates, and refusal to get rid of Nancy Pelosi's House rules or impeach Joe Biden.
"For any criticism from the base, I'm not sorry for refusing to lie to you about the Speaker election on Jan 3rd," MTG tweeted, going on to accuse McCarthy's opponents of lying before using another 24 tweets to justify her support for the Big Tech-aligned California Rep.
MTG has repeatedly parroted GOP establishment talking points, which are also being employed by Kevin McCarthy and corporate media outlets like Fox News, claiming that if McCarthy isn't elected Speaker, a Democrat, or someone like Liz Cheney, will be.
In her Twitter thread, MTG encouraged conservatives to start behaving like Democrats, and line up to support McCarthy to avoid "ruining everything."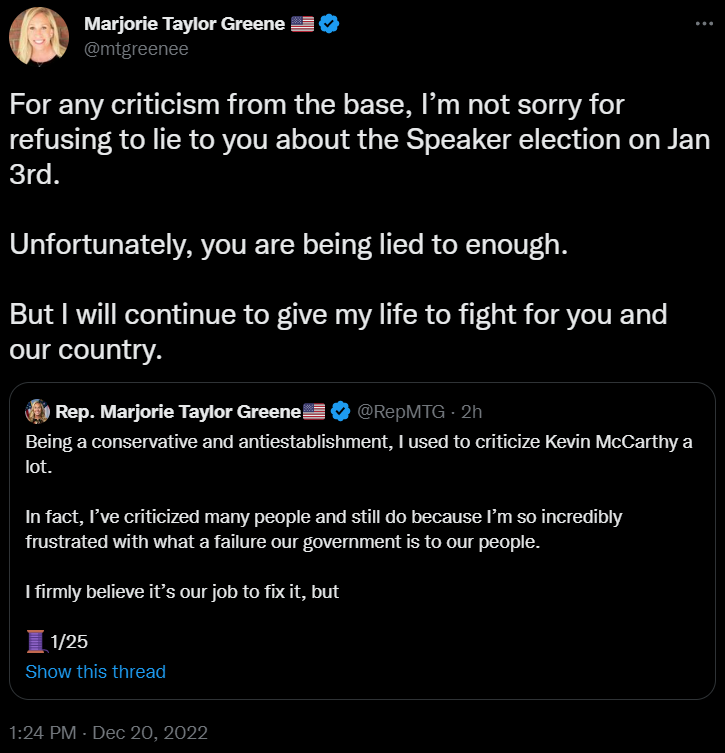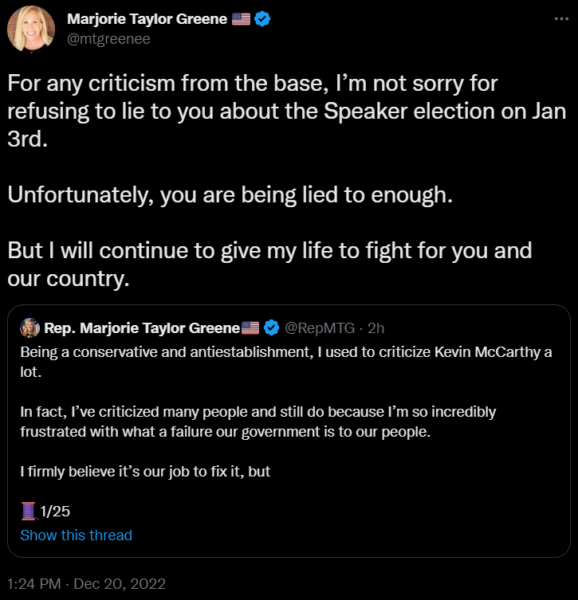 Over on Instagram, MTG posted a link to the thread in her bio, and advertised it in the form of a post, one that her followers pounced on immediately to blast her support of Kevin McCarthy.
"Read my full thread on why I'm supporting Kevin McCarthy for Speaker," MTG posted to Instagram.
"McCarthy is a proven RINO," said one commenter, while another blasted MTG's support of the man who spent millions of dollars to destroy conservative candidates.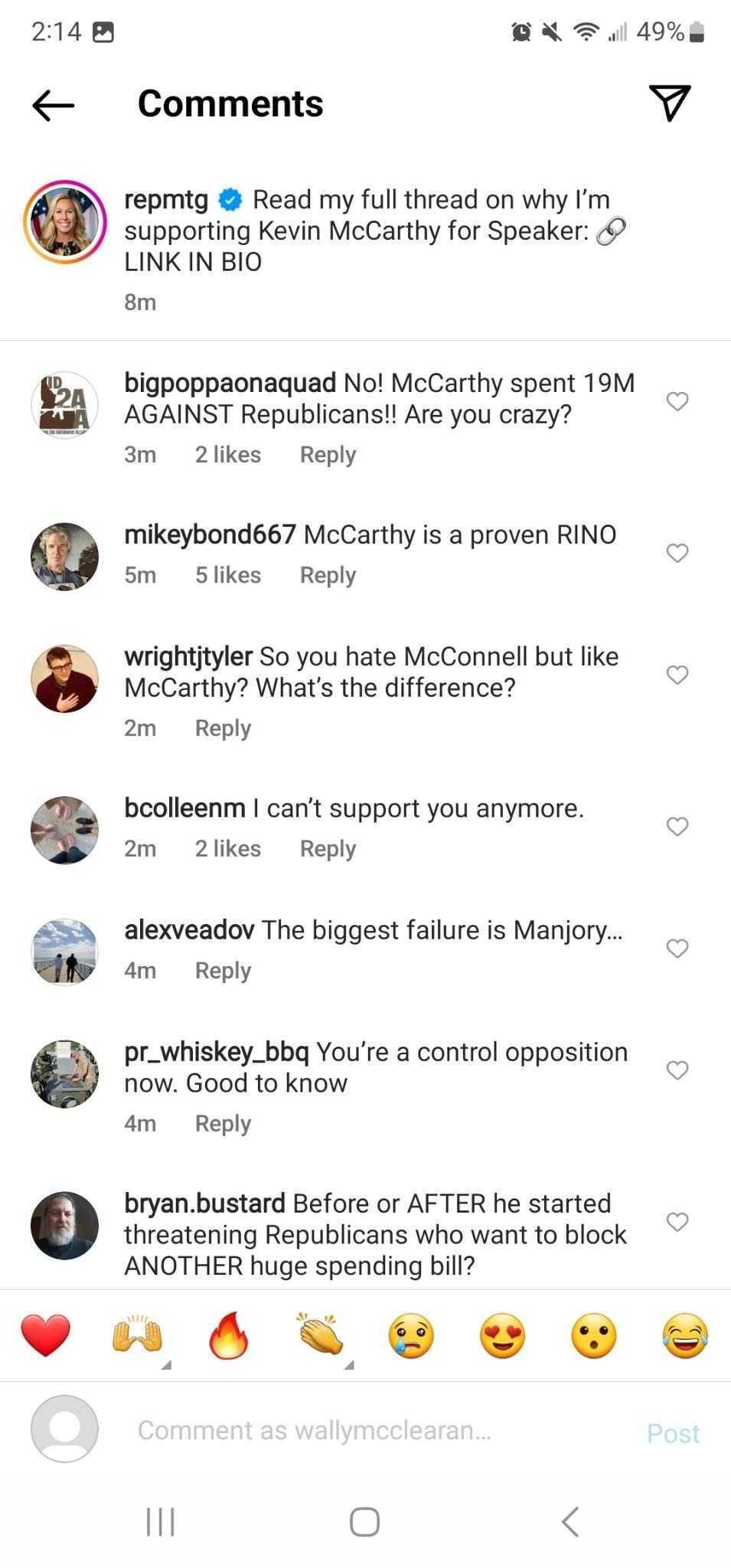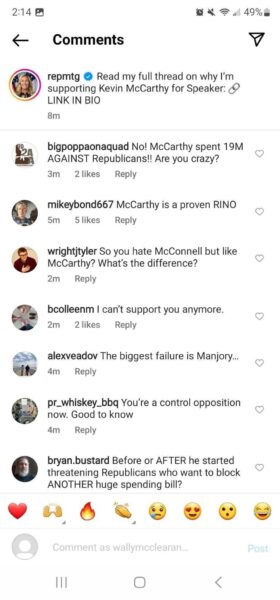 "And mtg is now officially part of the swamp," another user wrote beneath the Congresswoman's post.
"You've lost my support," commented one voter opposed to McCarthy's speakership.
"Yikes. Read the comments and figure it out MTG!!" commented another.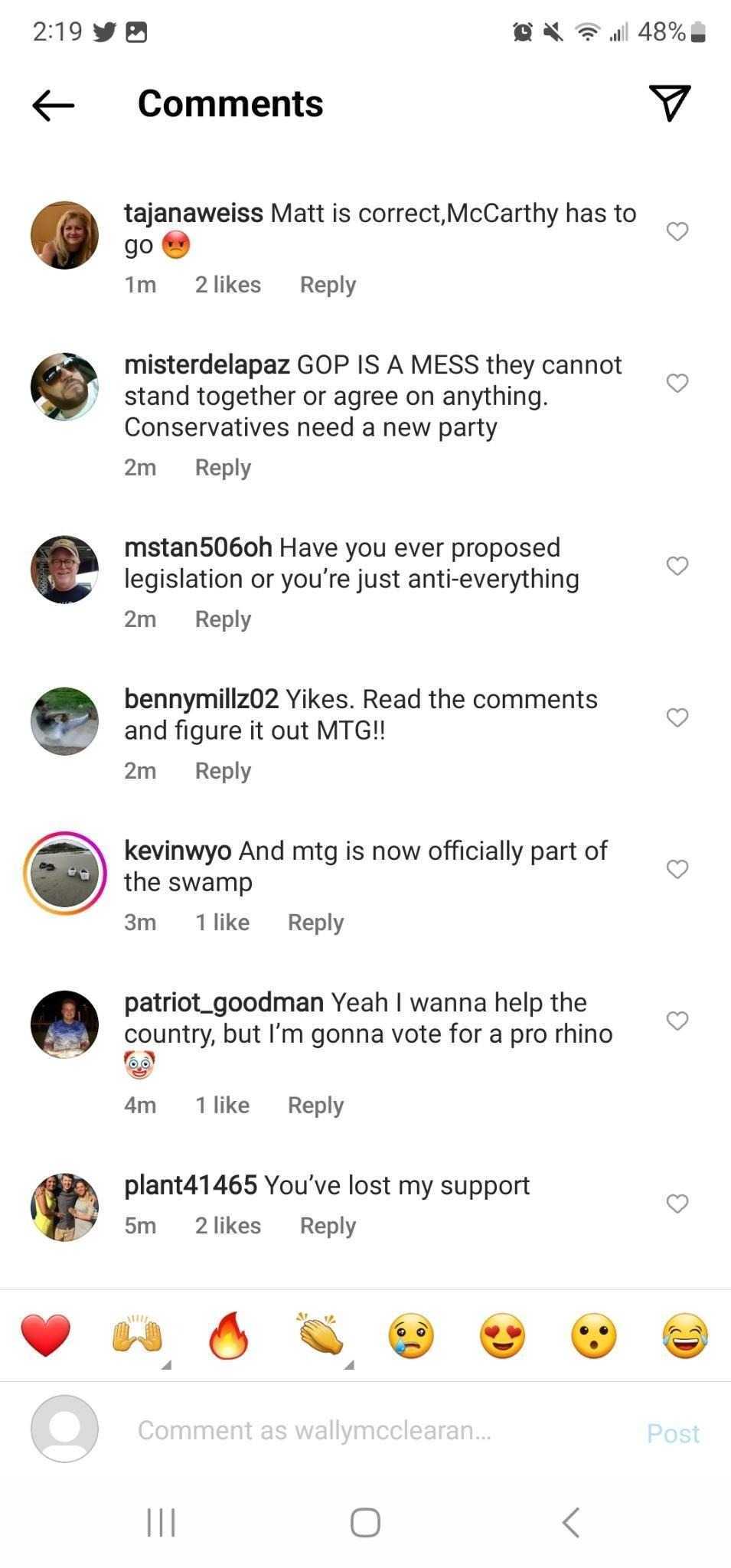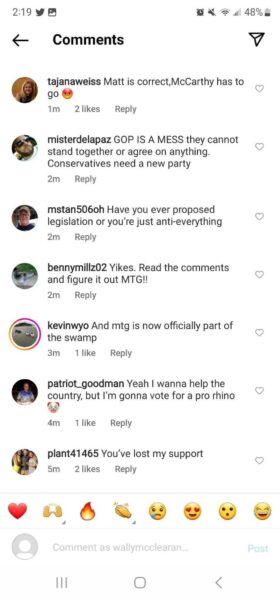 Despite his claims of "Speaker-elect" status, Kevin McCarthy doesn't have the 218 votes he needs to become Speaker of the House on January 3rd, and faces a serious challenge from Freedom Caucus Rep. Andy Biggs.
Biggs says he knows of at least 20 Republican legislators who are firmly against McCarthy, meaning he won't become Speaker without significant Democrat support, unless something changes.
Conservatives have become all the more opposed to McCarthy in the aftermath of the 2022 mid terms, and after National File reported that he used dirty FTX money to attack America First candidates and protect the establishment's grip on power.