Last Updated on November 27, 2022
The revelation that Kevin McCarthy worked hand-in-glove with disgraced crypto exchange FTX to destroy conservative candidates for Congress doesn't mark the first time the establishment leader has been busted cozying up to Big Tech, something he's actually been known for around Washington for years.
Kevin McCarthy is well-known among his Washington colleagues for his close relationships with Big Tech oligarchs. Relationships that run contrary to the will of GOP voters, who are increasingly skeptical of Big Tech, an industry that's openly forcing left-wing views and values onto mankind, while using the draconian power of censorship to tightly control the public narrative.
While Kevin McCarthy and the GOP establishment may echo the anti-Big Tech sentiments of voters at rallies and in fundraising emails, behind closed doors, Politico reports, McCarthy is a different man altogether.
In fact, he's "spent years distinguishing himself as tech companies' top advocate," on Capitol Hill.
While publicly, McCarthy may have to toe the grassroots line to win over voters, "lobbyists say he still maintains that friendliness behind closed doors."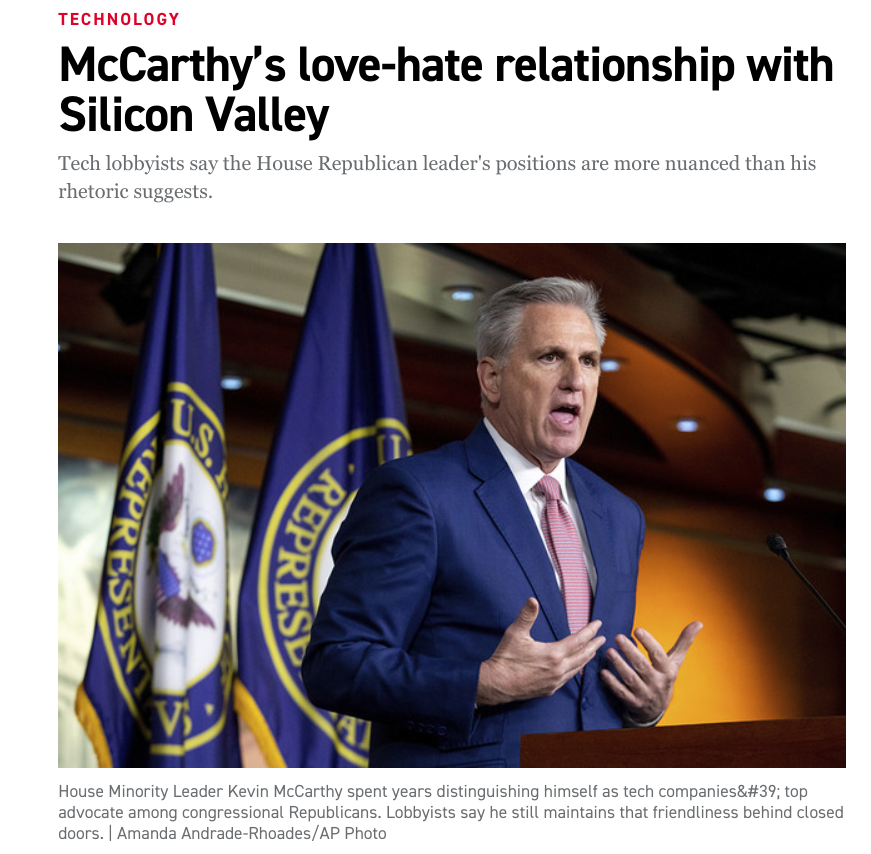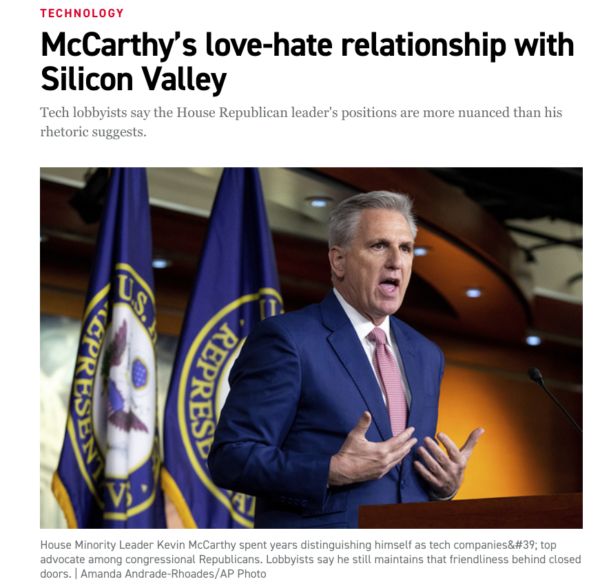 The same Politico report goes on to further describe McCarthy's relationship with Big Tech, which is so close, that Silicon Valley lobbyists say they know deep down that even if he makes noise publicly about reigning in Big Tech monopolies and their political influence, Kevin McCarthy won't actually do it.
His public opposition to Big Tech, one lobbyist says, is fake, and is "all part of the political game of Washington."
"He generally is more measured in private conversations with the companies," says Katie Harbath, the "first Republican employee" at Facebook's Washington, DC office.
"I think he understands more than most that Facebook's got to do what they've got to do," Harbath went on.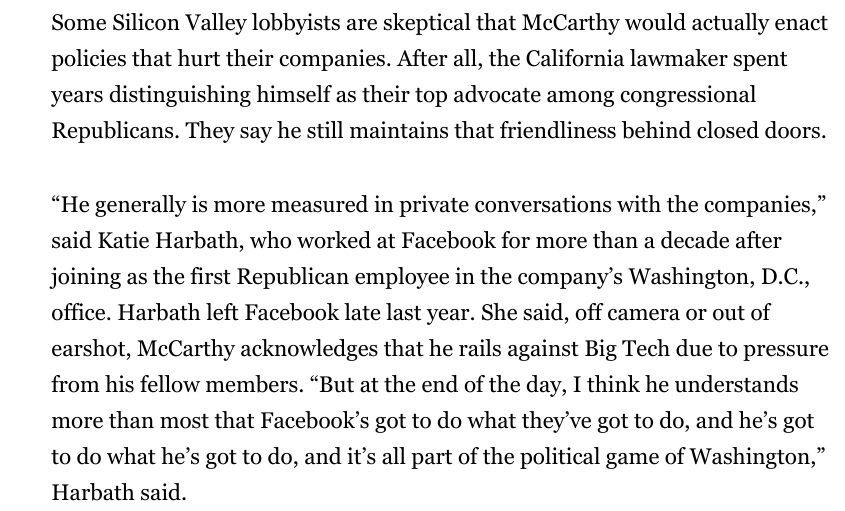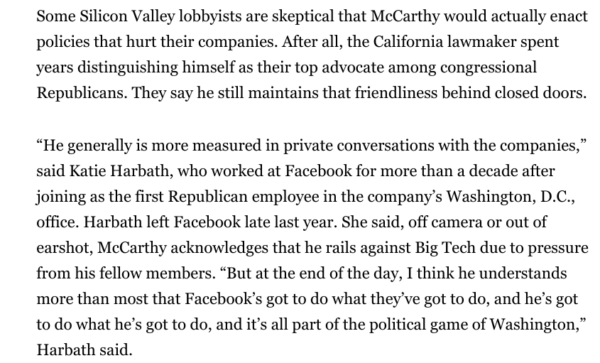 Kevin McCarthy's Big Tech connections are longstanding.
A decade ago, when McCarthy was the right-hand man of then-GOP establishment leader Eric Cantor (R-VA), who was later expelled from the House by his district's voters, Politico reported on both of their attempts to "woo" Big Tech oligarchs.
While the Big Tech industry is notoriously left-wing, Politico reported that Cantor, McCarthy, and company believed the GOP to be Big Tech's natural ally, due to their shared "free market" principles.
At the time, McCarthy was making "quarterly trips" to Silicon Valley, to meet with Big Tech oligarchs.
Along for the ride was Paul Ryan.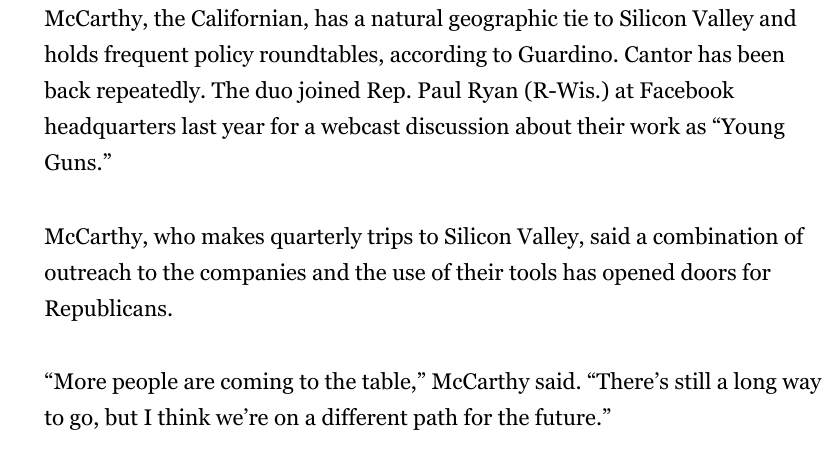 McCarthy's relationship with Big Tech has been put under the microscope after the 2022 midterms, as Republicans, with a razor-thin majority, will be tasked with electing the next Speaker of the House on January 3rd.
In a closed-door GOP pre-vote for House leadership positions, McCarthy failed to win the necessary 218 votes to secure the speakership, and Freedom Caucus member Andy Biggs has launched a challenge for the gavel.
While the GOP establishment has tried to publicly scapegoat President Trump and the America First movement for the GOP's underwhelming midterm performance, Kevin McCarthy's ties to Big Tech played a direct role in turning the "red wave" into a pink trickle, as reported by National File.
Using millions of dollars from the disgraced, criminal crypto exchange FTX, which has been tied to Ukrainian money laundering, Kevin McCarthy turned his Congressional Leadership Fund (CLF) into a gatekeeping political machine, targeting America First campaigns for destruction in a naked effort to keep his stranglehold on the GOP swamp.