Last Updated on December 20, 2022
An Arizona judge has ruled that Kari Lake's election fraud lawsuit has merit and will go to trial, as the Trump-aligned gubernatorial nominee stares down corrupt Democrat Katie Hobbs after yet another Arizona election marred by unprecedented levels of fraud and election irregularities.
Maricopa County, Arizona Superior Court Judge Peter Thompson dismissed Democrat "Governor-elect" Katie Hobbs' motions to toss Kari Lake's lawsuit, paving the way for the case to go to trial in dramatic fashion, and presenting what looks like the greatest opportunity that the election integrity movement has ever had to actually overturn a rigged election.
"BREAKING," Kari Lake tweeted Monday night, "our Election Case is going to trial. Katie Hobbs' attempt to have our case thrown out FAILED," she explained.
"She will have to take the stand & testify. Buckle up, America. This is far from over."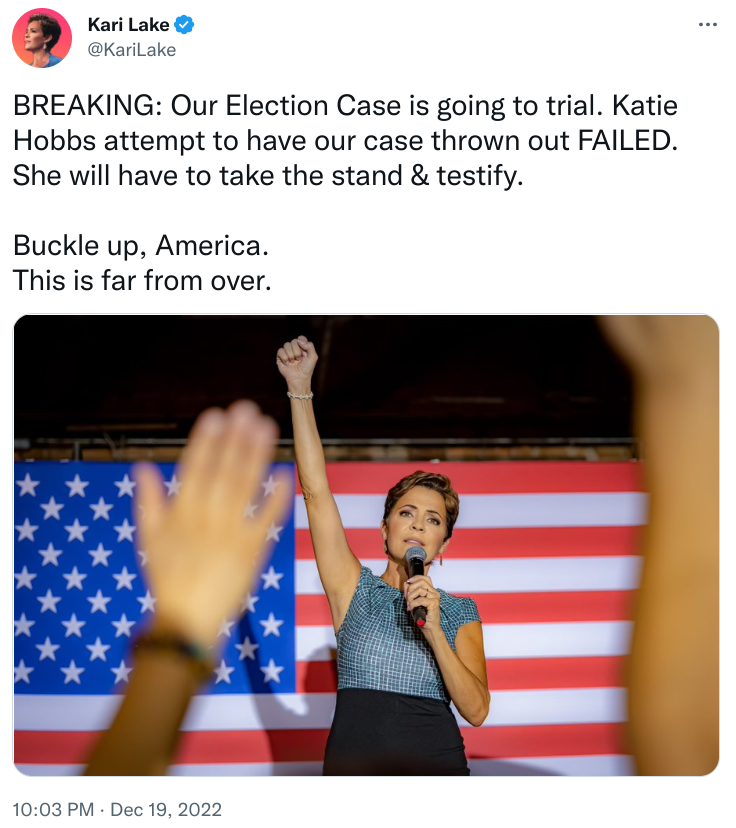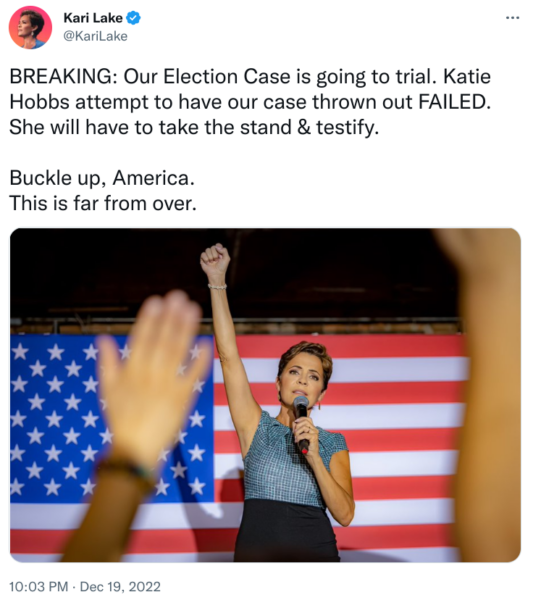 Under Judge Thompson's ruling, the court will hear evidence from Kari Lake and her team on Wednesday and Thursday of this week, and the case before the court will focus on the more than 300,000 Arizona ballots without chains of custody, as well as the ballot tabulator issues that were once again experienced in the state.
Reportedly, at least one election worker will testify that hundreds of thousands of phantom ballots were dropped into Arizona's election results, tilting the scales in favor of Katie Hobbs.
What's more, is that Katie Hobbs, Arizona's current Secretary of State and top elections official, will also have to testify in court, under oath, as part of the election fraud trial. All over the country, voters have been perplexed to learn that, despite being on the ballot, Hobbs was allowed to rule over the 2022 elections in Arizona – even after her massive dereliction of duty and suspected fraud in 2020.
In the middle of Arizona's 2022 election fraud saga is Runbeck Election Services, a Democrat-owned firm that's also done work in contested Georgia races, and has family ties to Ben Toma, the newly-elected GOP Speaker of Arizona's State House of Representatives.
Despite Kari Lake's very viable election fraud lawsuit, Toma has been publicly cozying up to Democrat Katie Hobbs, the beneficiary of Runbeck shadiness.
This story is developing – Stick with National File for updates as they become available.