Last Updated on August 26, 2020
Police now confirm National File's reporting that a total of three were shot in Kenosha, Wisconsin last night. Police now add that two were shot fatally, and one is seriously injured and remains hospitalized after the incident.
On Tuesday night, National File reported that a man reportedly associated with a "Boogaloo Boy militia" is suspected of shooting three rioters in Kenosha. Initially, video suggests one man was shot while the militia member attempted to defend a local business from looters, then two more were allegedly shot by the militia member as he attempted to leave the area and surrender to police.
According to a media release from the Kenosha Police Department, "The shooting resulted in two fatalities and a third gunshot victim was transported to a hospital but serious, but non-life threatening injuries."
"The shooting investigation is active an [sic] ongoing," the release continues. "No further details of the shooting will be released at this time."
The Kenosha police request members of the public who witnessed the shooting come forward, and note that the "investigators are aware of the social media videos being circulated regarding this incident."
— Kenosha Police Dept. (@KenoshaPolice) August 26, 2020
Some say the "social media videos" appear to vindicate the militia member, who was reportedly part of a larger group in the area to protect local business from the ongoing civil unrest.
The first man allegedly shot by the militia member appears to have been caught on camera repeatedly shouting "shoot me n**ga" and reportedly threw something at the militia member before the shooting began.
Then, as the militia member attempted to surrender to an approaching line of police and emergency vehicles, two more rioters tackled him, resulting in the second and third alleged shootings.
National File also exposed a bombshell photo that shows one of the men who tackled and then was shot by the militia member was carrying a pistol even after the attack, while receiving medical treatment from activist medics before emergency services arrived.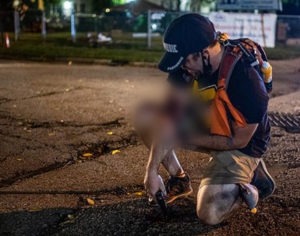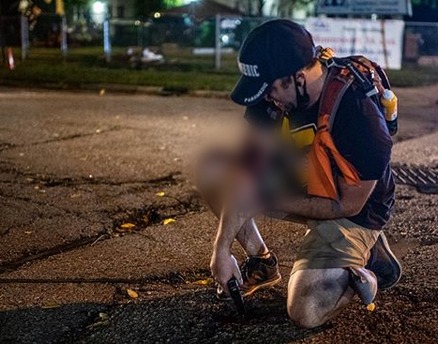 Police have not described which of the three men remains alive with serious but non-life threatening injuries.