Last Updated on August 26, 2020
A photo uploaded to Instagram appears to show one of the three men allegedly shot by an alleged member of a "Boogaloo Boy militia" carrying a pistol that was not previously visible in other footage, indicating the militia member faced an additional threat on top of the men tackling him.
Instagram user LourieAlex notes that "Shootings occurred tonight during protests in Kenosha, Wisconsin. This injured victim was treated by civilian volunteers before the police intervened."
Specifically, LourieAlex notes "The injured man was also armed at the time he was shot. The man was not shot by law enforcement."
The man is seen in the second photo of the Instagram post with his arm severely wounded, still holding a pistol.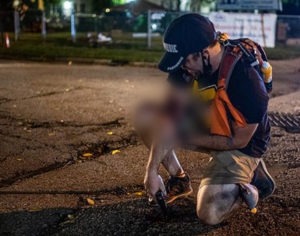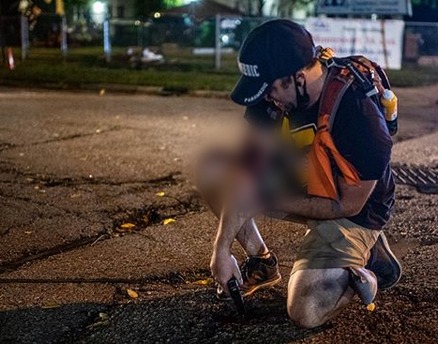 This man appears to be one of those National File previously reported tackled the alleged shooter after he attempted to leave the area and fell. After he was tackled, the alleged shooter then shot another man in his gut, and a third in his arm.
READ MORE: Rioter Repeatedly Says 'Shoot Me N**ga,' Gets Shot in head Moments Later [VIDEO]
"It appears that after the first man was shot, a group of rioters attempted to chase the shooter, which may have led to the second man's arm injury," National File reported.  "Footage captured by Town Hall's Julio Rosas shows 'multiple gunshots' fired 'after people chased a guy with the rifle,' who some are saying is the same shooter. 'He fired his gun at a guy who jumped on top of him,' reported Rosas."
Additional video from Brendan Gutenschwager shows a clearer version of events, showing a man clearly stumble, be tackled, then shoot one man in his stomach and another in his arm.
(Warning, Graphic/Violent)
A crowd chases a suspected shooter down in Kenosha. He trips and falls, then turns with the gun and fires several times. Shots can be heard fired elsewhere as well, corroborating reports of multiple shooters tonight #Kenosha #KenoshaRiots pic.twitter.com/qqsYWmngFW

— Brendan Gutenschwager (@BGOnTheScene) August 26, 2020
Multiple witnesses reportedly told police and media that the shooter was a member of a "Boogaloo Boy militia" in the area to protect local businesses from looting and rioting following the police involved shooting of a Kenosha man last weekend.
This is a breaking news story and may be updated as more information becomes available.