Last Updated on August 26, 2020
Extended video shows the alleged shooter, who police now say shot three people in Kenosha on Tuesday night, being tackled by at least two rioters while trying to surrender to several police and emergency vehicles rushing to the scene after one person was reportedly shot in the head while looting a local business.
"As the shooter fled the scene to surrender to police," Elijah Schafer, who was at the scene, reported on video captured by Brendan Gutenschwager. "BLM rioters attacked him, he then fired back over what appears to be a scuffle to get control over his weapon."
BREAKING: as the shooter fled the scene to surrender to the police

BLM rioters attacked him, he then fired back over what appears to be a scuffle to get control of his weapon

Details are still unclear. I was up front on the initial shooting only
pic.twitter.com/tB7O2JKUUn

— ELIJAH SCHAFFER (@ElijahSchaffer) August 26, 2020
Additional footage shows the alleged shooter surrendering to police after incapacitating the two rioters who tackled him on his first attempt to leave the area.
https://twitter.com/MarkDice/status/1298552750813220864
National File previously reported that the "Boogaloo Boy militia" member attempted to leave the area after allegedly shooting a looter after an argument at a local business. He and others were reportedly in the area to protect local businesses from rioters and looters.
After shooting the man in the head, leaving him hospitalized but appearing to be only superficially wounded in early video footage, at least two rioters chased the alleged shooter.
It is now clear the alleged shooter was attempted to reach a line of police vehicles rapidly racing toward the scene, likely in response to the first shooting when he was tackled by rioters.
Additionally, National File reported that one of the two men allegedly shot by the militia member was carrying a pistol while at the event, and was still clutching it after he was shot and receiving medical treatment.
Instagram user LourieAlex notes that "Shootings occurred tonight during protests in Kenosha, Wisconsin. This injured victim was treated by civilian volunteers before the police intervened."

Specifically, LourieAlex notes "The injured man was also armed at the time he was shot. The man was not shot by law enforcement."

The man is seen in the second photo of the Instagram post with his arm severely wounded, still holding a pistol.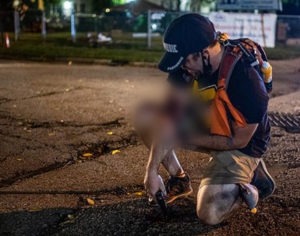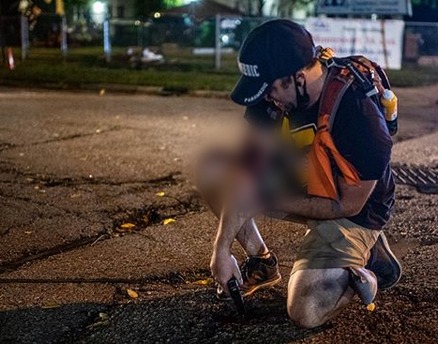 The medical condition of the rioters shot in the arm and gut is currently unknown.
This article was updated to contain footage of the alleged shooter fleeing to police custody.