Last Updated on February 17, 2022
Former Vice President Mike Pence is setting himself up to run for President in 2024 after he violated the Constitution by illegally allowing the certification of fraudulent Electoral College votes following the highly contested 2020 election, signifying a transition of power influenced by the presence of the US military in Washington DC.
ABC Action News reported that Pence is planning to run for President in 2024. "The former vice president is steadily reentering public life as he eyes a potential run for the White House in 2024," they wrote. "He's writing op-eds, delivering speeches, preparing trips to key primary states and launching an advocacy group that will likely focus on promoting the Trump administration's accomplishments."
Pence appears to be unphased by recent polls highlighting the lack of support he has from voters. According to a Politico/Morning Consult Republican Presidential Primary Poll released in mid-February, 88% of Republican voters said that they would vote for someone else instead, as National File reported.
Despite the recent futile establishment efforts to impeach him for a second time, President Trump dominated the poll with 53% of the vote, indicating that he maintains his title as the dominant leader of the Republican Party, as noted by Media Right News.
A few weeks later as seen in a CPAC Presidential straw poll, Pence received a humiliating 1% support.
Perhaps Americans felt betrayed by Pence's failure to uphold his constitutional duty not just once, but multiple times throughout his tenure as Vice President of the United States. As detailed in a White House memo obtained by National File, it was once Pence's Constitutional obligation to reject unlawful Electoral College certificates by the date of December 23, 2020. Shortly after National File released the memo, #PenceCard trended to the number one spot on Twitter, as Americans grew eager waiting for Pence to fulfil his constitutional duty.
With Pence having just 4 hours left to follow the law, President Donald Trump retweeted the memo to persuade the Vice President to stay true to the oath he took when he was sworn in.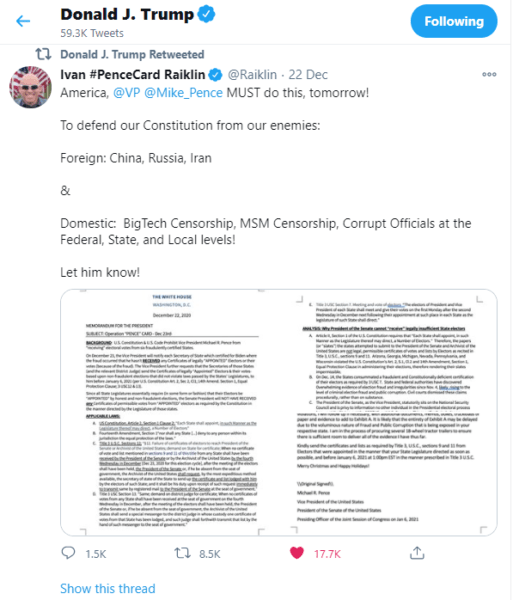 With the window dwindling down to just minutes before the deadline, National File attempted to reach out to Pence's team for comment. National File's Editor-In-Chief Tom Pappert managed to get on the phone with Pence's Chief of Staff Marc Short, only to be hung up on after 17 seconds.
Update:

Pence's Chief of Staff @marcshort45 just hung up on me.

Phone call lasted 17 seconds.

Pence is a traitor. https://t.co/MrChF7e3ah

— Tom Pappert | McConnell is a political hack (@realTomPappert) December 24, 2020
As the December 23 deadline passed, Pence had refused to act. Despite the blatant violation of the founding document, constitutional experts said that Pence had one last chance on January 6, a date that millions of Americans had high hopes for.
"You can either go down in history as a patriot, or you can go down in history as a pussy," President Trump reportedly told Pence via phone call.
Those hopes were crushed when Pence released a statement indicating that he would cede the White House to Joe Biden and Kamala Harris despite all the evidence of voter fraud in the 2020 election. Behind the scenes, National File confirmed that Pence met with Sen. Majority Leader Mitch McConnell, Sen, Minority Leader Chuck Schumer, House Speaker Nancy Pelosi, House Majority Leader Steny Hoyer, and Chairman of the Joint Chiefs of Staff Mark Milley, conspiring to deploy the National Guard behind President Trump's back.
"[Trump] does not say that one sentence that matters. He does not say the one sentence that would stop future political violence: 'the election was not stolen'. He still has not said that sentence. That is why National Guard troops in full body armor still patrol outside," admitted House Rep. Ted Lieu.
Violations to the Constitution were committed "all across the board" on the evening of January 6, when Pence and Congress ignored the evidence of widespread voter fraud and rammed through the certification of Joe Biden's fraudulent Electoral College votes, according to constitutional experts. In an exclusive interview with National File, Attorney Ivan Raiklin said that Pence broke the law by "not setting up an environment to correct the fraudulently certified electoral slates from these six contested states."
Dr. Peter Navarro, a former Assistant to the President during the Trump administration, said that Marc Short was "a tool of the Koch brothers" who served as a gatekeeper to Vice President during the final days of President Trump's term and is the one responsible for Pence's decision to ignore the Constitution on January 6, as National File reported.
"Marc Short is trying to portray Mike Pence as not cutting and running, what he did that day, January 6, on the advice of Mike Short, was to cut and run from the President of the United States and from the Constitution," said Navarro. "Because you know what was going to happen that day, it wasn't violence, it was the Green Bay Packers sweep, where we were going to pull six different states, and force, under the Constitution, those votes to be looked at and counted."

"And Marc Short was the guy who prevented that, and for the people who were trying to get to the Vice President, I'll tell you one story, the Vice President called me from the situation room, and before he could speak with me, that thing got hung up. That was Marc Short."
Pence is now reportedly "in fear for his life because of Donald J. Trump," as if frustrations with the former Vice President have nothing to do with his perceived betrayals of the Constitution and the American people.
The disgraced former Vice President is planning to hold a speech in South Carolina at an exclusive dinner hosted by the Palmetto Family Council. While no official announcement has been made regarding Pence's potential presidential run, AP noted that "his choice of making his post-administration debut in South Carolina helps set down a marker for a potential 2024 presidential bid. The state holds the first presidential primaries in the South, and candidates of both major parties typically spend more than a year in the state ahead of those votes, introducing themselves and trying to secure support."
Given his deep unpopularity among Trump voters for violating the constitution and participating in an effort by Democrats to use the US military to force a political transition, it will be interesting to see how a presidential run would turn out for the former Vice President. However, if the US continues its practice of counting truckloads of mail-in ballots in the dead of night following an election, Pence just might find himself in a position to be the next President of the United States.