At an event on Friday at Irvine Valley Community College in Irvine, President Biden has once again made a young female uncomfortable. The alleged reason for the visit to the college was to discuss the Biden Administration's effort to reduce inflation.
Biden Daily Focus:

1. Ice cream; and

2. Engaging 13-yr-olds in awkward, forced convos about dating. https://t.co/P69MuD8GV9

— Noel Fritsch (@NoelFritsch) October 15, 2022
Biden stood by the young girl for what appeared a photograph before he placed his hands on her shoulders before he spoke to her.
"Now, a very important thing I've told my daughter and granddaughters, no serious guys under 30," Biden said. "What?" asked one of the girl's friends. "No serious guys until you're 30," repeated the President of the most powerful country in the world to the young girl.
A Secret Service agent then attempted to get the journalist to stop filming the interaction.
"I'll keep that in mind," the girl responded.
The creepy interaction occurred while Biden was speaking about surging inflation at Irvine Community College in California. Biden spoke with Labor Organizer, Susan Meyer at the event on Friday.
Creepy Joe has a history of encounters with girls and women, to the point where he actually made a statement about it.
"Social norms are changing. I understand that, and I've heard what these women are saying. Politics to me has always been about making connections, but I will be more mindful about respecting personal space in the future. That's my responsibility and I will meet," President Joe Biden in an April 2019 statement.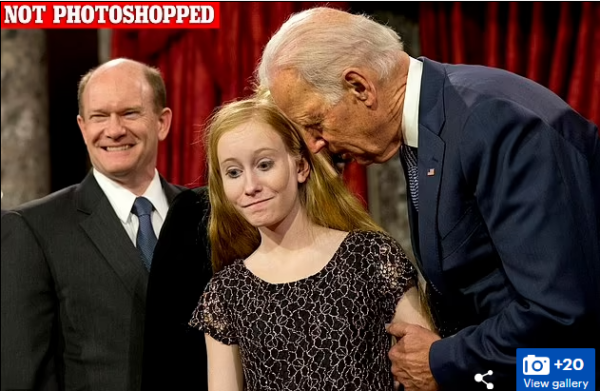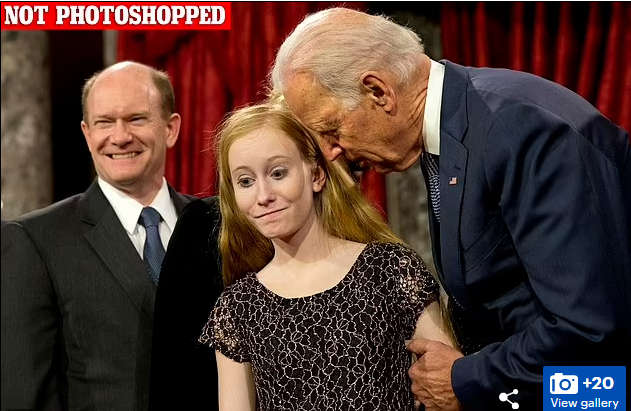 Maggie Coons, the daughter of Senator Chris Coons (D-DL), appeared uncomfortable when the President leaned into her at a swearing-in ceremony in 2015.
In May 2020, Joe Biden kissed 19year-old Finnegan Biden, his granddaughter, at a campaign event in Dubuque, Iowa.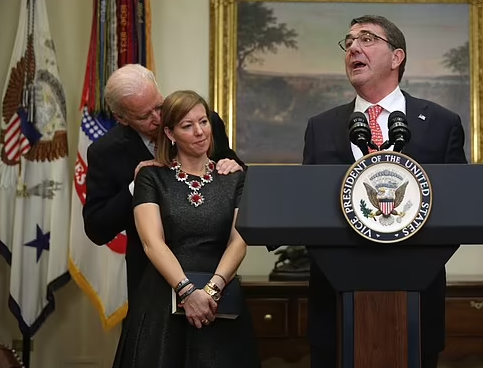 Stephanie Carter, the wife of former U.S. Secretary of Defense, Ashton Carter, piqued President Biden's interest at Carter's swearing-in ceremony in 2015.
Joe Biden may have given a new meaning to the position of "Secretary of Defense."
In September 2012, Joe Biden stopped at an Ohio restaurant, where a biker chick was the subject of his focus.
The niece of Senate Majority Leader Mitch McConnell was the recipient of some affection from Biden in January 2015.
In May 2019, Biden told a 10-year-old girl, "I'll bet you're bright as you are good looking."