Last Updated on February 17, 2022
Larissa Kennedy, the new President of the National Union of Students (NUS), has a history of endorsing individuals who spew violent rhetoric.
Kennedy was elected as the new NUS President at the start of last month. Throughout her time at the University of Warwick, she has been a prominent "anti-racist" student activist. She held the position of Education Officer at the university, founded the "Warwick Decolonise Project" to "decolonise" the curriculum at the university, was the President of Warwick Anti-Racism Society, and served on the national executive council of the NUS.
https://twitter.com/Larissa_Ken/status/1245292330036236290
The Times reported on a number of Kennedy's comments. She has claimed that Britain does not value black lives, and is not treating them the same way during the coronavirus pandemic. "Black folx, our lives will not be a priority throughout this pandemic," she tweeted. "Our pain and our illness is not received in the same way so please please please stay indoors, if you can."
She has also shot out against some sections of feminists for not being inclusionary enough. "We can't allow TERFs [trans exclusionary radical feminists] and their exclusionary narrative to continue to pervade feminism," she argued. "Too often, this movement only supports our cis-ters [cisgender a.k.a non-trans women] but LGBTQ+ women have historically been at the forefront of fighting for equality, the movement belongs, too, to them."
READ MORE: Irish Students Fool Antifa With Fake Antifa Twitter Honeypot, Collect Info on Far-Left Doxxers
While seemingly a promoter of justice and tolerance, the National File can reveal that the new NUS president has a history of supporting individuals on the left of politics who endorse violence against conservatives.
Ademola Anjorin, Kennedy's successor as President of the Warwick Anti-Racism Society, posted a number of violent, disturbing tweets. In October 2018,  Anne Marie Waters, the leader of For Britain, a British political party critical of Islam, was scheduled to speak at the University of Warwick.
Anjorin retweeted a tweet about an article written by The Tab covering the event and reaction to it, mentioning the concept in the belief of free speech. His next tweet therefore seemed directly linked. "Exercise your free speech all you want, that won't stop us from k*lling you," Anjorin wrote. Your time is coming."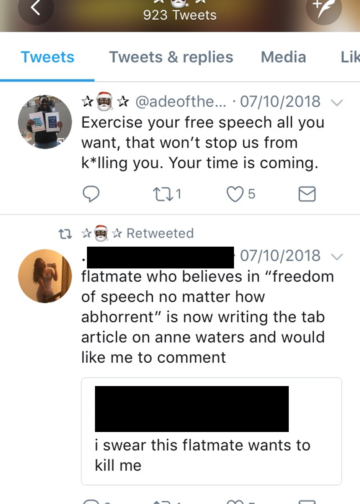 A second tweet by Anjorin clearly shows him directly wishing violence upon conservatives. Anjorin quote tweeted a tweet showing a leftist throwing a milkshake onto Republican students at Florida State, adding that the liquid "should have been acid, not milk."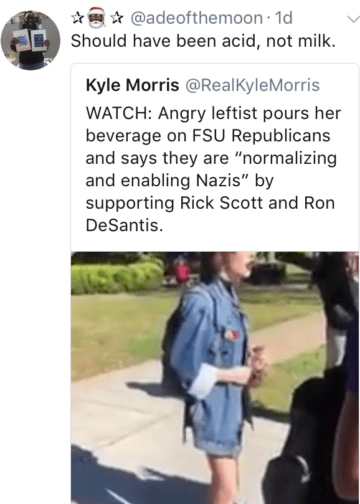 READ MORE: Student Sent to Counseling After Criticizing University Administration
Despite these violent comments, Kennedy endorsed Anjorin in some of the strongest possible terms. "The world needs to protect [Anjorin] at all costs," she tweeted. "What a beautiful, caring, insightful soul & incredibly dedicated activist. thank u [sic] for always keeping me centred & driven, and for inspiring me every day." [Archive link]
the world needs to protect @adeofthemoon at all costs

what a beautiful, caring, insightful soul & incredibly dedicated activist

thank u for always keeping me centred & driven, and for inspiring me every day

uno ily bc I don't do this mushy shit, imma have to save face somehow

— Larissa Kennedy #StudentsDeserveBetter (@Larissa_Ken) February 7, 2019
The tweets from Anjorin and Kennedy were originally reported by the Warwick Eye in February 2019, a "critical student voice" at the University of Warwick comprised of a small number of anonymous contributors. Shortly after the article came out, Kennedy doubled down on her support of Anjorin, quoting her original tweet and saying it is "forever relevant." [Archive link]
this is forever relevant, love you millions @adeofthemoon https://t.co/0vX2ugzKV8

— Larissa Kennedy #StudentsDeserveBetter (@Larissa_Ken) March 6, 2019
National File reported in March on Nazifa Zaman, the chair of the University of Warwick Labour Society. When Prime Minister Boris Johnson was diagnosed with coronavirus, Zaman was quick to celebrate online, tweeting "Pm got covid? Happy Muslim women's day again!"
https://twitter.com/nazifaz_/status/1243498244224794625
READ MORE: Boris Johnson Contracts Coronavirus – Leftists Celebrate
Following the publication of our article, Zaman was investigated by the university, but who then subsequently apologised for liking a tweet from a journalist that linked to our article.
W*rwick comms sent me an essay almost a month later apologising for liking that fash article lmaooo, fam at this point it's rude to say anything

— Nazifa (@communaz_) April 21, 2020
As is to be expected, Kennedy was there defending Zaman. Being in the depths of her NUS campaign, it was most likely too risky to back Zaman up in full public view. However, screengrabs from Kennedy's "liked" tweets shows a number of tweets showing support for the Labour chair, including some by Zaman herself, and another falsely labelling this National File contributor as being "fascist."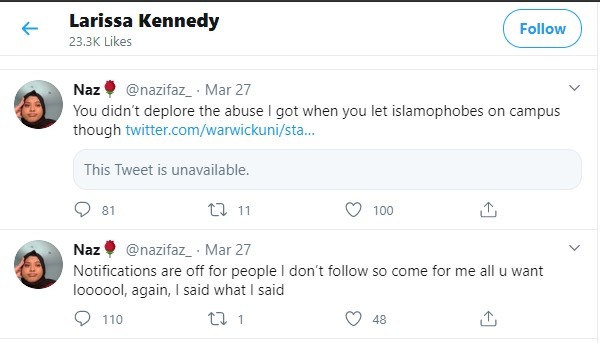 The below tweet gives an idea of how close Zaman and Kennedy are.
https://twitter.com/Larissa_Ken/status/1238569276698656770
A contributor for the Warwick Eye spoke to National File, calling the new NUS President's "continued pattern" of endorsing violence "as unsurprising as it is repugnant":
During her failed attempt to become the Warwick Students Union President, she refused to address the support she had for her close friend that was being investigated for making death threats against other University students. Only after losing that election did she address these death threats by doubling-down and insisting that her friend was still deserving of people's support. Larissa's support of Nazifa after she was caught publicly celebrating the potential death of Prime Minister Boris Johnson represents the worst of modern-day political discourse; the unfailing defence of intolerance, hatred, and prejudice, simply because these people "are on your side" and those on the receiving end are not.
Kennedy is set to take up her role as NUS President on July 1st.