Last Updated on March 27, 2020
The British Prime Minister, Boris Johnson, has tested positive for the coronavirus, and leftists online are celebrating his test result.
Boris Johnson announced on Twitter that he was displaying mild symptoms of the coronavirus – a temperature and a persistent cough. "On the advice of the Chief Medical Officer, I've taken a test. That has come out positive," Johnson said, adding that he would now work from home and self-isolate. "But be in no doubt that I can continue, thanks to the wizardry of modern technology, to communicate with all my top team to lead the national fightback against coronavirus," he continued.
Over the last 24 hours I have developed mild symptoms and tested positive for coronavirus.

I am now self-isolating, but I will continue to lead the government's response via video-conference as we fight this virus.

Together we will beat this. #StayHomeSaveLives pic.twitter.com/9Te6aFP0Ri

— Boris Johnson (@BorisJohnson) March 27, 2020
Unsurprisingly, many leftists were absolutely ecstatic that Johnson had tested positive. Some simply expressed joy that he had it, while others openly wished death on him:
I'm glad you have the coronavirus.

— g0m (@g0m) March 27, 2020
To boris Johnson I would just like to say, unfortunately some of us will die 🙁 and if you die, it is a sacrifice we are,I'm sure, willing to make 😔 herd mentality was always going to bite u in the ass ya bastard

— eeves (@kiIIingeva) March 27, 2020
U.K. Prime Minister Boris Johnson announced he has tested positive for the coronavirus, making him the first major governmental leader known to have contracted the disease. Maybe we'll get lucky… #coronavirus

— Dennis D (@zardoz82013) March 27, 2020
https://twitter.com/MVBramley/status/1243637738932502528
https://twitter.com/He3ph43stus413/status/1243631983416262656
To offer a counterpoint to this, I would definitely like to see Boris die of coronavirus https://t.co/stBTCrKpEF

— woggly cobbin (@ClamLock) March 27, 2020
nah he can croak

— wolf (@_woIfgang) March 27, 2020
National File reported earlier today on Nazifa Zaman, the chair of the University of Warwick Labour Society, who tweeted, "Pm got covid? Happy Muslim women's day again!" One friend replied saying that Johnson's positive result shows that their "dua," the Islamic term for "prayer," has been answered.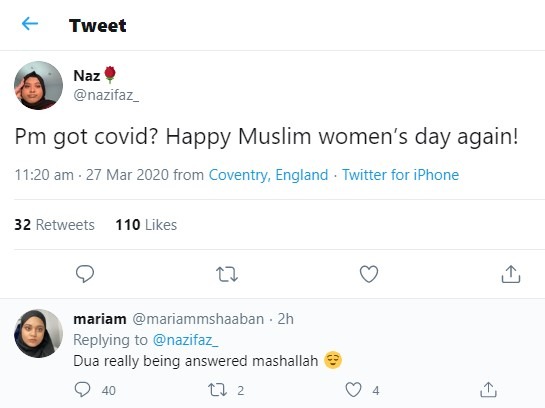 Some wondered aloud how Johnson had been able to obtain a coronavirus test so quickly, when most ordinary people are not able to obtain one for themselves:
https://twitter.com/AliTayyabComedy/status/1243497247452680195
So how come he gets a test when most people can't?

— Tim Ward @TimWardCam@c.im #FBPE 🔶⭐ (@TimWardCam) March 27, 2020
https://twitter.com/LukeShawWorcs/status/1243511158251937794
Wow, I thought you only got tested if admitted to hospital?

— Laurie Driver – Key Worker (@justsnoozing) March 27, 2020
They conveniently forgot that it might be relevant whether the leader of the country is infected with the disease, a fact that others gladly pointed out:
He's the leader of the country, you absolute spoon.

— Paul Joseph Watson (@PrisonPlanet) March 27, 2020
Because he's running the country you dipstick

— JonnyH (@RorkesXDrift) March 27, 2020
https://twitter.com/DexterM92490366/status/1243540757518200834
Others decided that now was the perfect time to bring racism into the discussion:
Nothing is apolitical. I can't do 'regardless of your politics' RE Boris and rona. Everything's political and politics is life and death as we're seeing right now. so no, I'm not crying for a man that has preisded over a relentlessly evil government and historically racist party.

— Chanté (@ChantayyJayy) March 27, 2020
Do not forget he got tested immediately with mild symptoms whilst they left a black woman in the prime of her life to die at home.

— armajeddon (@sabotthecat) March 27, 2020
And one thought that the whole thing might be a huge conspiracy:
This will be a controversial tweet.
But who really believes Boris has #Coronavirus ?
Could the British Gov have a hidden motive for the claim?
Problem is he lies so often it is hard to tell!

— THE BLACK SALTIRE#FBSI (@80_mcswan) March 27, 2020