Last Updated on March 27, 2020
Nazifa Zaman, the chair of the University of Warwick Labour Society, celebrated Boris Johnson being tested positive for coronavirus.
Earlier today, Boris Johnson, the British Prime Minister, revealed that he had tested positive for coronavirus.
This, for some reason, rather pleased Nazifa Zaman, the chair of the University of Warwick Labour Society, who took to Twitter to celebrate.
Zahman tweeted "Pm got covid? Happy Muslim women's day again!"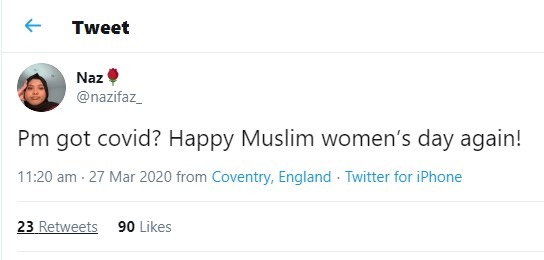 One friend replied saying that Johnson's positive result shows that the "dua," the Islamic term for "prayer," is being answered.
https://twitter.com/mariammshaaban/status/1243510357454467077
READ MORE: NHS Told to Hide IDs After Being Mugged for Free Food During Coronavirus Pandemic
In her biography, Zaman identifies herself as the Chair of Warwick Labour, and an "advocate" of Warwick Decolonise, a group dedicated to "decolonising the curriculum" at the University of Warwick.
Zaman's tweet was subject to criticism and response immediately, with one noting that if Johnson had said the same thing about her, she would be complaining about "unfairness and inequality," and others describing her actions as "disgusting":
https://twitter.com/Blond3bra1ny/status/1243523056942882818
I don't think it reflects well to be appearing to be pleased that anyone has got it.

— Snorky (@Snorkyno4) March 27, 2020
https://twitter.com/GoatApologist/status/1243521499295674379
Not surprised by this labour voters all over disgusting

— Dan (@Dan69781108) March 27, 2020
UGLINESS JUST OOZES OUT OF SOME PEOPLE.

— Patrick (@Patrick70633049) March 27, 2020
These are not British values. Shameful.

— Rush (@exRAF_Al) March 27, 2020
READ MORE: UK: Teenager Commits Suicide Over Coronavirus Self-Isolation Fears
After receiving the backlash online, Zaman made her account private, but then opened it again, and stuck by her words.
"Notifications are off people I don't follow so come for me all u want loooool, again, I said what I said," Zaman tweeted.
The National File has reached out to both the national Labour Party and the University of Warwick Labour Society for comment, and will update the story as soon as there is any response.
UPDATE:
The University of Warwick's official Twitter account replied to Zaman's original tweet. "We send our best wishes and compassion to each and every person who has sadly become infected, and for their families, and do not condone any remark to the contrary," the University tweeted, but added that they "deplore the abuse now being directed at a member of our university community [Zaman]."
https://twitter.com/warwickuni/status/1243569067228827649
Many were displeased with the reaction of the University, including members of the Muslim community:
No offence but look who started with the original comment. If these are the type of people you have on your community then I will not be attending any more meetings or events at Warwick Uni. You have clearly sided with the wrong person here. And yes, im Muslim, and disgusted.

— Commegena (@Commegena) March 27, 2020
And what she said is not abuse? This person must go through a disciplinary procedure, she is represents the university and one of its societies.

— Brilant Krasniqi SDP (@brilantbk) March 27, 2020
https://twitter.com/DerekGuthrieArt/status/1243579412496502784
https://twitter.com/Deedy2201/status/1243576461056933888
Why don't you deplore the appalling comment about Boris made by your student? https://t.co/2MX6ITIVro

— Emily Hewertson (@emilyhewertson) March 27, 2020
https://twitter.com/bhav_popat/status/1243584254715494400
In an email to National File, the office of Matt Western, the MP for Warwick and Leamington, did not explicitly condemn the comments, but reiterated that the university society is unaffiliated with himself and the Warwick and Leamington Labour Party. "Matt has sent his wishes to the Prime Minister hoping for a speedy recovery," the email continued.
We will continue to update this story.