Last Updated on March 11, 2023
The writings of Anthony McRae, the Michigan State shooter who killed three students on the school's Lansing, Michigan campus last month, reveal him to be an anti-white racist who hasn't had sex in over a decade, something McRae admitted in his writings was a major factor in his decision to shoot up the school.
McRae's February 13th mass shooting at Michigan State killed three and injured five. According to McRae's writings, which were first published by the Detroit Free Press, the Michigan State shooter hadn't had sex in a decade and blamed most of his problems on racism. The now-published writings from McRae were reportedly found on his person when he was apprehended by police after the mass shooting.
"10 years since I've had sex," one passage in McRae's published writings reads. "F*ck all you racist mother f*ckers," reads another section.
McRae's writings also claimed that other teams of shooters would be attacking colleges around the United States, in coordination with his Michigan State attack, though the other attacks never materialized.
In addition to the writings, police found two firearms and "multiple" magazines full of ammunition on McRae's person at the time of his arrest. It's unclear if he was planning on continuing his shooting spree at another location, but his writings and background have led many to suspect that he was.
Read McRae's writings below: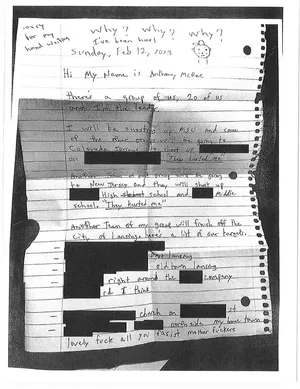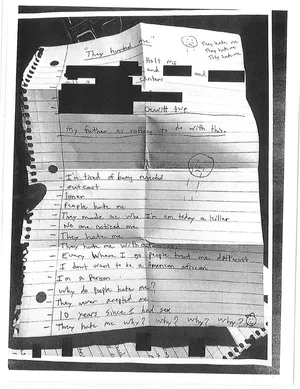 In the aftermath of the shooting, media coverage has been carefully tailored so as to not dive too deep into McRae's motivations, and to avoid disrupting the racial narrative that so often surrounds mass shootings. Nationally, after initial calls for increased gun control, most media coverage of McRae and his shooting evaporated. That appears to be because of the background details regarding his life of crime, and the left-wing policies that enabled it to continue to the point of a mass shooting.
Carol Siemon, the Soros-funded prosecutor of Ingham County, Michigan, where the City of Lansing and Michigan State University are located, let Anthony McRae off the hook on felony firearm charges in 2019. A conviction would have seen McRae tossed in jail and made it impossible for him to purchase a gun in the future.
Siemon has admitted since the Michigan State mass shooting that she didn't want to throw a black man in jail, thanks to her far-left political persuasion, leading her to spring McRae and allow him to go on to commit a mass shooting motivated by anti-white racism and sexual frustration.