Last Updated on June 4, 2020
Michelle Malkin is back on Twitter after facing a temporary suspension for supporting the use of force against violent looters and rioters.
Malkin, the conservative and pro-America First political commentator, was suspended on Wednesday after writing on Twitter five days prior that the "violent criminal looters" involved in the Black Lives Matter riots "should be shot."
The tweet was determined to violate the Twitter rules against "abuse and harassment," and Malkin was slapped with a 12 hour suspension, along with being asked to delete the offending tweet.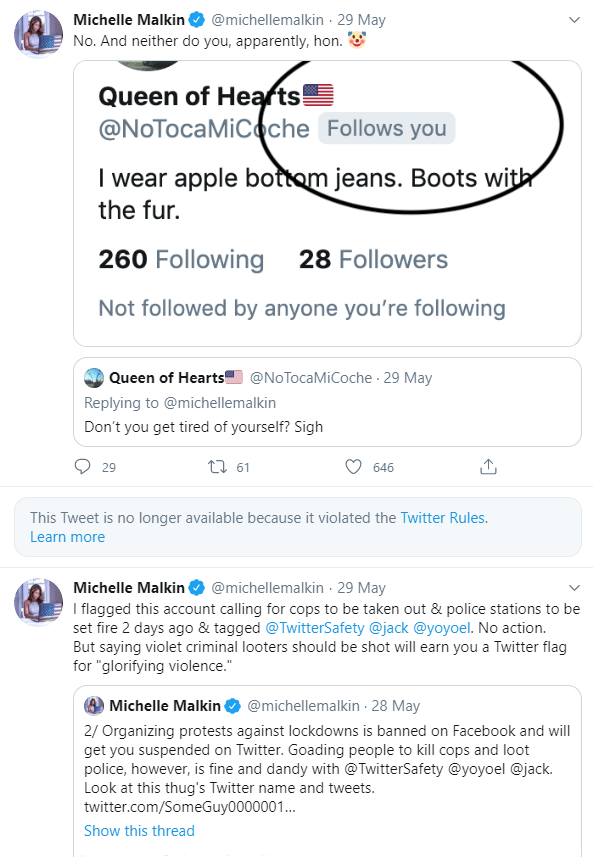 As National File wrote on Wednesday, this is despite the fact that not only were Malkin's comments echoed by law enforcement, but that violent rhetoric from the left is still allowed on their platform:
Sheriff Grady Judd of Polk County, Florida, warned looters on Monday that given he encourages the residents of his county to own guns, "if you try to break into their homes to steal, to set fires, I'm highly recommending they blow you back out of the house with their guns."

Twitter has also refused to remove tweets and crack down on accounts from leftists that clearly advocate for illegal violent acts. The site is being used to co-ordinate looting, with rioters also planning Kristallnacht-style attacks on white businesses, and communist accounts pointing people towards rubber bullet factories to take down.
Malkin announced her return on Thursday afternoon, thanking National File and other alternative news outlets for covering her suspension.
2/Big thanks to everyone who covered my moronic @twitter suspension. I'll say more soon.

Links: @LibertarianBlue https://t.co/x277xiz7IS@kenningtonsays https://t.co/X1315M3Jg6@NationalFile https://t.co/g5bf5MIP1f@ShimshockAndAwe https://t.co/djzaICwszA

— Michelle Malkin (@michellemalkin) June 4, 2020
Malkin added that the "campaign to silence defenders of law and order" will not stop, and that there is a "new effort" to remove her from the platform; she used the idiom "shoot the messenger" in a non-violent tweeet written 7 months ago, but Twitter still received a report from somebody determined to take her down.
3/The campaign to silence defenders of law & order is not to stop. I refuse to walk away. A new effort was launched again this a.m. because I used the idiom "Shoot the messenger" in a non-violent tweet 7 MONTHS AGO! #ExposeTwitter #ExposeAntifa #FightTheMob #GetUpOffYourKnees pic.twitter.com/Jju4mA8ejt

— Michelle Malkin (@michellemalkin) June 4, 2020
National File has reached out to Malkin and Twitter to find out exactly how or why the suspension was lifted. We will update this story with comment from either party as soon as we receive it.