Last Updated on August 25, 2019
The admin of the Memelord For Hire MKIII Facebook meme page received multiple 30-day suspensions in a censorship blitz kicked off by a meme that supported InfoWars.
Speaking to National File, Memelord For Hire MKIII admin Chad Dallas explains that the page has a long history of dealing with Facebook censorship. The first iteration of the page had all its admin accounts permanently deleted for criticizing Facebook's arbitrary enforcement of its Community Standards, while the second version was silently removed from the platform with no explanation provided from company staff.
The current version of the page has over 50,000 followers and routinely displays analytics that show a monthly post reach of over two million people.
However, the third time may indeed be the charm for Facebook execs when it comes to permanently removing the Memelord For Hire brand from the platform.
Last night, the page's primary admin, Chad Dallas, reached out to National File to break the news that he had received a 30-day ban for posting a satirical meme featuring CNN and InfoWars.
The meme read, "F**k CNN, all my homies watch InfoWars".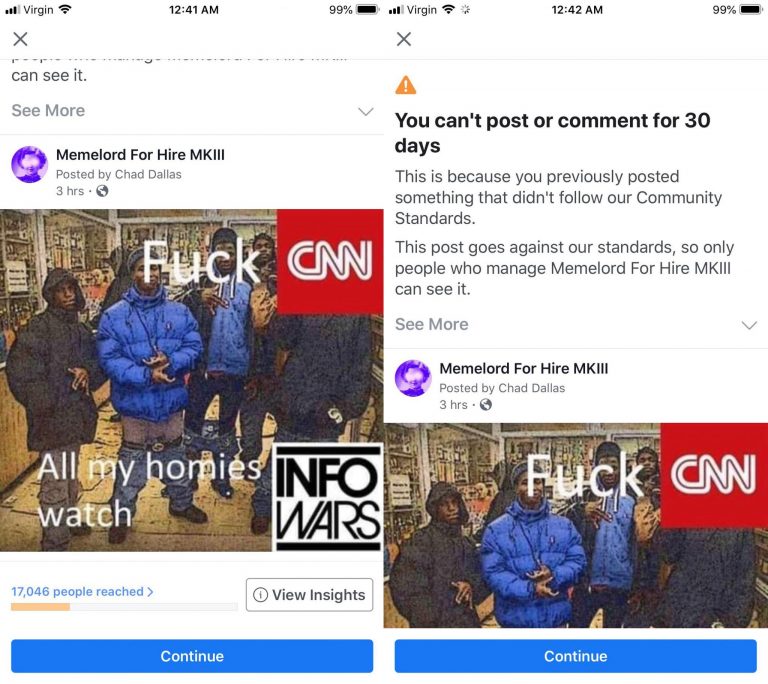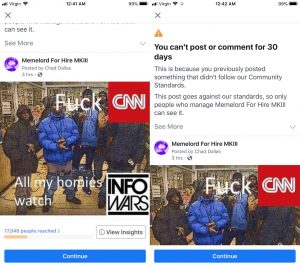 Within hours of this first suspension, additional posts dating back several weeks were also flagged for unexplained violations and the page received an ultimatum that it was in danger of being permanently silenced.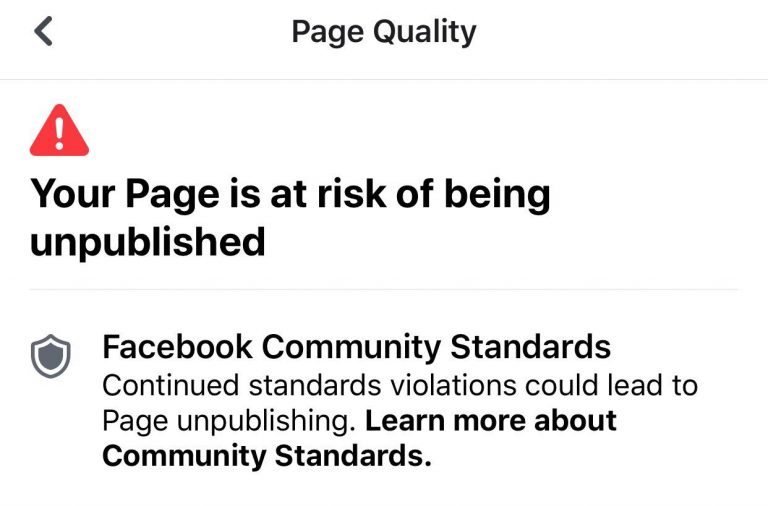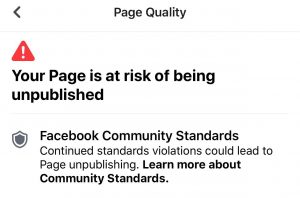 Chad Dallas also provided screenshots sent in by page followers that show Facebook is refusing to let new people like the page.
In the screenshots, the pop-up message from Facebook reads, "When you like a page, you'll see updates from it in your news feed. You may want to review Memelord For Hire MKIII to see the types of content it usually shares."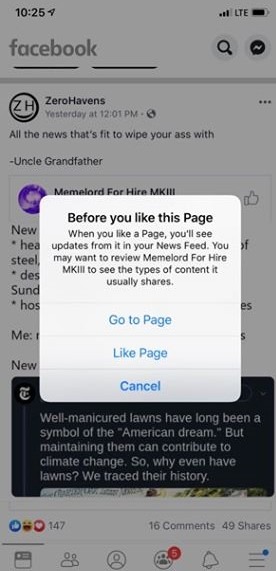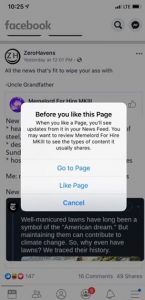 Speaking to National File, Chad Dallas said, "The most irritating part of this whole debacle is Facebook could easily just delete my page for having the wrong opinions and be done with it."
He continued, "They haven't, because they're cowards, and they need a reason to justify banning a harmless satire page that criticizes all sides of the political spectrum. Hence the trumped-up 'Community Standards violations.'"
When asked if he thought Memelord For Hire had been the target of a mass reporting campaign, Dallas told National File that Facebook is ultimately to blame.
"It ultimately doesn't matter. It's definitely possible, maybe even probable, but the point is whether the post was auto-flagged by an algorithm, manually taken down by a spying [Facebook] employee, or reported by ugly and physically grotesque people who felt offended, none of the posts merited a suspension at the end of the day," adding, "the real root of the problem is definitely Facebook itself."
After having managed the Memelord For Hire series of pages for over three years, Dallas said he may be ready to leave Facebook for good, as he feels eventually there will be no space available on the platform to post "anything funny or interesting."