Last Updated on November 10, 2022
Brazil's Vice President, General Hamilton Mourão, has broken his silence on Twitter in the wake of the nation's contested presidential election, calling on the Brazilian people to "courageously resist" the forces of communism and the "cowardly weapon" of censorship.
General Mourão, a longtime ally of embattled President Jair Bolsonaro, is Brazil's first Vice President of indigenous descent. A military man by trade affectionately known as the "People's General," Mourão previously worked with Bolsonaro at the 8th Paratrooper Field Artillery Group's base in Rio de Janeiro, later joining him on his 2018 presidential run. 
"Today, in Brazil, we live in decisive times," General Mourão tweeted on November 8th, just over a week after far-left challenger, Lula de Silva, who until recently was in prison for corruption, was declared the winner of Brazil's electronic election.
The contest has been marred by allegations of massive fraud, comparable to the United States in 2020, but dissenters are being silenced, as Lula is backed by left-wing global power brokers, including the World Economic Forum, and the Chinese Communist Party. 
"We see those who intend power (Lula and his PT Workers' Party) invoking order, but when they were in opposition they spoke about freedom," the General went on, before calling for nationwide resistance to Lula and his left-wing agenda.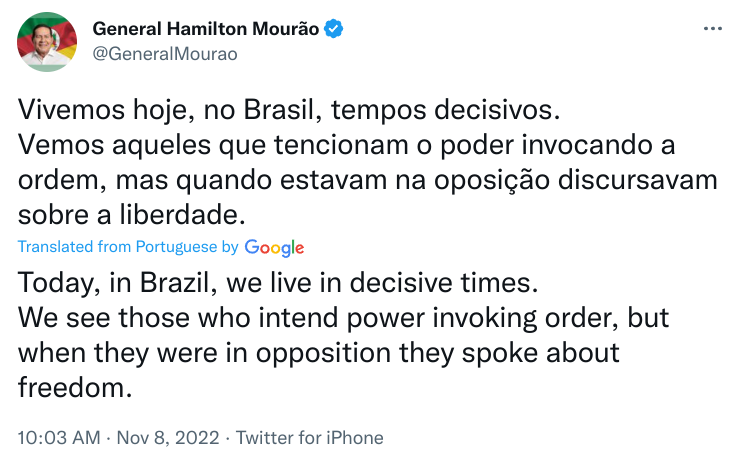 "Patriots courageously resist, in the face of hatred that makes censorship used as a cowardly weapon to seek to threaten free debate and democratic questioning," General Mourão wrote in a subsequent tweet.
With much infrastructure already in place, Brazil's incoming, far-left government and its allies are collaborating with global actors, like Big Tech and the Chinese Communist Party, to crush dissenting voices.
Brazilian citizens who ask questions about the election and its integrity, or stand for patriotism over globalism, are being ejected from the public discourse en masse by a corrupted Supreme Court.
Not even children are exempt – with school suspensions announced in Curitiba as punishments for patriotic demonstrations.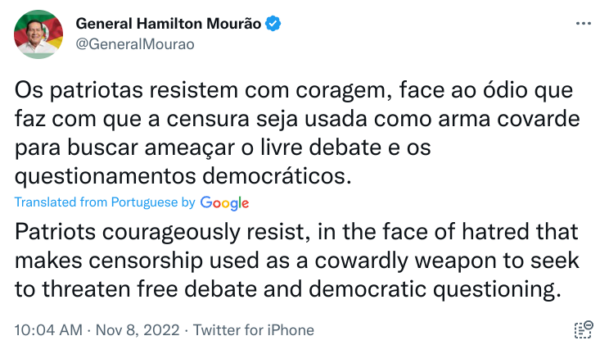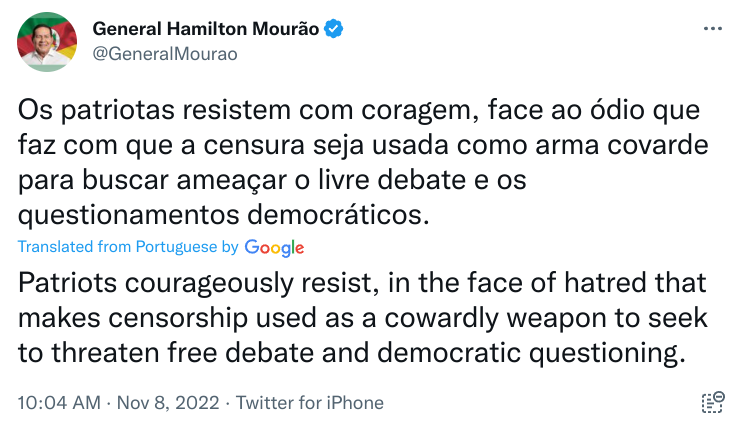 Local sources and British Texans contend that the tweets mark a hawkish pivot for the normally quiet and soft-spoken military hero.
The General's first quips on Twitter since November 3rd coincided with Brazilian voters awaiting news of a military audit.
The audit, though, didn't materialize in the sense many had hoped it would.
After its reported results were announced this week, "confirming" the election of Lula, questions are being raised as to whether or not it was even legitimate, or if Chinese-partnered members of military leadership had their thumbs on the scales.
As online chatter continues and the unrest in the streets of Brazil shows no sign of stopping, major US news outlets, including top-rated Fox News host Tucker Carlson, have begun taking note of the situation, and its parallels to America's own chaotic election issues.
Echoing National File's reporting, which exposed the role of the Chinese Communist Party and their Epstein–tied influence operations in Brazil's contested election, Carlson equated the situation to a Communist takeover of the resource-rich nation. 
As Brazil's election fallout continues, countless numbers of patriots are holding the line for President Jair Bolsonaro, who's known as the "Trump of the Tropics," but the situation is growing more unstable by the day, and threatening to spiral out of control.
In some cases, police officers and military members, who've been called in to suppress their fellow citizens, have crossed the picket line, siding with election integrity demonstrators.
On November 10th, General Mourão tweeted once more, after both Brazil and the United States had each experienced highly irregular elections, back-to-back, each to the benefit of the global left. 
"From an election in which the means prevailed over the ends, there is nothing to celebrate," the General wrote. "Only lessons and responsibilities to assume."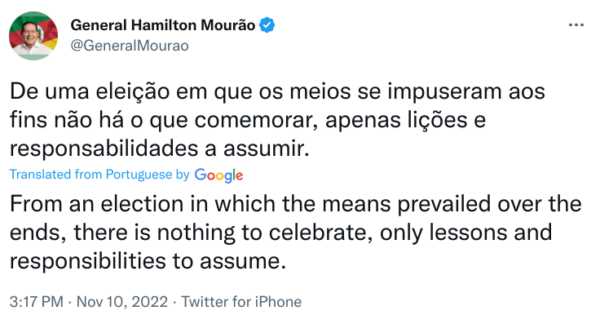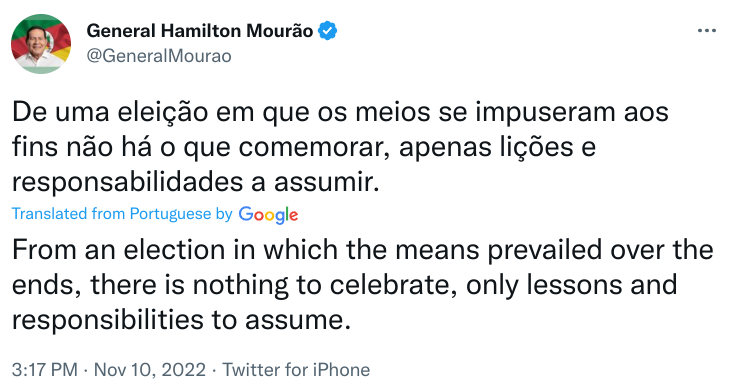 The installation of Lula as President of Brazil marks a massive power grab by the global left, more specifically the Chinese Communist Party and its associated operations, which actively seek to use Brazil as a vessel for expansion into the Americas.
Despite fawning corporate media coverage, National File has reported on Lula's deep ties to the Chinese Communist Party, the People's Liberation Army, and even the former Soviet Union.
Now, National File can report that sources in the immediate orbit of President Bolsonaro and his team have alerted us that Lula is in fact a steadfast brother-in-arms of even more of the world's most vicious communists and tyrannical dictators.
Lula co-founded, with Cuban communist dictator Fidel Castro, the annual "Foro de Sao Paulo," an outwardly communist gathering of leftists from all over Central and South America. There, he's gathered with the likes of Venezuela's Nicolas Maduro and Hugo Chavez, Argentina's Kristina Kirchner, Bolivia's Evo Morales, and the rest of the Castro clan, to plot out the advancement of their left-wing agenda.
As if his two hemispheres of tyrannical communism had collided, Lula even touts an endorsement of his Foro de Sao Paulo from Xi Jingping's Central Committee of the Chinese Communist Party.
Intriguingly, the Foro's website was taken offline just before this article went to press. 
More breaking news from Brazil to follow.