Last Updated on October 31, 2022
The Chinese Communist Party and its globalist influence operations such as the CCP-Tied Taihe Institute figure prominently in the Communist takeover of Brazil, dominating the political life of Luiz Inacio Lula Da Silva, Brazil's left-wing President-elect known widely as "Lula".
Through his prior terms as President and his continued work with left-wing globalist elites, Lula is tied to two of Communist China's most notorious influence outfits, which National File has covered extensively.
Lula, who was sprung from prison on corruption charges before his globalist-backed election, has deep ties to Communist China and its malign influence networks like the CCP-led Taihe and Epstein-directed Humpty Dumpty Institutes.
Lula, the Brazillian leftist, is "closely attached" to Bulgarian Communist Irina Bokova who, after the fall of Europe's Iron Curtain, has set up shop in Beijing and at the United Nations.
National File can exclusively report on Lula's direct ties to prominent communists in continuation of our in-depth series of articles in conjunction with an investigation completed in party by British Texans working to uncover the shady world of international influence that traces from Mark Epstein in New York, to Michael Sonnenfeldt in Israel, all the way to the Taihe Institute in Beijing.
As Director-General of UNESCO in 2011, Bokova spoke of her close relationship with Lula in an address to the World Social Forum, saying that she was "doubly honored" to be back in his presence and boasted that Lula has a "closely attached" relationship with UNESCO under her leadership.
Based in Brazil with heavy links to Lula, the UN, and Communist China, the World Social Forum is outwardly anti-capitalist.
Bokova hailed her mutual work with Lula on left-wing issues around the globe and in Brazil at the World Social Forum event, as well as Lula's 2009 winning of UNESCO's Félix Houphouët-Boigny Peace Prize, an award frequently given to left-wing political actors.
Lula not only toed the global left's talking point line but seemingly called for the end of national allegiances and patriotism in his own acceptance speech of the award.
"There cannot be real peace until the roots of conflict have been destroyed," Lula said. "So long as there is hunger, inequality, unemployment, but also so long as there is ethnic, religious cultural and ideological intolerance."
Bokova was educated at an elite Soviet academy in Moscow, training her for the life of a devout Communist Party apparachik. From 2009-2017, she led UNESCO, the UN organization that's been criticized for its collaboration with Communist regimes for decades.
At UNESCO, she was lauded by the CCP for her work with their regime. She also employed a team of Eastern Bloc, Communist Party "security" veterans with a documented record of brutality.
Her work with the CCP appears to have paid off for her though, as now, Bokova is a high-ranking member of the CCP and PLA-led Taihe Institute, a "think tank" that seeks to spread Chinese Communism around the globe and even operates research centers in the United States.
Among those groups most closely associated with Communist China's Taihe Institute is the Humpty Dumpty Institute, a globalist influence operation linked to the United Nations, directly partnered with Taihe, and directed by Jeffrey Epstein's brother Mark. The influence operation has been linked to multiple high-level political figures in the United States and abroad, and works closely with Bokova at Taihe.
During Bokova's reign at UNESCO, both her sector and the UN as a whole collaborated extensively with Epstein's HDI.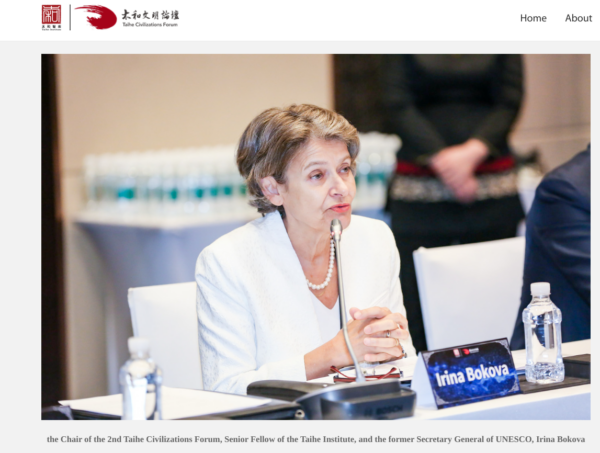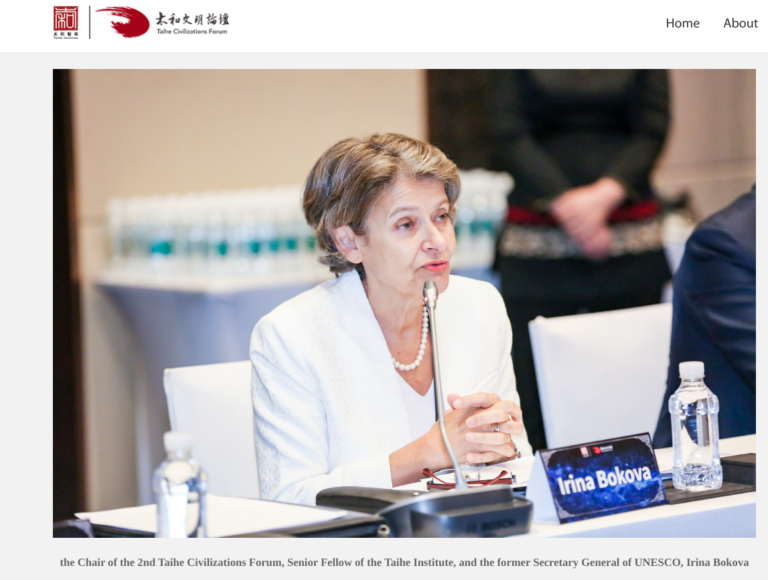 In 2018, Bokova chaired the Taihi Institute's "Civilizations Forum," which was based on "the establishment of a community of a shared future for humankind," centering around China's Belt and Road initiative for economic dominance.
In attendance was the Epstein-directed Humpty Dumpty Institute's Joseph Merante, who provided updates on how HDI, a close Taihe partner group, was promoting the forum's CCP agenda.
On other occasions, Humpty Dumpty's leadership has attended and taken part in the Chinese Communist Party's militaristic rituals, alongside the Taihe Institute. Globally, they're connected deeply to United Nations, including Bokova's former UNESCO, and high-ranking officials within both parties of the US government.
Along with the Taihe Institute, HDI is also connected to various factions of the Israeli government, including its global intelligence apparatus.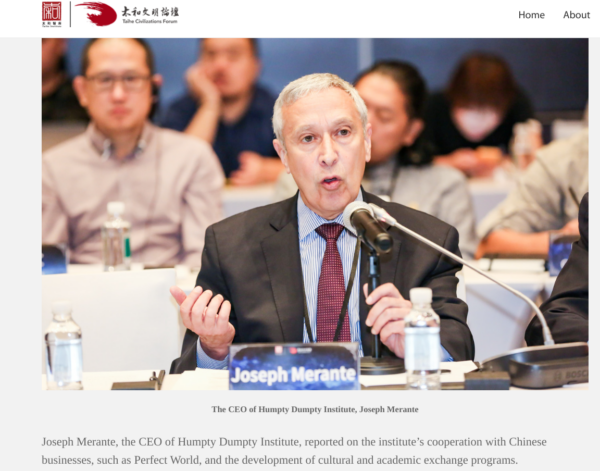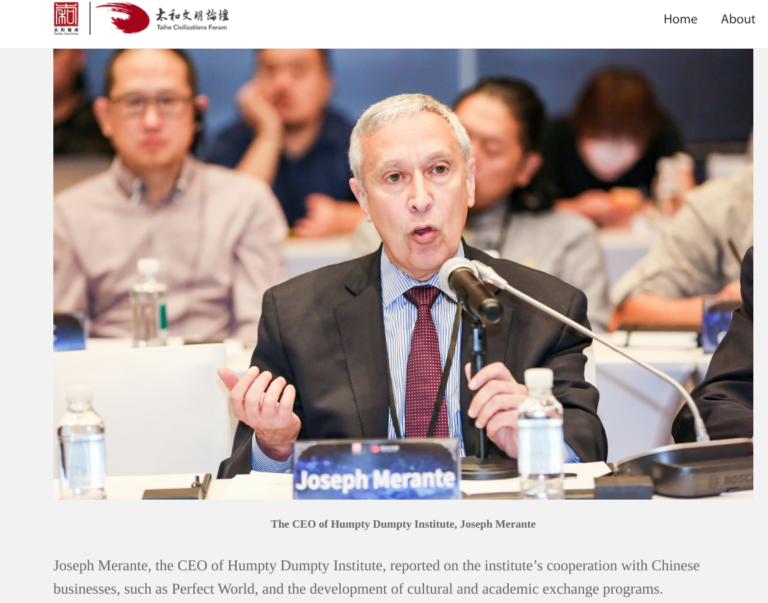 In addition to his ties to international Communist and Taihe member Irina Bokova, Lula has been lauded by the CCP for his embrace of Communist China during his prior terms as Brazil's President.
Among those singing his praises is the CCP-led, Epstein-partnered Taihe Institute. 
"Lula's administration massively expanded economic ties with China," says Taihe, praising the relationship he built with the Communist state for its pivot away from America and "reconfiguration of the world's commercial and diplomatic geography." 
Both in and out of office, Lula has been openly affectionate for the CCP, even hailing their COVID "response," in which China massively expanded its global influence despite being ground zero for the disease outbreak, as an example for the rest of the world.
On the geopolitical stage, Brazil is considered a massive prize for China and the global left. Forecasters say that in his latest term as President, Lula can be expected to cozy the critical nation up to China and its authoritarian regime even more. 
After Lula was declared the winner by an extremely narrow margin in an election wrought with judicial chaos, electronic voting systems, and allegations of Soviet-level fraud, not unlike America in 2020, China's Communist Premier Xi Jinping was among the first on the world stage to congratulate Lula, expressing his desire to forge a "long-term," and "strategic" alliance between the two nations under left-wing rule.