Last Updated on November 2, 2022
"Invalid/null" ballots outnumber the margin of "victory" claimed by CCP-tied Brazilian President-elect Luiz Inácio Lula da Silva by millions, throwing even more serious doubt into the razor-tight election that was openly meddled in by numerous foreign powers and Communist influence operations.
Luiz Inácio Lula da Silva, known simply as "Lula," is claiming popular vote "victory" by a margin of less than 2% nationally. In a race where over 120,000,000 votes were cast, that margin equals a raw number difference of just 2,139,645 votes, far less than the number of ballots deemed "invalid" and excluded from the count.
Had all the votes been counted, it could have led to a much different result, for both Brazil and the future of Western Civilization.
According to the officially-listed election results, globo-communist-backed Lula received 50.9% of the national popular vote, which decides Brazil's elections, compared to incumbent populist President Jair Bolsonaro, who's been nicknamed the "Trump of the Tropics" and is reported to have received 49.1% of the vote.
The "official" results have been called into serious question nationwide and Bolsonaro has thus far refused to concede the race.
He told a press conference after a day of media silence that he will "continue to fulfill all the commandments of [Brazil's] constitution."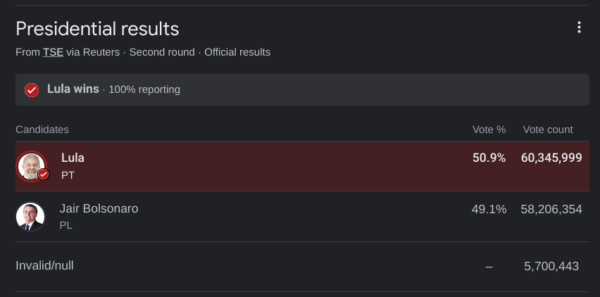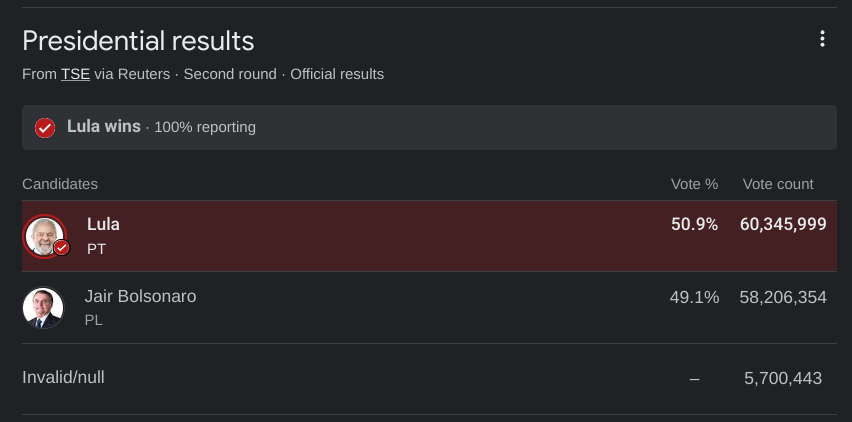 Among the questions being raised by election integrity activists in Brazil and observers around the world is how votes could have been deemed "invalid" or "null" in the first place, considering the election was 100% electronic.
The election featured electronic machines and voting technology from Dominion and Smartmatic, two firms that played and continue to play a central role in documented 2020 fraud claims in the United States.
In Brazil, long considered a major prize for the international left, Dominion, Smartmatic, and other global electioneering actors have been accused of re-running their 2020 USA playbook.
The people of the nation though are standing up en masse, taking to the streets in support of incumbent President Bolsonaro and wreaking havoc on the nation's infrastructure in the process, blocking roads and airport entrances to demand free and fair elections, as opposed to the globally-ordained installations of national leaders.
In some cases, police officers and military members, who tend to support Bolsonaro at an even higher rate than everyday Brazilians, are crossing the picket lines, and joining with the people.