Last Updated on April 2, 2020
Time's Up has formally rejected aide to Tara Reade in her pursuit to press charges against former vice president Joe Biden, the projected democratic nominee.
Time's Up ultimately decided not to offer public relations support or financial aide due to claims that they would possibly lose 501c3 status for pursuing sexual assault charges on a man running for federal office.
"As a nonprofit 501(c)(3) charitable organization, the National Women's Law Center is restricted in how it can spend its funds, including restrictions that pertain to candidates running for election," says Maria Patrick.
The NWLC works closely with Time's Up on pursuing #MeToo cases, and offering assistance to the accusers.
When Reade first approached the director of the NWLC, she was encouraged to pursue a lawsuit and was referred to outside council. The director of NWLC also insinuated Reade would receive aide from Time's Up legal defense fund if she did file a lawsuit.
"Our decision on whether or not to provide certain types of support to an individual should not be interpreted as our validation or doubt of the truthfulness of the person's statements. Regardless, our support of workers who come forward regarding workplace sexual harassment remains unwavering."
Along with the NWLC, Time's Up works with another company called SKDKnickerbocker. SKDK is the public relations firm responsible for the management of legal defense funds provided to those who come forward with their #MeToo stories.
Since Reade came forward with her story to Time's Up in January, Biden has paid a total of $806,000 to SKDK.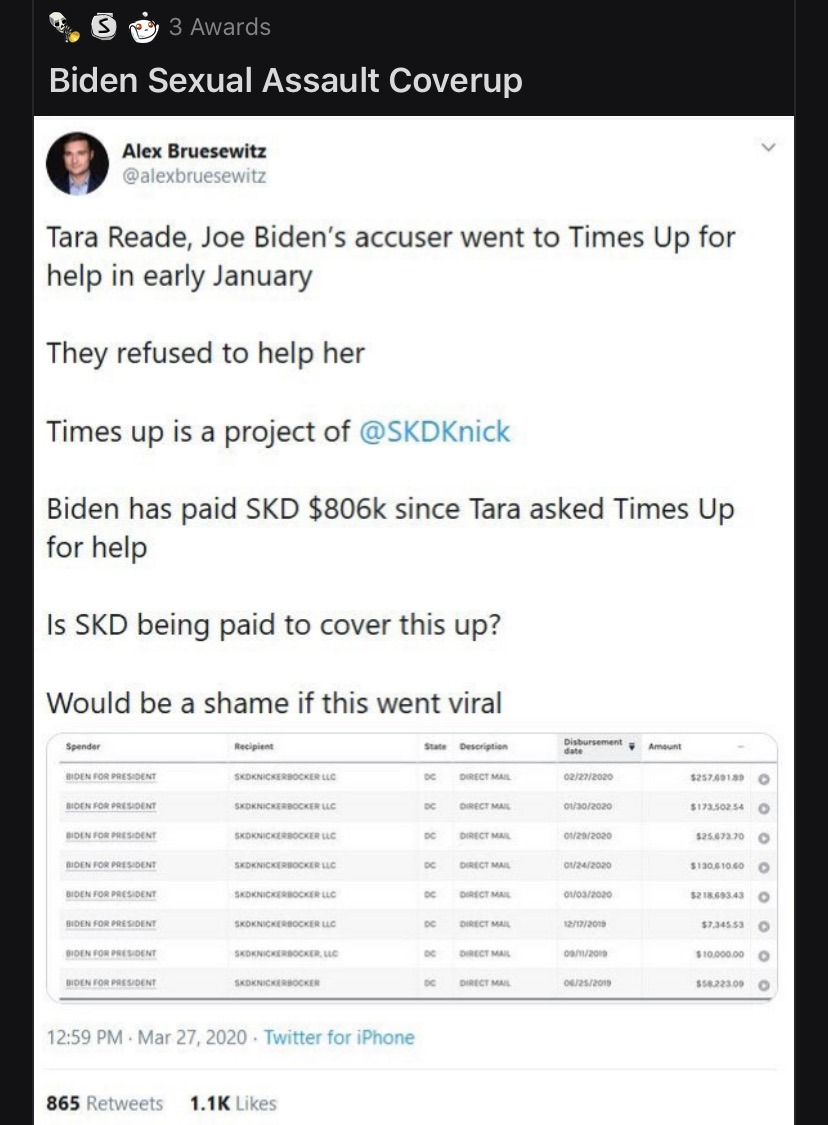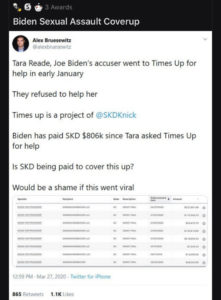 That isn't the only connection between the Biden Presidential campaign and SKDK. Anita Dunn, who is the managing director over at SKDK, is also the top adviser to the presidential campaign of Joe Biden.
Biden's spokesperson denied to comment when inquired by The Intercept.
In April of 2019, Lucy Flores, a former Nevada lawmaker, decided to come forward about an incident she had with Biden in 2014, during rally where they were both in attendance. According to Flores, Biden sniffed her hair and kissed the back of her head.
There have been many observations made about Biden's mannerisms around women and children before Flores talked about her own experience which she claims happened in 2014.
Flores appeared on The View to discuss her experiences with the candidate. When Flores told her story, the panel of female hosts defended Biden.
While the panel was quick to accuse Flores of making her accusation due to political motivations and loyalty to Sen. Bernie Sanders (I-VT), the panel members were quick to remind viewers of their own political motivations, noting that Biden was likely to beat the incumbent president.
Reade herself admits she felt hesitant in coming forward with her story due to fears she would only strengthen the already strong presidential campaign of President Donald J. Trump.
"I don't want to help Trump. But what can I do?" she said. "All I can do is stand on my truth."
Meghan McCain referred to Biden's actions as different from that of more serious acts of unwanted sexual advances.
"For me, these things are not Democratic or Republican," Whoopi Goldberg said during the panel with Flores. "I want women to get to the place where they can say, 'hey, you just made me uncomfortable.' This idea that you have to tiptoe away from this, you don't have to carry it. If someone makes you uncomfortable, tell them. You have to stop mischaracterizing stuff. Don't sit and wait and say 'I'm uncomfortable' on national television."
When Tara Read saw how Flores was treated by prominent democratic women, particularly on The View, she claims it motivated her to come forward to support Flores and reveal her own similar experiences with Biden when he was a Senator in the early 90s.
Reade and Flores are among 8 women who have come forward to talk about inappropriate and unwelcome sexual advances they've experienced with Biden.
https://twitter.com/PepperOceanna/status/1243552107430580224
Reade was a staffer with the Senator Biden during the early 90s. Reade claims that at the time Biden was a "handsy" guy. According to Reade, she made several formal complaints that Biden would harass her and generally exhibit inappropriate behaviors towards her.
Allegedly there was a more serious incident that occurred in 1993 that Reade only reported to her friend, brother, and mother.
"I was walking to the Capitol and to the Russell Building to go down the stairs," Reade said recalling the sexual assault.
"It was somewhere in either the Russell or the Capitol. I'm not sure, all told. But we were in a semi-private place; it wasn't completely private. He was, at first, talking to someone, they went away, and then he said 'Come here,' and then when I gave him the gym bag, it happened all in one motion almost."
This is when, according to Reade, Biden sexually assaulted her.
"And he had me against the wall," Reade continued. "And then his hands were down my skirt and up my skirt. And I was wearing–I wasn't wearing stockings underneath. And then, with his hand, he went from there and entered me–with his hand–and as he was trying to kiss me, and saying things to me."
According to Reade, as soon as she handed Biden his gym bag the assault happened "all at once."
"I handed it [the gym bag] to him and it was gone. And then his hands were on me and underneath my clothes. And then he went–he went down my skirt and then up inside it. And he penetrated me with his fingers, whatever. And I–he was kissing me at the same time and he was saying something to me. He said several things and I can't remember everything he said. I remember a couple of things. I remember his saying, first, like as he was doing it, 'Do you want to go somewhere else?' and then him saying to me, when I pulled away, he got finished doing what he was doing and I, how I was pulled back and he said, 'Come on man, I heard you liked me.' And that phrase stayed with me because I kept thinking what I might have said. And I can't remember exactly if he said 'I thought' or if 'I heard.' It's like he implied that I had done this."
At this time in 1993, Reade first went to three people including her mothe, brother and a friend. Both her brother and friend advised her against speaking up against Biden. Reade's mother has since passed away, but both the friend and brother have confirmed that they knew about what Reade says happened between herself and Biden.
Reade and her brother, Collin Moulton, maintain that their mother warned them in 1993 to turn Biden into the police.
"Woefully, I did not encourage her to follow up," Moulton explains to The Intercept. "I wasn't one of her better advocates. I said let it go, move on, guys are idiots."
When Reade finally decided to come forward standing in solidarity with Flores and the six other Biden accusers, she brought her story to the attention of Time's Up with the hopes they would help her.
Reade, like Flores, was also accused of being politically motivated and trying to sabotage Biden to help Bernie Sanders get the democratic nomination. There are many democrats who have turned against Biden after #TimesUpBiden started trending on Twitter.
Unlike the 7 other women, Reade was also accused of being controlled opposition for Russian President Vladimir Putin.
At the time of her initial interaction with the NWLC program director, Reade was presented a letter that was intended for Reade's potential future lawyer.
"She began publicly sharing the harassment she experienced in April 2019 but was attacked … online including by Richard Painter and journalist Edward-Isaac Dovere for being a Russian operative. There is more to the story of the harassment that she did not feel safe sharing at that time. She is looking for support in sharing her story and guidance on any possible legal action she may be able to take against online harassers."
Once turned away by Time's Up, Reade told her story on the Katie Halper podcast. Reade's story wasn't picked up by major networks.
When Sen. Kamala Harris (D-CA) came out to support Biden, Reade alleges she contacted Harris with the details of being sexually assaulted by Biden. According to Reade, there was no reply.
Both Harris and Biden were extremely vocal in their support for the accusers of then-Supreme Court nominee Brett Kavanaugh.
"For a woman to come forward in the glaring lights of focus, nationally," says Biden
"You've got to start off with the presumption that at least the essence of what she's talking about is real."
Similarly, when it came to Kavanaugh, Harris took the position of #BelieveAllWomen.
"Listen, first of all, anybody who comes forward at this point to be prepared to testify in the United States Senate against someone who's being nominated to one of the most powerful positions in the United States government, that takes an extraordinary amount of courage."
After last April when Reade, Flores and the 6 other women came forward, Biden addressed his behavior around women.
"Social norms have begun to change, they've shifted, and the boundaries of protecting personal space have been reset, and I get it," Biden said in the video. "I hear what they're saying. I understand it. I'll be much more mindful. That's my responsibility, and I'll meet it."
As of March 27, 2020 two members of the Biden campaign have released public statements rejecting allegations of sexual assault towards Biden.
The first from Communications Director, Kate Bedingfield.
"Women have a right to tell their story, and reporters have an obligation to rigorously vet those claims. We encourage them to do so, because these accusations are false."
The second came from former executive assistant to then-Senator Biden Marianne Baker.
"For nearly 20 years, I worked as Senator Biden's executive assistant and supervised dozens of employees who reported to me.  I took very seriously my duties with respect to human resources, following the direction of a Senator whose insistence on a professional workplace was embedded in our culture. In all my years working for Senator Biden, I never once witnessed, or heard of, or received, any reports of inappropriate conduct, period — not from Ms. Reade, not from anyone. I have absolutely no knowledge or memory of Ms. Reade's accounting of events, which would have left a searing impression on me as a woman professional, and as a manager.  These clearly false allegations are in complete contradiction to both the inner workings of our Senate office and to the man I know and worked so closely with for almost two decades."
National File will continue to cover the accusations levied against Biden as we approach the 2020 presidential election.