Last Updated on June 12, 2023
Major League Baseball has directed its teams NOT to wear gay pride logos on their hats and uniforms, breaking with the corporate-sponsored LGBTism that's taken over sports in recent years after massive pushback from players and fans caused the league to reconsider its marketing of homosexuality and transgenderism.
With the month of June consumed by LGBT "pride" celebrations that have aggressively targeted small children and have openly aimed to make a mockery of Christianity, Major League Baseball has faced massive blowback from players and fans alike, apparently causing the league to at least partially reverse course on its LGBT embrace.
Ahead of Saturday's Tampa Bay Rays "pride day" event, the Tampa Bay Times reported that the event would "have a different look this year" after the organization tried and failed in 2022 to outfit its entire team in rainbow flag-adorned pride hats and uniform patches.
A Tampa Bay Times article reported that "under a new MLB directive, players won't wear rainbow-themed caps or uniform patches, which led to controversy a year ago."
Despite not wearing gay pride uniforms, the Rays have added a sign in their outfield that reads "Baseball Is For Everybody", written in rainbow lettering with additional colors to salute transgenderism and racial minorities.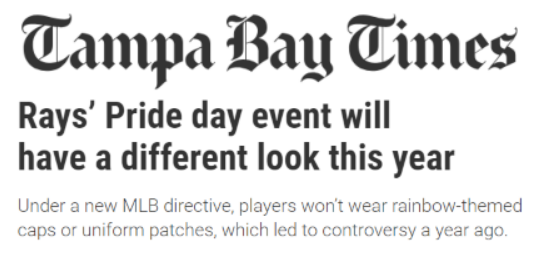 According to the Tampa Bay Times report, the decision not to wear the gay pride patches and hats was made by Major League Baseball and was announced at a February owner's meeting after widespread opposition began swelling up last year, when gay pride events were held in nearly every MLB stadium and when numerous teams added rainbow patches to their uniforms and rainbow logos to their hats, regardless of their players' positions on the issue.
The Los Angeles Dodgers and the San Francisco Giants, based in two of the most left-wing cities in America, are reportedly exempt from the MLB directive, because of a "preexisting agreement", but the Dodgers have faced a huge controversy over their pride night plans, after uninviting and then reinviting the anti-Catholic "Sisters of Perpetual Indulgence", a drag performance group, to perform at the team's pride event.