Last Updated on June 12, 2023
The dead Richmond, Virginia high school graduate who has been celebrated by the media after he and his stepfather were shot to death outside his high school graduation ceremony has a long history of posing for photos with drugs and guns and even recorded a rap song purportedly taking credit for the 2021 shooting death of another young Richmonder, who was friends with the graduation shooter.
18-year-old Shawn Jackson and his stepfather, 36-year-old Renzo Smith, were shot dead outside of Huguenot High School's graduation ceremony at Richmond, Virginia's Altria Theater on June 6th. In the wake of the shooting, which injured 5 other people, Jackson has been celebrated by media and politicians as an innocent victim of a spontaneous mass shooting and tens of thousands of dollars have been raised for his family while politicians and their operatives have kicked off a gun control campaign.
Despite the narrative, Jackson has been revealed as a thug with a long history of promoting drugs and gun violence and even appeared to take credit for the 2021 homicide of another teenager in a rap video he posted to YouTube just days before his own death.
On May 26th, 2023, less than two weeks before the graduation shooting that claimed his life, Shawn Jackson posted a rap music video titled "chi chi chi" to his YouTube channel, "Otg Shawn". (The music video is viewable at the bottom of this article.)
The video opens with a graphic reading "CHEST SHOT" and in the song, Jackson repeatedly brags about shooting another man in his chest.
What Jackson describes in the song mirrors the 2021 shooting death of 18-year-old Daveon Elliot, a fellow Richmonder who was shot and killed on the streets of the city's Westover neighborhood – a shooting that was ruled to be a case of justified homicide for which Jackson was investigated by the police.
On Instagram, Shawn Jackson, using the handle "@otg.shawn", made a post in the weeks prior to releasing the rap video indicating that he knew retribution was coming.
"this is a message to karma", he wrote in the post. "ik (I know) that you comin [blood emoji] i'm getting prepared for yo a**".
Among the comments from other users on the post is one that reads "I'm sorry karma came on what was supposed to be a special day for you and your loved ones. May you & your father RIP".

What's more, is that Daveon Elliot has been confirmed as a friend of Amari Pollard, the young man arrested and charged with two counts of 2nd Degree Murder in the June 6th graduation shooting that killed Shawn Jackson and his stepfather.
Police have confirmed that Jackson and Pollard knew each other and are reportedly theorizing that the graduation shooting came in retaliation for the 2021 murder of Daveon Elliot.
According to sources who spoke with Richmond's CBS 6 news outlet, detectives have "honed in on two theories" behind the shooting.
The first is that "words [were] exchanged" between Jackson and Pollard at the graduation ceremony.
The second is that it was retaliation for "the 2021 killing of Thomas Jefferson student Daveon Elliot."
A third theory, which has been conveyed to National File by Richmonders familiar with the case, is that both of the police theories are true and that Jackson and Pollard had a verbal dispute, possibly related to the Elliot homicide, at the graduation ceremony, which led to the gunfire.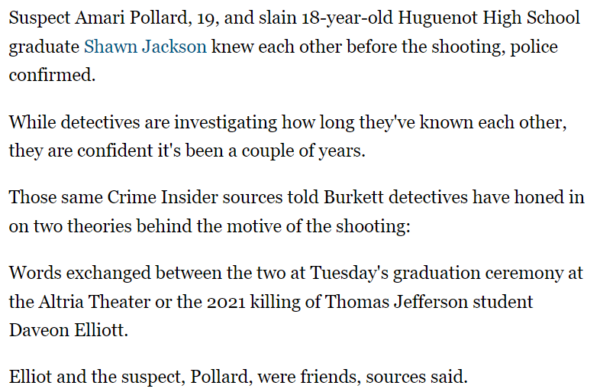 Watch Shawn Jackson's "chi chi chi" "chest shot" rap video below: 
This story is developing. Stay with National File for updates on the case and its background as they become available.