Last Updated on May 24, 2023
Major League Baseball and the Los Angeles Dodgers have bowed down to a group of anti-Catholic drag queens, issuing a public apology after un-inviting them from the team's "pride night" event and re-inviting them to mock Christianity and Catholicism by simulating deviant sex acts in Dodger Stadium while dressed up like Jesus Christ, nuns, priests, and more. The Dodgers claim that the group's performances are "lifesaving".
After uninviting the anti-Catholic "Sisters of Perpetual Indulgence" from the LA Dodgers' upcoming June 16th "Pride Night" amidst backlash over the group's attacks on Christianity, the Dodgers changed course and issued a groveling statement apologizing to the group and the "LGBTQ+ community", re-inviting them to perform at Dodger Stadium.
"After much thoughtful feedback from our diverse communities, honest conversations within the Los Angeles Dodgers organization and generous discussions with the Sisters of Perpetual Indulgence, the Los Angeles Dodgers would like to offer our sincerest apologies to the Sisters of Perpetual Indulgence, members of the LGBTQ+ community and their friends and families," the groveling statement reads.
"We have asked the Sisters of Perpetual Indulgence to take their place on the field at our 10th annual LGBTQ+ Pride Night on June 16th," the statement goes on, adding that the Dodgers are "pleased" that the anti-Catholics have accepted their re-invitation.
The Sisters of Perpetual Indulgence, the Dodgers say, will "receive the gratitude of our collective communities for the lifesaving work that they have done tirelessly for decades."
Read the full statement below: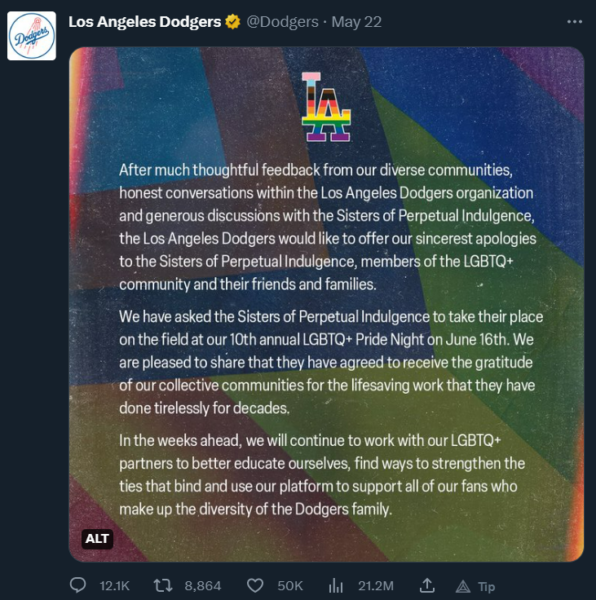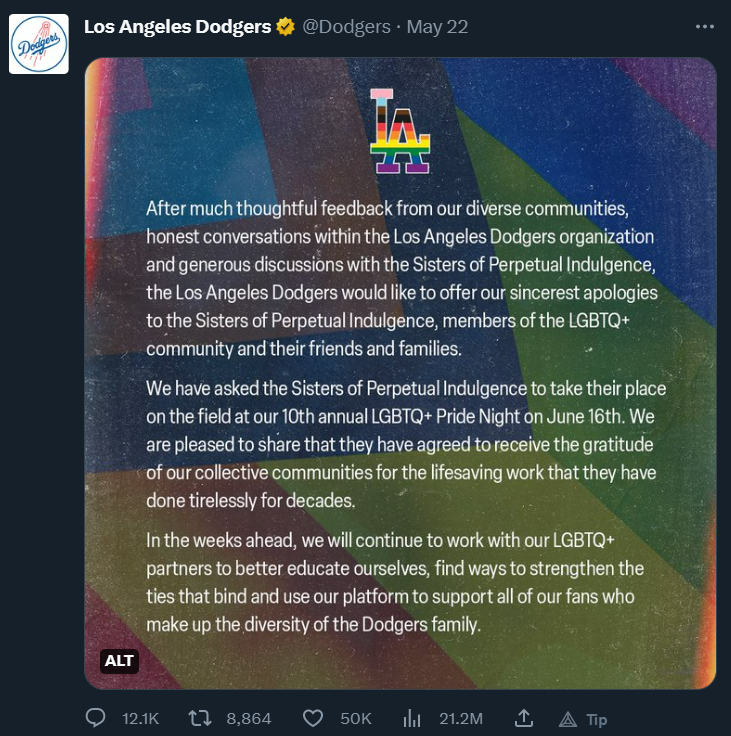 Twitter users slammed the Dodgers in response to the statement and re-invitation of the anti-Catholic drag queens, and some users posted photographs of the group's disgusting performances, which can be viewed below.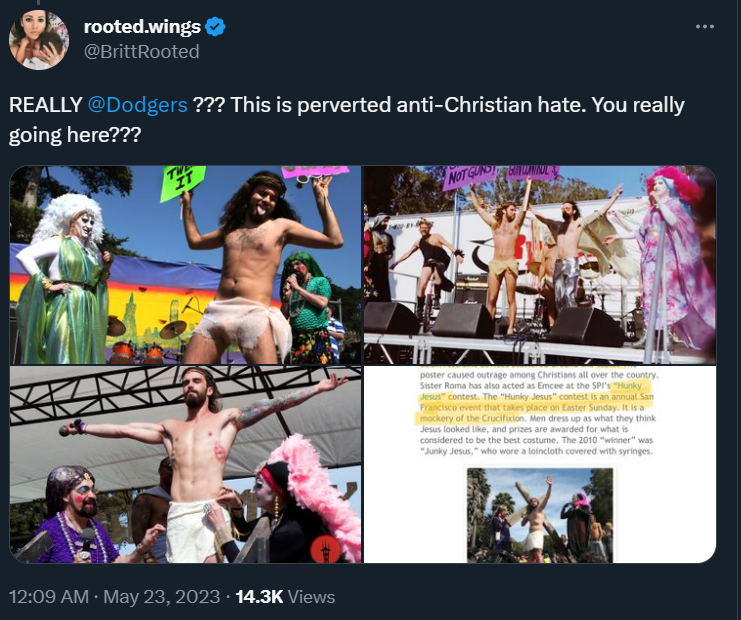 Echoing the sentiments of millions of American baseball fans, who have resisted LGBT incursions on the game, Blaze TV host, longtime sports writer, and cultural critic Jason Whitlock tore into the Dodgers and Major League Baseball on the Tuesday episode of his Fearless broadcast.
"On Monday, the Los Angeles Dodgers officially surrendered on behalf of the wide world of sports," Whitlock reported. "The Dodgers apologized to the Sisters of Perpetual Indulgence – a group of gay men who mock religious faith by dressing as Catholic nuns."
Whitlock was joined on the episode by leading voices within Catholicism to discuss the LGBT movement's relentless attacks on Catholicism and the wider Christian faith community.
He also recalled that organized sports have long been rooted in Christianity and that the Young Men's Christian Association (YMCA) was responsible for popularizing organized sports and competitions and did so in the name of Muscular Christianity – a philosophy that promotes a belief in patriotism, masculinity, morality, and athleticism, encouraging its adherents to treat their body and mind as a temple to God.
"Sports leagues have disavowed their founders," Whitlock explained. "You realize who organized sports? It wasn't lesbians, gays, bisexuals, transgenders, and queers. It was the Young Men's Christian Association – the YMCA. Founded in the UK in the mid-1800s, the YMCA aspired to promote Muscular Christianity across the globe."
"Major League Baseball, the National Football League, the National Basketball Association, and every other American sports league owe their founding to the YMCA!"
Watch the full broadcast below: