Last Updated on February 17, 2022
In 2013, Gaige Paul Grosskreutz, who suffered a brutal arm injury after Kyle Rittenhouse allegedly shot him, was arrested and charged with felony burglary, theft, criminal trespass, and disorderly conduct. It is unclear whether he was convicted of a felony.
He was arrested again in 2017. And, in 2019, he pleaded no contest to a Non-Traffic Ordinance Violation. Grosskreutz is a member of the fringe radical movement the People's Revolution Movement of Milwaukee which was called a "social justice reform group" by the Milwaukee Journal Sentinel.
https://twitter.com/MichaelCoudrey/status/1298757029499031554
Video appears to show Grosskreutz holding a pistol even after he was allegedly shot by Rittenhouse. National File reported:
Instagram user LourieAlex notes that "Shootings occurred tonight during protests in Kenosha, Wisconsin. This injured victim was treated by civilian volunteers before the police intervened."

Specifically, LourieAlex notes "The injured man was also armed at the time he was shot. The man was not shot by law enforcement."

The man is seen in the second photo of the Instagram post with his arm severely wounded, still holding a pistol.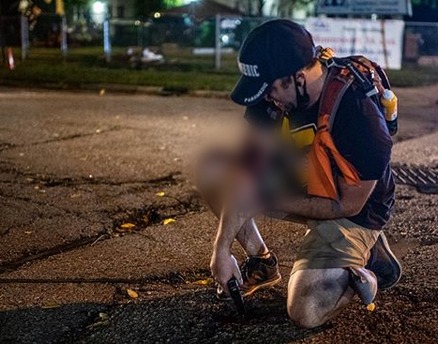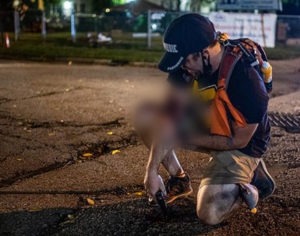 The other two Rittenhouse victims include Joseph Rosenbaum, who suffered a shot to the head, and Anthony Huber, who was shot in the chest.
Rosenbaum was sentenced to 12.5 years in prison for sexual conduct with a minor. During his stint in Arizona State Prison, he racked up 42 disciplinary infractions.
Per National File: "Huber was arrested in 2012 for charges including: domestic violence, "Use of Dangerous Weapon," "Strangulation & Suffocation," "False Imprisonment," and battery. He was ultimately convicted of strangling and falsely imprisoning a person.
"Huber was sentenced to two years in prison, and was credited for 352 days served during his case. He was released from probation for this conviction in May of 2020."