Last Updated on April 8, 2020
A Labour party councilor said that British Prime Minister "deserves" to get the coronavirus on a Facebook post.
Sheila Oakes, representing Heanor East on Amber Valley Borough Council, and is mayor for Heanor, apologized by saying she had "made a mistake" to a local radio show for her controversial remark after it was announced that the PM was being treated for the deadly Covid-19.
Responding to a Facebook post calling for prayers after it was revealed that Boris Johnson had been moved to an intensive care unit, Oakes wrote, "sorry, he completely deserves this and he is one of the worst PM's we've ever had," according to Talk Radio.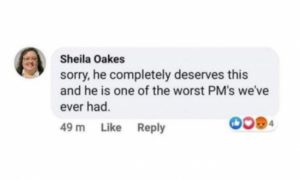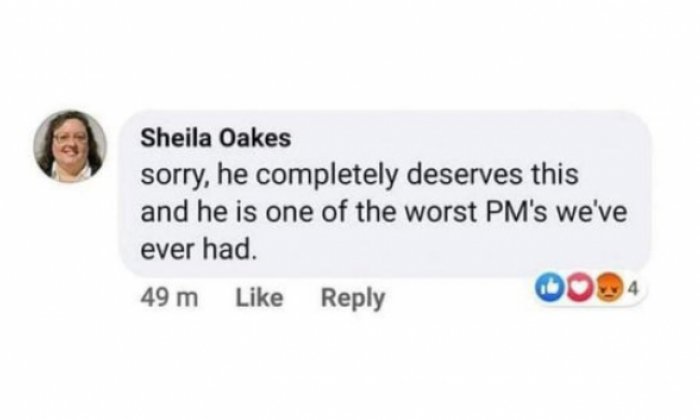 The local Amber Valley Labour Party said that they were treating the incident "highest level of seriousness."
They released the following statement: "Following comments from Cllr Oakes on social media, which we utterly condemn, the Amber Valley Labour group withdrew the whip this morning, and can announce this now that the whip has spoken to Cllr Oakes.
"This means that Cllr Oakes does not currently sit as a Labour Councillor, and further due process will follow.
"We wish the Prime Minister, and all who are suffering this awful disease, a speedy recovery and send love and solidarity to them and their families."
When it was announced that Mr Johnson tested positive for the coronavirus, many took to social media to celebrate the PM's illness.
A Labour Party University Chair also celebrated his diagnosis.
National File reported:
Nazifa Zaman, the chair of the University of Warwick Labour Society, celebrated Boris Johnson being tested positive for coronavirus.

Earlier today, Boris Johnson, the British Prime Minister, revealed that he had tested positive for coronavirus.

This, for some reason, rather pleased Nazifa Zaman, the chair of the University of Warwick Labour Society, who took to Twitter to celebrate.
Television writer, Siobhan Thompson, joined the anti-Boris social media dogpile, tweeting: "Boris Johnson to be visited in hospital by three ghosts of people who died unnecessarily because of his cute to NHS funding."
She succinctly added: "The c*** deserves every blunt needle he'll get."