Last Updated on February 17, 2022
Screenshots of a now-disappeared Facebook post have gone viral on social media after internet sleuth discovered one of the Kenosha riot shooting victim's friend posting about visiting the recovering protester in hospital.
Kyle Rittenhouse, 17, is alleged to have shot three protesters, killing two, in an act that many have called self-defense. The surviving gunshot victim, Gaige Grosskreutz, was hospitalized after a 5.56mm round mangled his bicep, leaving a crater in his arm.
Grosskreutz, appearing to be on the mend after his injury required reconstructive surgery, was reportedly visited by friend Jacob Marshall while he was in hospital. The visit was captioned "can't stop my boy" with three flexing arm emojis as Marshall had an arm around the patient.
A photo after medical professionals tended to the wound shows the patched up arm where the round tore open the man's flesh.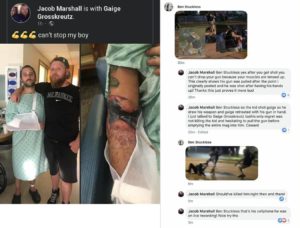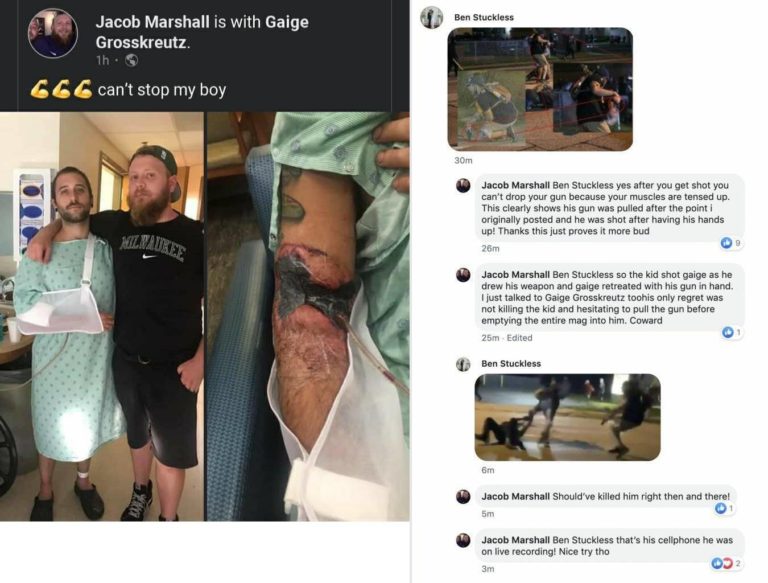 Marshall, recalling events from a secondhand perspective, replied to a message, containing stills of footage of the shooting, with: "yes, after you get shot, you can't drop your gun because your muscles are tensed up. This clearly shows his gun was pulled after the point I originally posted and he was shot after having his hands up! Thanks, this just proves the point more, bud."
Continuing the conversation with the same social media user, Marshall added: "so, the kid shot Gaige as he drew his weapon and Gaige retreated with his gun in his hand. I just talked to [Gaige] too–his only regret was not killing the kid and hesitating to pull the gun before emptying the entire mag into him. Coward."
"Should've killed him right then and there," Marshall added, referring to another image.
https://twitter.com/0komi/status/1299060898443780097
Grosskreutz appears to be a convicted burglar with a lengthy criminal history, as National File reported recently:
In 2013, Gaige Paul Grosskreutz, who suffered a brutal arm injury after Kyle Rittenhouse allegedly shot him, was arrested and charged with felony burglary, theft, criminal trespass, and disorderly conduct. It is unclear whether he was convicted of a felony.

He was arrested again in 2017. And, in 2019, he pleaded no contest to a Non-Traffic Ordinance Violation. Grosskreutz is a member of the fringe radical movement the People's Revolution Movement of Milwaukee which was called a "social justice reform group" by the Milwaukee Journal Sentinel.
Civil unrest in Kenosha was sparked after police shot a black man resisting arrest at close range in the back. The Wisconsin DOJ later found the suspect, Jacob Blake, to have had a weapon on his vehicle floorboard as he walked away from police.