Last Updated on February 17, 2023
The Jerusalem Boy's Choir of Jerusalem, Israel has released a Nikki Haley for President theme song, praising her longtime support of Israel and hailing her as a "fighter" who will "lead" foreign nationals as President of the United States.
Former South Carolina Governor, United Nations Ambassador, and World Economic Forum associate, Nikki Haley, announced her 2024 run for President recently, garnering little fanfare from actual American voters, but much support from the international community, especially from the State of Israel. In announcing her 2024 bid, Haley made it abundantly clear that if she's elected President, Israel and Ukraine will come first.
Apparently, this has prompted the writing of a Nikki Haley for President theme song by Israel's Jerusalem Boy's Choir.
"Nikki Haley, running for the top. Gonna make America never stop," the song goes, according to Forward, a globalist publication that trends towards the left and is focused on being a "Jewish. Independent. Nonprofit."
"She's got the drive, she's got the heart," the song goes on. "Gonna lead us all, right from the start."
Throughout the report that highlighted the Jerusalem Boy's Choir's Nikki Haley theme song, Forward hailed Haley's cooperation with and support of Israel, as well as the support she's received from "high-profile Jews" and Israel First bag men, like the late Sheldon Adelson of the Israeli-American Council, and Ronald Lauder of the World Jewish Congress.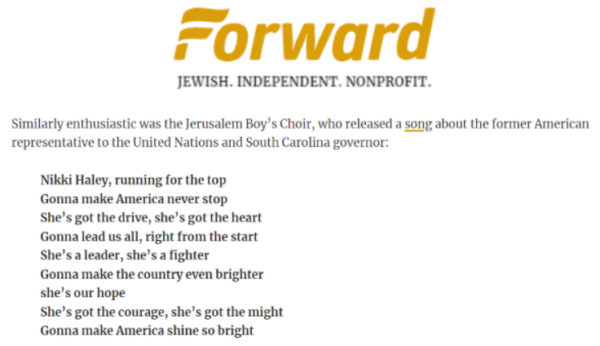 Watch the Jerusalem Boy's Choir Nikki Haley for President performance below:
Much like the troubling history of Nikki Haley's longtime ties to globalism and international influence operations, boy's choirs the world over have a long and troubling history of child sex abuse.
In 2002, a report from The New York Times exposed "years of sex abuse" at Princeton, New Jersey's American Boy Choir School.
According to the report, at least "a dozen alumni from the 1960s to the 1980s described a pattern of sex abuse" at the boarding school for talented kids, where students performed for everyone from Presidents to the Pope.
At a Raleigh, North Carolina Christian school, an ex-boy's choir teacher named Scott Anthony Mann was sentenced to at least 5 years in prison in 2015, after he was convicted of preying on the children he was teaching to sing and taking disgusting photographs of them in the restroom to satisfy his perversions.