Last Updated on February 13, 2023
Former South Carolina Governor and 2024 GOP Presidential candidate, Nikki Haley is way behind President Donald J. Trump and Florida Governor Ron DeSantis in a 3-way poll of likely 2024 GOP Presidential candidates in Missouri.
According to the results of a poll from the Remington Research Group, a Misouri-based GOP polling firm, in a 2024 primary match-up between President Trump, Ron DeSantis, and Nikki Haley, Haley, the former Governor of South Carolina who announced her 2024 campaign this month, is in a distant third place, garnering the support of just 8% of likely GOP Primary voters.
In the same poll, President Trump comes out on top, bringing in the support of 38% of respondents, while Florida Governor Ron DeSantis receives the support of 35% of them.
Interestingly enough, in a head-to-head poll between Trump and DeSantis, DeSantis has the edge, by a 7-point margin. Quite obviously, this is the support of establishment Republicans, who when given the choice, peel off from DeSantis to support Nikki Haley.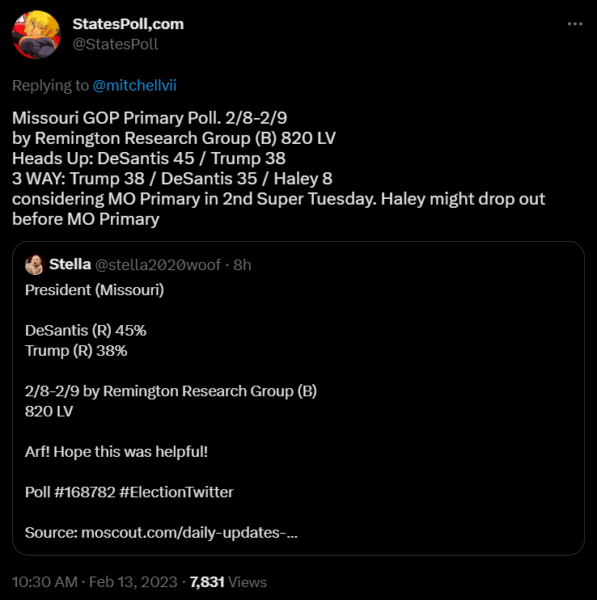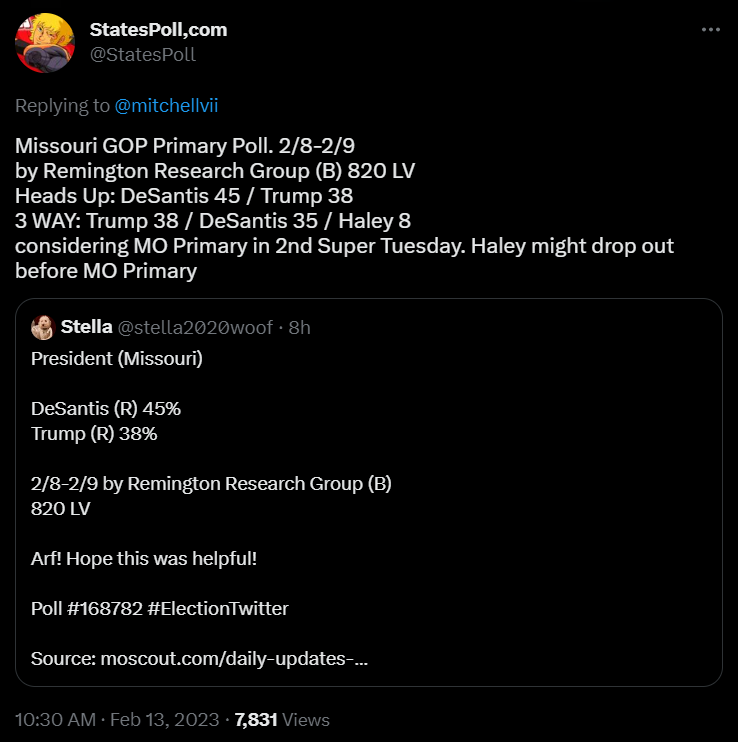 Since announcing her run for President, Nikki Haley has failed to garner the enthusiastic support of Republican voters, the grassroots base of which is still fiercely loyal to President Trump, even as corporate media outlets like Fox News openly tout Ron DeSantis for President.
Much like DeSantis, Nikki Haley has been the frequent recipient of positive Fox News coverage and is considered a "darling" of not just the GOP establishment, but the globalist movement.
As recently reported by National File, Nikki Haley appears to rank among those politicians "captured" by the World Economic Forum and Klaus Schwab, having been named as one of his "Young Global Leaders" in 2011, the same year that she took office as Governor of South Carolina.
After her affiliation with the WEF, Haley went on to help kick off America's left-wing historical destruction, ordering the Confederate Flag flown outside of South Carolina's State Capitol Building to be pulled down, at the behest of Black Lives Matter and their corporate backers.
President Trump's thrashing of Nikki Haley and his defeat of Ron DeSantis in the 3-way Missouri poll continues his front-running pattern ahead of the 2024 election.
In polling conducted in the Commonwealth of Virginia, where Paul Ryan and GOP mega-donors are pushing Republican Governor Glenn Youngkin as a 2024 "alternative" to President Trump, Youngkin, another affiliate of the World Economic Forum, is crushed in hypothetical primary polls.
According to a poll conducted by Roanoke College late last year, President Trump beats Governor Youngkin 62% to 28%, when likely Virginia GOP Primary voters are asked who they'd support in a 2024 match-up.