Last Updated on October 28, 2020
A top Huntington Ingalls executive has confirmed to the National File that she posed for photos with a student dressed as Adolf Hitler for a Merchant Marine Academy Halloween Party photo. The Huntington Ingalls executive, who now goes by her married name Jennifer Boykin,  posed smiling mere feet away from the student dressed as the Nazi dictator responsible for the deaths of over 6 million Jews.
In an emailed statement sent from Huntington Ingalls Industries' Corporate Public Affairs director Beci Brenton, Ingalls, as the ship builder is known, confirmed to National File that Jennifer Boykin did indeed dress as a Crayola crayon in the yearbook photo, standing only feet away from an individual dressed as Hitler, identified by National File's sources as Mark Kelly.
Boykin did not reply herself to the request for comment. Rather, Brenton requested that the emailed statement be attributed to Ms. Boykin, the Huntington Ingalls executive whose salary is $4.4 million annually, according to public records.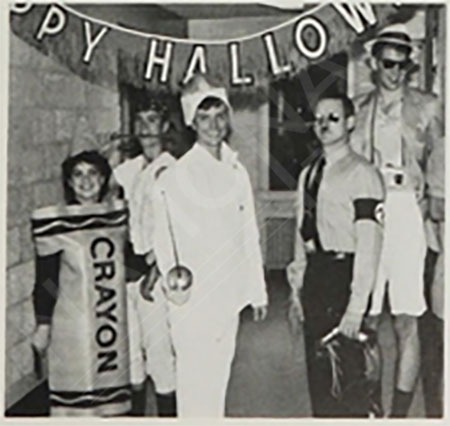 The photo of the Merchant Marine student dressed as Adolph Hitler — who bears an uncanny resemblance to a young Mark Kelly — surfaced at a time when Democrats and so-called "anti-fascist" activists are labeling all Republicans and indeed white Americans as fascists akin to Adolph Hitler.
Apart from confirming that she did in fact pose for a photo with a student dressed as Hitler, Ms. Boykin's statement was unresponsive to nearly all the questions sent to her by National File.
National File asked Boykin whether she believed it was appropriate for the Merchant Marine Academy Halloween Party she admits to attending to openly mock the Holocaust and then memorialize the event in the class's yearbook.
In her response Brenton, Boykin's spokesperson, did not speak to whether openly making light of the Holocaust was acceptable.
Boykin also refused to comment specifically on whether she thought it was appropriate for a classmate to dress as Hitler.
While she refused to name the Merchant Marine student dressed as Hitler she admits to partying with, she did, however, defend her denial that the fellow party goer dressed as Hitler was Mark Kelly.
Boykin, who lives in Virginia and would likely have been aware of the scandalous yearbook of Gov. Ralph Northam, which showed him dressed in either Ku Klux Klan robes or blackface, also did not comment on why she thought it was appropriate to remain silent about the offensive and anti-Semitic yearbook photo for decades.
Boykin's claims that the student dressed as Hitler was not Mark Kelly arrived quickly on the heels of the initial report late on Friday evening, giving rise to questions about how those statements were procured and reported on in Gannett's AZ Central, the online home of The Arizona Republic.
When asked whether she provided comment directly to AZ Central, or to the Kelly campaign, Boykin simply ignored the question.
"I attended the Halloween costume party 35 years ago –  dressed as a magenta Crayola crayon", Boykin's statement admitted, before reiterating her position that the student posing near her was not Kelly. Despite her smile in the photo next to Hitler, Boykin claims in her statement that the nearby student's "choice of costume" does not reflect her "beliefs or values."
"I stand for – and have always stood for – diversity, inclusion, equality and civility," the statement concluded.