Last Updated on November 30, 2022
Half of the Twitter accounts that Georgia Congresswoman Marjorie Taylor Greene says she wants to see reinstated to Twitter belong to foreign nationals, like that of Milo Yiannopoulos, the non-citizen and close personal associate of MTG that she's hired as her congressional intern. This comes despite MTG claiming to be an America First conservative, and as she campaigns for establishment leader Kevin McCarthy to be the next Speaker of the House.
After President Trump's account was reinstated to Twitter, Georgia Rep. Marjorie Taylor Greene (MTG) shared a list of 10 of the "people who need [to be] brought back" by its new owner, Elon Musk. Despite MTG's claims of being an America First conservative, and as countless American citizens remain locked out of the public discourse, half of those listed are foreign nationals.
"People who need [to be] brought back @elonmusk," read the tweet above a list of names, which originated from "I, Hypocrite," before being reposted by MTG.
Atop the list was Milo Yiannopoulos, the foreign national intern of MTG's who recently posted to Telegram that he'd failed to make it less than 24 hours without using the "N-word." The post came the morning after the Englishman spent Halloween at MTG's home.
Other foreigners included on the "America First" Congresswoman's wish list were Brits Tommy Robinson and Katie Hopkins, plus Canadians Gavin McInnes and Stefan Molyneux.
Among the Americans included on the list was Nick Fuentes, who MTG has now publicly "disavowed" at Kevin McCarthy's behest, having previously endorsed his work. She also appeared with him on stage at AFPAC, arm-in-arm.
Showing how quickly MTG has changed her stripes, the post she shared from "I, Hypocrite" was published on November 21st, just 8 days before she "disavowed" Fuentes, accusing him of being a "racist" and an "antisemite."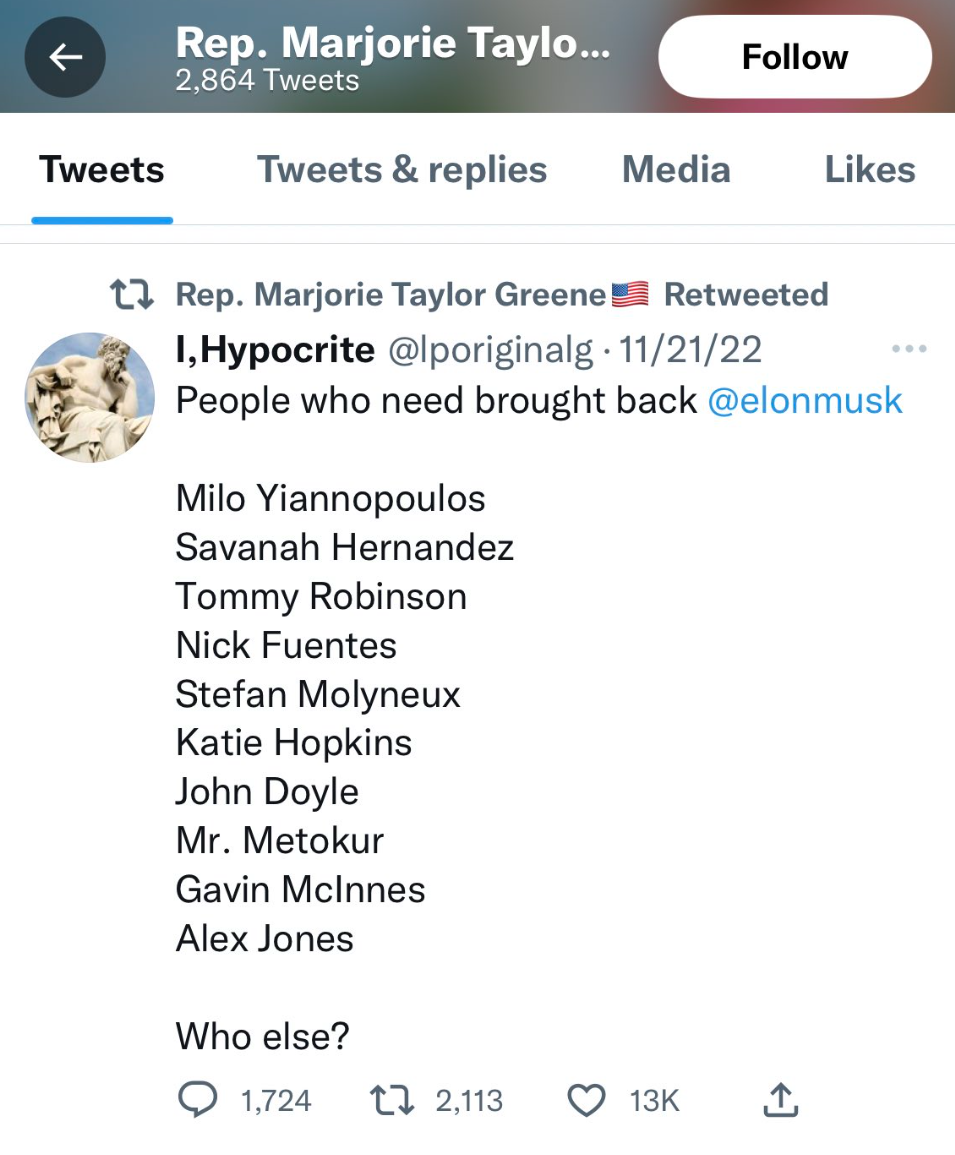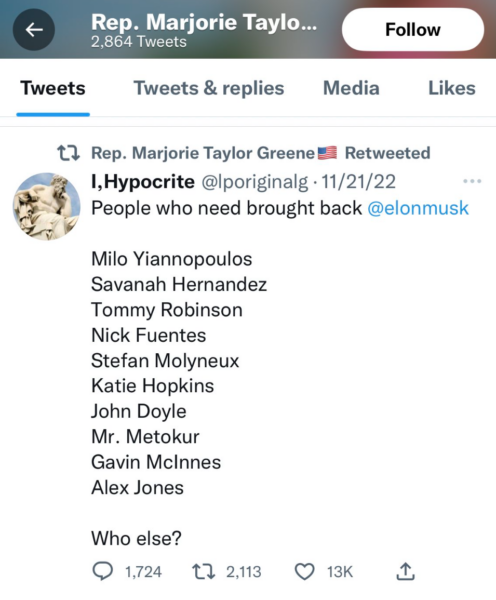 Notably omitted from the Twitter reinstatement wish list shared by MTG was America First conservative and free speech activist Laura Loomer, who's long been banned from the Big Tech platform and others like it.
Loomer, who ran for Congress in 2022, was previously called a close friend by MTG, who hailed her activism and publicly vowed to endorse her campaign against establishment GOP'er Dan Webster, only to renege on her promise and turn on Loomer.
In messages published by National File and obtained from Laura Loomer herself, foreign national Milo boasted of how he and his boss, MTG, were collaborating with both Democrats and Republicans to keep the budding America First star out of her own country's government.
During her 2022 campaign, Loomer was the target of Kevin McCarthy's Congressional Leadership Fund political machine, which was fueled by corrupt FTX cash linked to Ukrainian money laundering, in what's being called the biggest, government-sponsored Ponzi Scheme in history.