Last Updated on December 1, 2022
America First Floridian Anthony Sabatini laid into Kevin McCarthy and the GOP establishment RINOs protecting his speakership ambitions, saying that "Weasel McCarthy" knows he doesn't have the votes he needs and should step aside to let a real contest play out and effective leadership to take form.
"McCarthy & his pathetic supporters are trying to gaslight voters into thinking the Freedom Caucus is risking making a democrat the Speaker," Sabatini tweeted, as the speakership saga continues to drag out ahead of the January 3rd vote.
As opposition to McCarthy and his establishment agenda has grown, the GOP Establishment has started blackmailing conservatives, claiming that a "moderate" RINO or even a Democrat will be made speaker, if McCarthy isn't voted in.
Though he's been unable to rack up the 218 votes he needs to become Speaker of the House, McCarthy has declared himself "Speaker-elect" in the wake of the midterms, even after Republicans' "red wave" turned into a pink trickle, leaving the party with a razor-thin majority.
"FACT: It's McCarthy who is causing the issue," Sabatini went on in his tweet.
"There are DOZENS of Congressmen that would receive 100% of the House GOP vote when they run."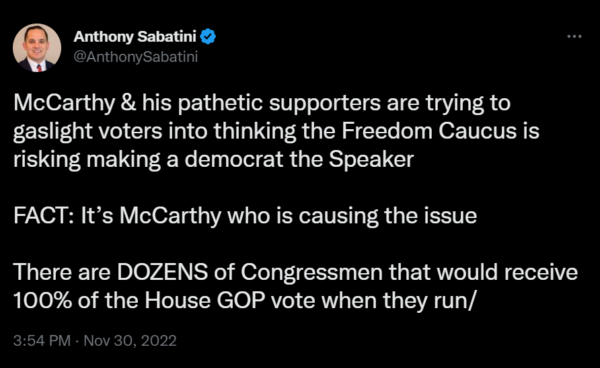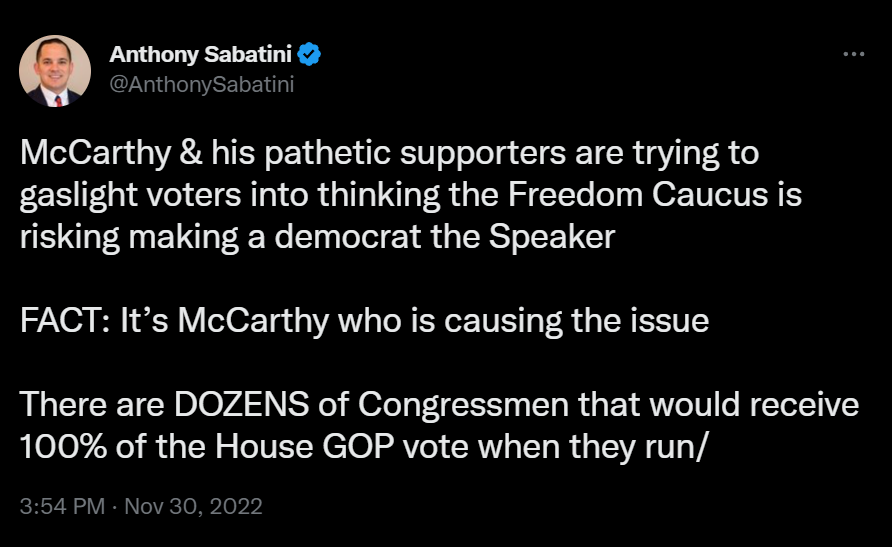 "Weasel McCarthy is simply NOT one of those people," Sabatini wrote in a follow-up, before laying into McCarthy and company some more.
"McCarthy knows he doesn't have the votes – yet he's running anyways," Sabatini wrote.
"An honest person would step aside and allow a real Speaker race to begin NOW."
"The caucus needs to see who will get to 218 this month – not on January 3rd," he concluded.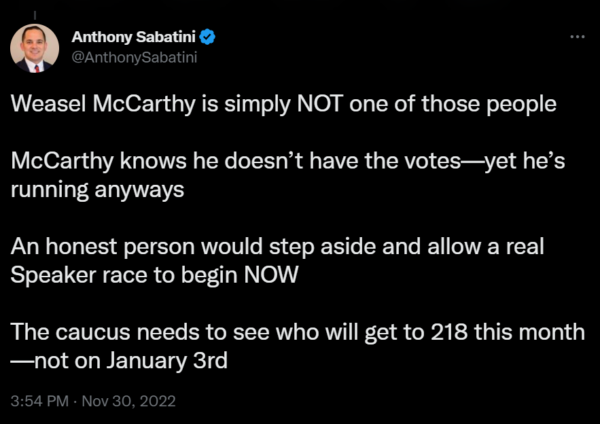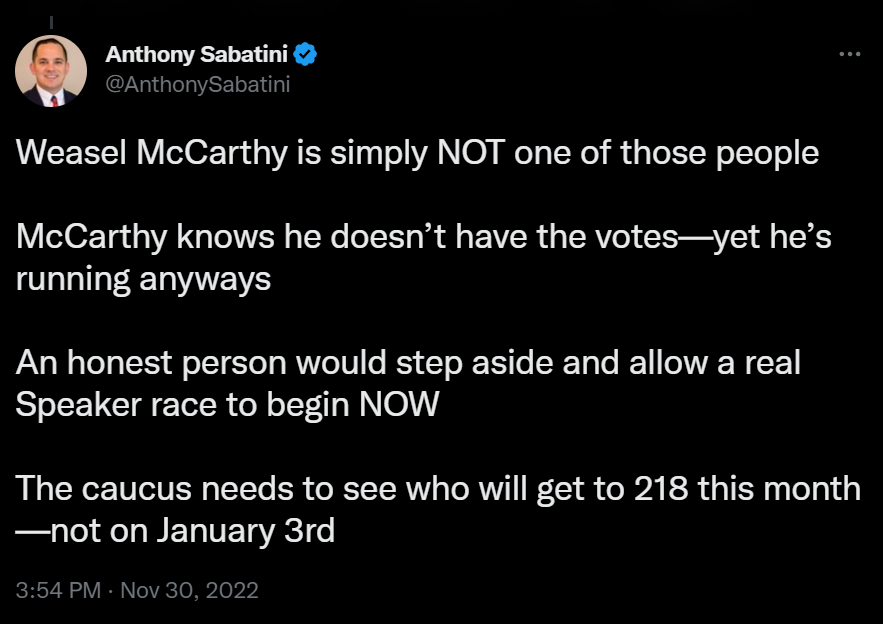 An America First conservative who ran for Congress in 2022, Sabatini was among the campaigns targeted by McCarthy and his political machine with FTX money, to make sure too many conservatives didn't get to DC and shake things up, draining the establishment of their power.
Currently, Sabatini serves in the Florida House of Representatives, from the state's 32nd District.
Others targeted by McCarthy and his corrupt FTX scheme include Laura Loomer, Jarome Bell, Joe Kent, and JR Majewski.
In another tweet posted Wednesday night, Sabatini ripped the crooked Republican legislators that took FTX cash from Kevin McCarthy, international FTX Ponzis, and their political cohorts, demandeding that they "fix the situation by donating those funds to the legal defense of the J6 defendants."