Last Updated on April 7, 2021
General Michael Flynn has announced his endorsement of Amanda Chase for Virginia Governor, throwing his support behind the America First conservative firebrand in a Parler post highlighting Chase's fight against the radical left and their socialist agenda.
In a race chocked full of career politicians and establishment-backed candidates on both sides, Chase, a gun-toting State Senator often described as Virginia's "Trump in Heels," represents the grassroots, America First wing of the Republican base, and General Flynn let it be known in his "wholehearted" endorsement.
"I fully and wholeheartedly endorse Amanda Chase to be the next Governor of Virginia," General Flynn wrote in the announcement post. "She is the strongest voice for VA's small businesses, she is a leader and champion of our 2nd Amendment. Amanda is a strong advocate for the Pro-Life movement, for family values and she will fight against the socialist agenda denying our Liberty and Constitutional Freedoms," the post continued.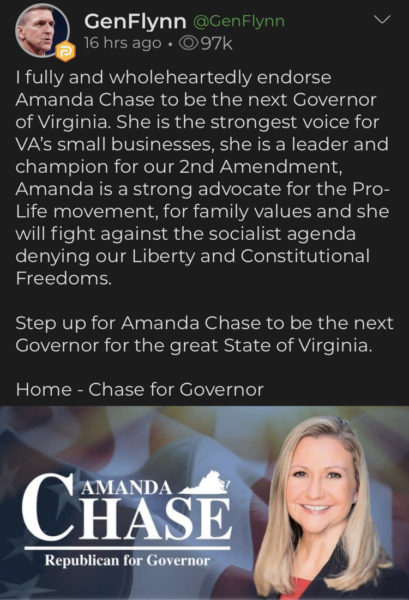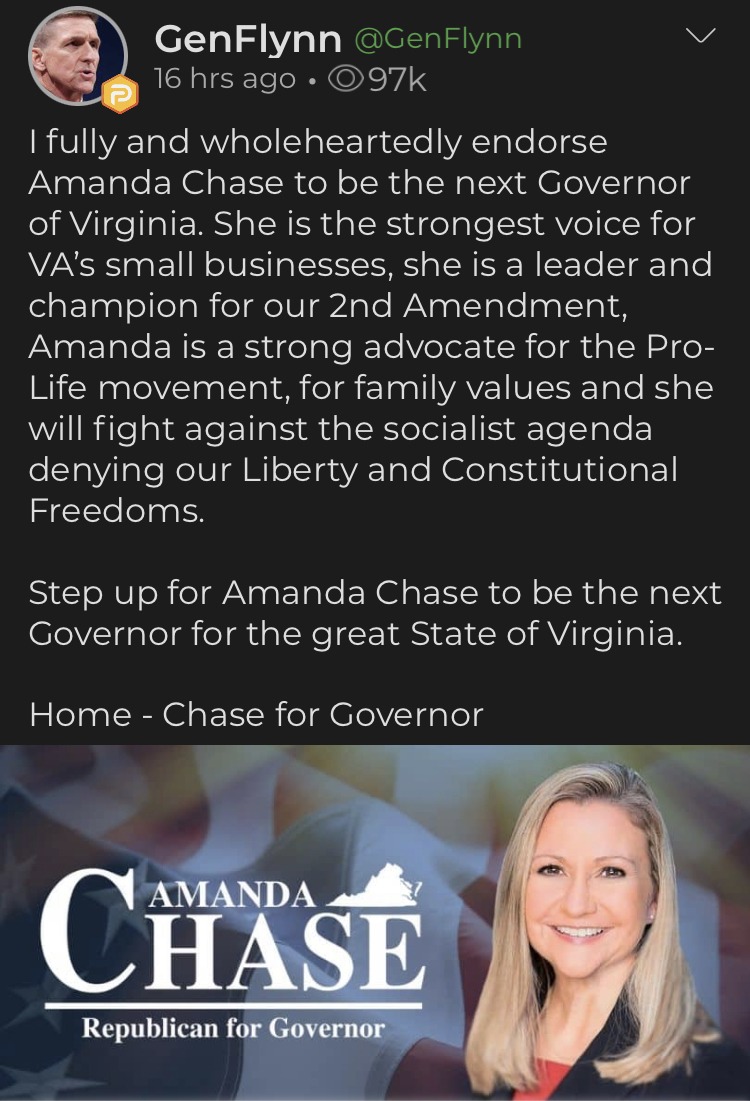 With about a month to go until a nominating convention will decide the Republican Party's candidate for Governor, Chase boasts the endorsement of not just General Flynn, but the grassroots conservative voters of Virginia, who have overwhelmingly coalesced behind her. Chase boasts so much grassroots support in fact, that even the ultra-liberal, establishment-friendly Washington Post has taken note, calling the party's switch from an open primary to a closed convention a way to "sideline" Chase, "the most Trumpian" candidate in the race.
As previously reported by National File, Chase – like Flynn – has been a longtime target of both the Republican establishment and the radical left.
Earlier this year, Chase was censured by radical Democrats and Republican traitors in the Virginia State Senate, some of whom had even hoped to expel her from the legislative body, over her support for free speech and free and fair elections. In response, Chase refused to back down, and filed censures of her own on criminal politicians, including Louise Lucas, a Democrat Senator who led a Black Lives Matter attack on the Portsmouth Confederate Monument, leaving one man in critical condition.