Last Updated on October 31, 2022
In a tweet that has since been deleted, multi-billionaire and the richest man in the world, Elon Musk, suggested in a response to former DNC presidential nominee, Hillary Rodham Clinton, that House Speaker Nancy Pelosi's husband, Paul Pelosi, is a client of gay prostitutes in San Francisco.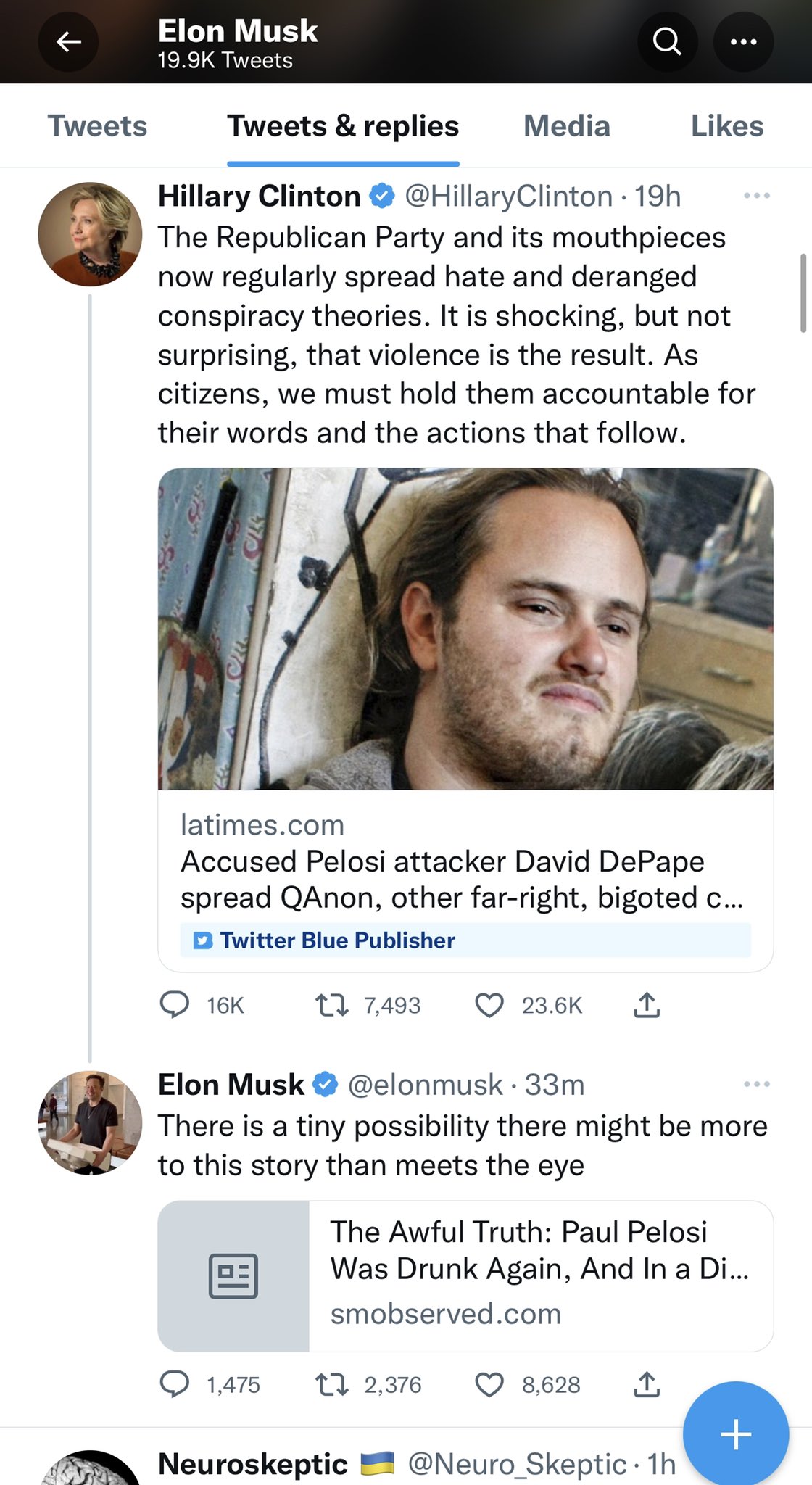 "The Republican Party and its mouth pieces now regularly spread hate and deranged conspiracy theories. It is shocking, but not surprising, that violence is the result. As citizens, we must hold them accountable for their words and the actions that follow," Hillary Rodham Clinton (HRC) said in a tweet.
"There is a tiny possibility there might be more to this story than meets the eye," Musk said.
In the tweet, Musk linked to an article in the Santa Monica Observer, written by Observer Staff Writer, Stan Green, called "The Awful Truth: Paul Pelosi Was Drunk Again, And In A Dispute With A Male Prostitute Early Friday Morning.
The article first addressed the 911 dispatch in which the 82-year-old Pelosi reported that the intruder's name was "David" and was a "friend." He also stated that he didn't know who he was, prompting the dispatcher to tell responding officers that the reporting person (Pelosi) "sounded somewhat confused."
According to the San Francisco Police Department (SFPD) the RP (Reporting Person) stated that "there's a male in the home and that he's going to wait for his wife….He doesn't know who the male is but he advised that his name is David, and that he is a friend."
"[The Reporting Person] sounded somewhat confused," the SFPD dispatcher added.
The media outlet based in Santa Monica, California followed up the explosive story with comments on Twitter on Sunday.
"The story is sourced. It is also posted as opinion, and is largely based on facts that are available to everyone," the Observer said.
The story cited the fact that multiple law enforcement officers were on the perimeter of the Pelosi property at the time of the alleged break-in.
"There is a common misconception that posting controversial or 'fake news' stories is highly profitable. [For] 1,000,000 hits, and this story will get much less than that, a news website makes maybe $500. There are many easier ways to make money."
1. The story is sourced. It is also posted as opinion, and is largely based on facts that are available to everyone.

— Santa Monica Observer Newspaper. (@SMObserved) October 30, 2022
"Does what the MSM is saying about the Paul Pelosi story make any sense to you? Because it doesn't make any sense to us," the California-based outlet stated.
"It's very possible that the instantly formed media narrative — Paul Pelosi's attacker was a MAGA fanatic who broke in to murder Nancy — will be proven true."  Glenn Greenwald said. "But right now there are so many glaring doubts and holes in that story that it just takes common sense to question this."
The newspaper also clarified that despite the epithets that have been hurled its way, the outlet is not right-wing.
"We are not especially right wing and do not post conspiracy theories, except as satire. An example is the 2016 'Hilary is Dead' story, which was posted as satire, then removed when people complained."
1. Assailant in his underpants 2. Paul Pelosi knows his name and tells police he's a "friend." 3. Assailant asks "where's Nancy?" to make sure she's not home. 4. Pelosi takes bathroom break from spat and makes 911 call

Conclusion: This guy was a sex partner or male prostitute!

— Dinesh D'Souza (@DineshDSouza) October 30, 2022
Musk was not the only person over the weekend who doubted the veracity of the mainstream legacy media's version of events.
…wrestled with Paul Pelosi while a mysterious 3rd man watched, Paul went to the bathroom, called 911, returned to wrestle the hippie nudist, the unnamed 3rd man let police in, and then the hippie hit Paul with a hammer, because he saw a Kevin McCarthy news conference a year ago

— Comfortably Smug (@ComfortablySmug) October 29, 2022
Investigative reporter, Sharyl Attkisson, expressed her concern over the possibility of a politically-motivated cover-up by law enforcement.
"Wishing Paul Pelosi a full recovery. Whatever happened, it's a far bigger scandal if authorities are covering up. Without knowing more, experienced police say there's no legitimate reason why a 'person' who opened the door wouldn't be identified by police and in the public report," Attkisson said.