Last Updated on September 1, 2023
Elon Musk "liked" a post calling for the banning of the censorious Anti-Defamation League (ADL) despite his X platform which, until recently was known as Twitter, actively collaborating and negotiating with the ADL to crush speech at odds with its far-left agenda. At the time Musk liked the post, the hashtag #BanTheADL was trending on the X platform.
"The ADL's favourite tactic is financially blackmailing social media companies into removing free speech on their platforms," Substack author Keith Woods wrote in the post liked by Musk. "They even orchestrated an advertiser boycott of Tucker Carlson."
"Why should they have a platform on X to hold @elonmusk to ransom? It's time to #BanTheADL", Woods' post went on, including several screenshots related to the ADL's global censorship campaign.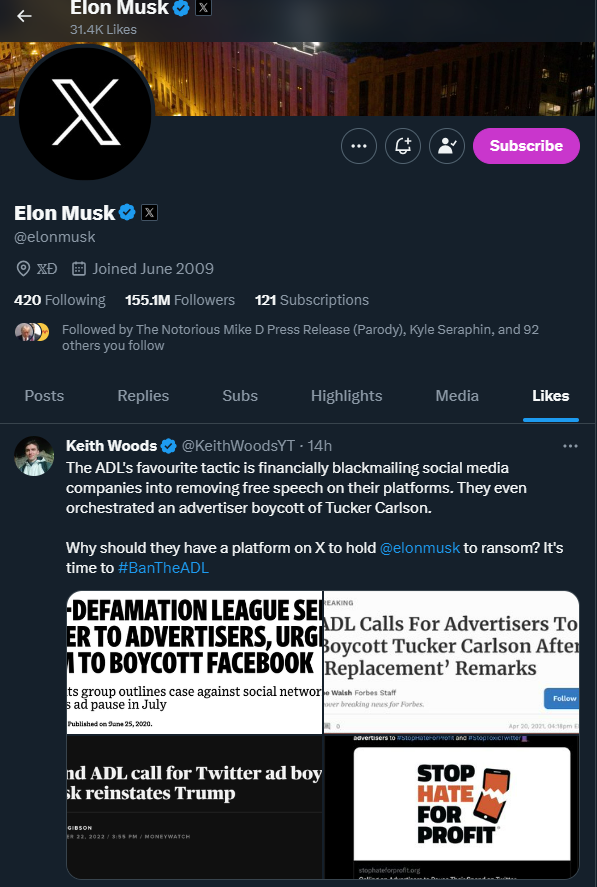 As mentioned, the hashtag "#BanTheADL" trended on X this morning, after news broke that X Corp CEO Linda Yaccarino, who is a sitting Executive Chair of the World Economic Forum, had met with the ADL and its leader, Jonathan Greenblatt, earlier this week to discuss the X platform's censorship policies.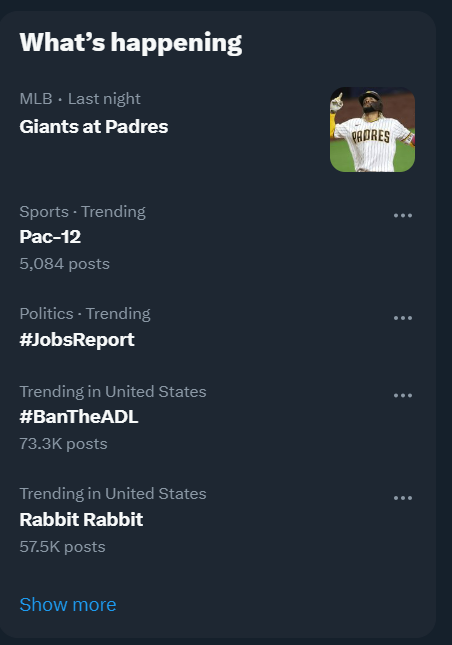 According to a post made by Greenblatt on the X platform on August 30th, the ADL chief had "a very frank + productive conversation" with X CEO Linda Yaccarino about "what works and what doesn't" and where X "needs to go to address hate effectively on the platform."
The ADL, Greenblatt added, "will be vigilant" in policing free speech on the platform, "and reserve the right to call [Musk and Yaccarino] out" if they don't follow the ADL's censorship orders.
Notably, Greenblatt turned off replies to his post.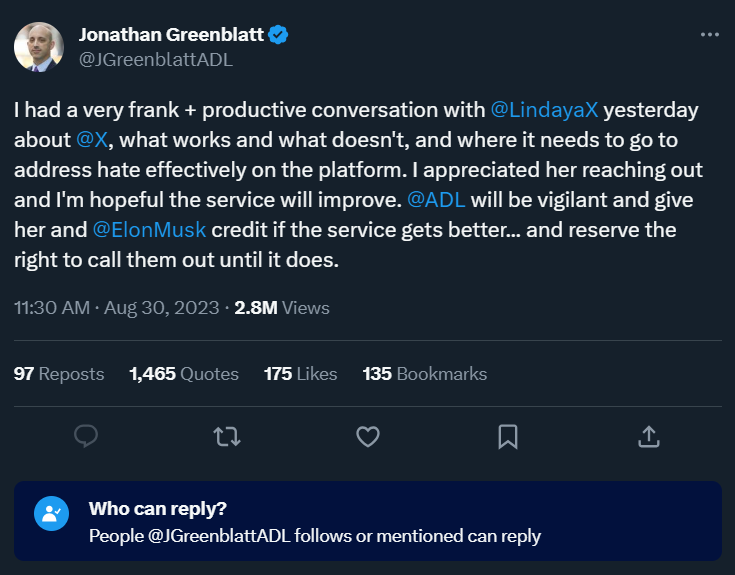 Musk's yo-yo-ing with the ADL marks just the latest chapter in a blitz effort by the far-left organization that claims to be squashing free speech to prevent another Holocaust and has massive influence over corporate advertisers and the social media sphere.
After Musk took over the X platform last year, which was then known as Twitter, the ADL ordered the platform's advertisers to break their business ties with the social media giant and even called the Bible an "antisemitic conspiracy theory" that has no place on the internet.
After initial tough talk from both parties, Musk met with the ADL and later announced that he would be enforcing at least portions of their censorship agenda, specifically their policies regarding "hate" and elections.
Following the latest talks between X and the ADL, it is unclear how far the platform is going to go to please the far-left pressure group, but X users have reported a massive uptick in censorship efforts.