Last Updated on October 19, 2019
Cyberpunk 2077 is probably the most anticipated video game to come out in half a decade, and the developers are reportedly struggling with how to make the game "really inclusive."
The creative team at CD Projekt Red, who are best known for making the award-winning fantasy RPG Witcher 3: Wild Hunt, have faced some criticism from left-wing sources for their upcoming video game adaptation of Mike Pondsmith's Cyberpunk universe.
In July 2018 CD Projekt Red was castigated by the so-called gaming media for a joke tweet from their Twitter account for using the 2015-era text meme "did you just assume their gender?!" in a response to a fan question.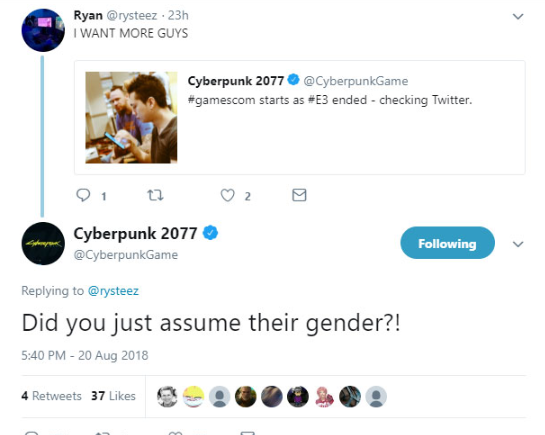 Over the past year, the accusations have gotten progressively more absurd, from sexism to cultural appropriation to racism to full-blown white supremacy.
The most repetitive accusation, however, has been that CD Projekt Red is transphobic.
The Polish developer group appears to finally be trying to assuage the concerns of transgender activists, as senior concept artist Marthe Jonkers revealed that the character gender option would be scrapped in favor of "body type" selection in an interview with Metro last Friday.
"Of course, if you tackle certain subjects then you will expect people to have an opinion about it and we respect that. And it's good that people give us feedback. And our character creation menu, for instance, compared to the last demo we now give you so many more options. For instance, you don't choose your gender anymore," Jonkers said when quizzed about the controversies over "gender and trans issues."
"You don't choose, 'I want to be a female or male character' you now choose a body type. Because we want you to feel free to create any character you want."
The senior concept artist continued, adding, "So you choose your body type and we have two voices, one that's male sounding, one is female sounding. You can mix and match. You can just connect them any way you want. And then we have a lot of extra skin tones and tattoos and hairstyles."
Jonkers concluded, "So we really want to give people the freedom to make their own character and play the way they want to play."
This is not the first time National File has reported on a video game studio backtracking to appease the outrage mob, as earlier this month Voidpoint apologized for comments in a Discord server about child hormone replacement, pledging to implement mandatory sensitivity training and donate $10,000 to a transgender charity group.
This reporter will provide a fully detailed, in-depth review of Cyberpunk 2077 when it releases in May 2019.