Last Updated on December 30, 2021
Dethroned masculinity influencer Jack Murphy, who had his gay porn exposed after a spat with conservative podcaster Sydney Watson, has reportedly declared war against the YouTuber who helped expose his adult films, according to screen shots released today.
Now, that YouTuber believes Murphy successfully lobbied Twitter to suspend his account.
National File reported yesterday that John Goldman, who markets himself as Jack Murphy, had become the subject of mockery after his row with Elijah Schaffer and Watson, who host the "You Are Here" podcast for The Blaze.
The drama had subsided when Murphy dredged it up during an appearance on Tim Pool's podcast.
This ultimately led to the proliferation of Murphy's erotic films he live streamed with his fiance, including images that show Murphy anally stimulate himself using an adult toy.
Read More: A Conservative Influencer Wrote About Cuckolding Then Threw A Fit, Now His Gay Porn Surfaced
In newly leaked screen shots from Murphy's exclusive chat room, Murphy has reportedly promised to "destroy" The Quartering, a popular YouTube channel with over 1 million subscribers, after host Jeremy Hambly helped expose Murphy's films.
Murphy originally claimed that Hambly was engaged in "revenge porn" and suggested Schaffer and Watson were accessories, and called on their employer, Glenn Beck, to take action.
"My tweet about Glenn Beck got everyone moving," Murphy appears to have written in his exclusive Liminal Order chat room, according to what Hambly and others have said is a leaked screen shot.
"TheQuartering has deleted," Murphy appears to have written. "We are still going to destroy him though."
"OMG this is cancel culture, poor Jack, forgive him. Stop being mean, omg." This is from the Rekeita stream, fuck this guy. Read that last line before you cry to me about mercy and forgiveness. pic.twitter.com/ylzRwU9fn8

— QuarantinedCoof (@QuarantinedCoof) December 30, 2021
In his video on the subject, Hambly explained that his Twitter suspension came after he learned of these screen shots.
He also suggested that only Murphy, or someone representing him, would have the power to request this of Twitter.
"Obviously there's only one person who could have filed this," said Hambly.
He also noted that the Twitter suspension came as a punishment for distributing "privately produced/distributed" material to the public, for example, revenge porn.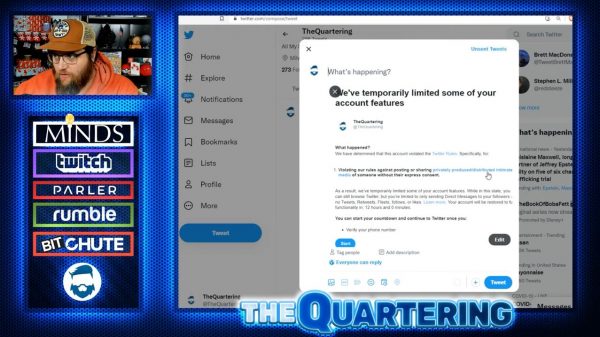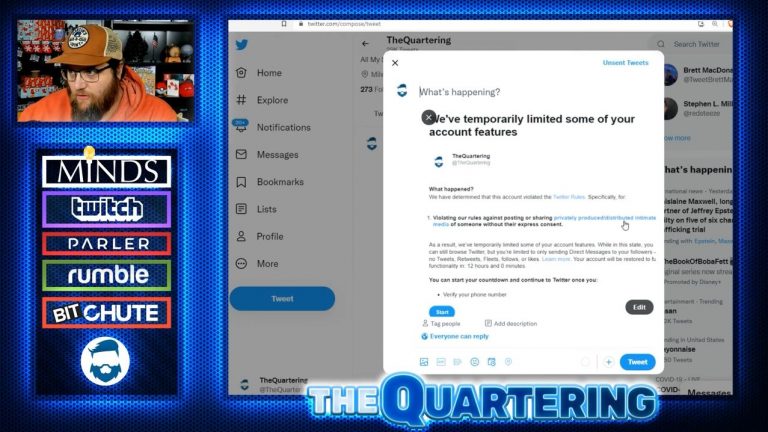 Murphy claimed that Hambly was distributing "revenge porn," which is a crime, and called him a sexual predator. There is no evidence for either of Murphy's claims.
"Interestingly enough, this is not privately distributed. This is publicly distributed," Hambly reminded the audience. "This was put out for, where this stuff was streamed, literally anybody on earth could watch it."
"It was on a website for this content, Mr. Jack himself admitted to producing these videos, I have that of course."
Hambly suggested legal action could be forthcoming.
"See I've been through this whole legal stuff before, so I've been archiving everything since the beginning," he said. "This is public video, he doesn't have any kind of claim to privacy."
Hambly did note that there is no time stamp on the screen shot, indicating it is not clear when the words attributed to Murphy were written.
"Now, I'm really hoping these messages that people are sending me are several days old," said Hambly. "I don't have a time stamp on it."
"Of course," he added, "In court I will discover when these messages were sent."
Jack Murphy is now using his members to gather information on me and others. He is also attacking Sydney & Elijah. pic.twitter.com/SUEYpBQ1Ag

— TheQuartering (@TheQuartering) December 29, 2021
Hambly then seemed to reference a rumor National File has heard repeatedly: Respected conservative influencers are pressuring others not to discuss Murphy's behavior.
"I was 100% ready to let this go until you flagged down my Twitter account," said Hambly. "This is why I don't show grace."
"A few people that I respect reached out to me," he relayed, "'Maybe show the guy some grace,' and I agreed, much to the chagrin of my viewers."
"Sure enough, he throws it right back in my face and makes me feel like an idiot," said Hambly. "Now, immediately, he's flagging down stuff, he's running these rainbow operations."
Other leaked screen shots allege that Murphy has enlisted members of his Liminal Order – who pay $100 per month, $790 per year, or make a one time payment of $3,890 for the privilege of being in the chat room – to "war room" against those Murphy believes wronged him, including Schaffer, Watson, and now Hambly.
He at one point apparently suggested contacting authorities, and at another suggested taking evidence to The Blaze's legal department for unknown reasons.
Yet another leaked screen shot suggests Murphy acknowledged that the pornographic images and videos are not "revenge porn," as he asserted on Twitter, but videos that he intentionally live streamed to the public.
Revenge porn claim DESTROYED. By well who else but Jack Himself! pic.twitter.com/NqQY3A40rT

— TheQuartering (@TheQuartering) December 29, 2021
Murphy's Twitter account remains locked to the public, and he has deleted hundreds of tweets.